Nafas & Halodoc Study: A 26% Increase in Pediatric Respiratory Infections from June to August 2023
---
---
This report is based on a collaborative study conducted by Nafas and Halodoc in the Greater Jakarta area during the period of June-August 2023. The aim of this research is to investigate whether there is a correlation between the increase in consultations on Halodoc and the deterioration of air quality.

In the previous article, we highlighted a 33% escalation in consultations related to adult respiratory infections during the same timeframe. Regrettably, this trend seems to extend to acute cases of Upper Respiratory Infections (URIs) in children as well.

Is the declining air quality a pivotal factor in affecting the health of our children? Read on for a comprehensive analysis from our joint research initiative between Nafas and Halodoc.
A Significant 26% Increase in Pediatric Consultations Recorded in August 2023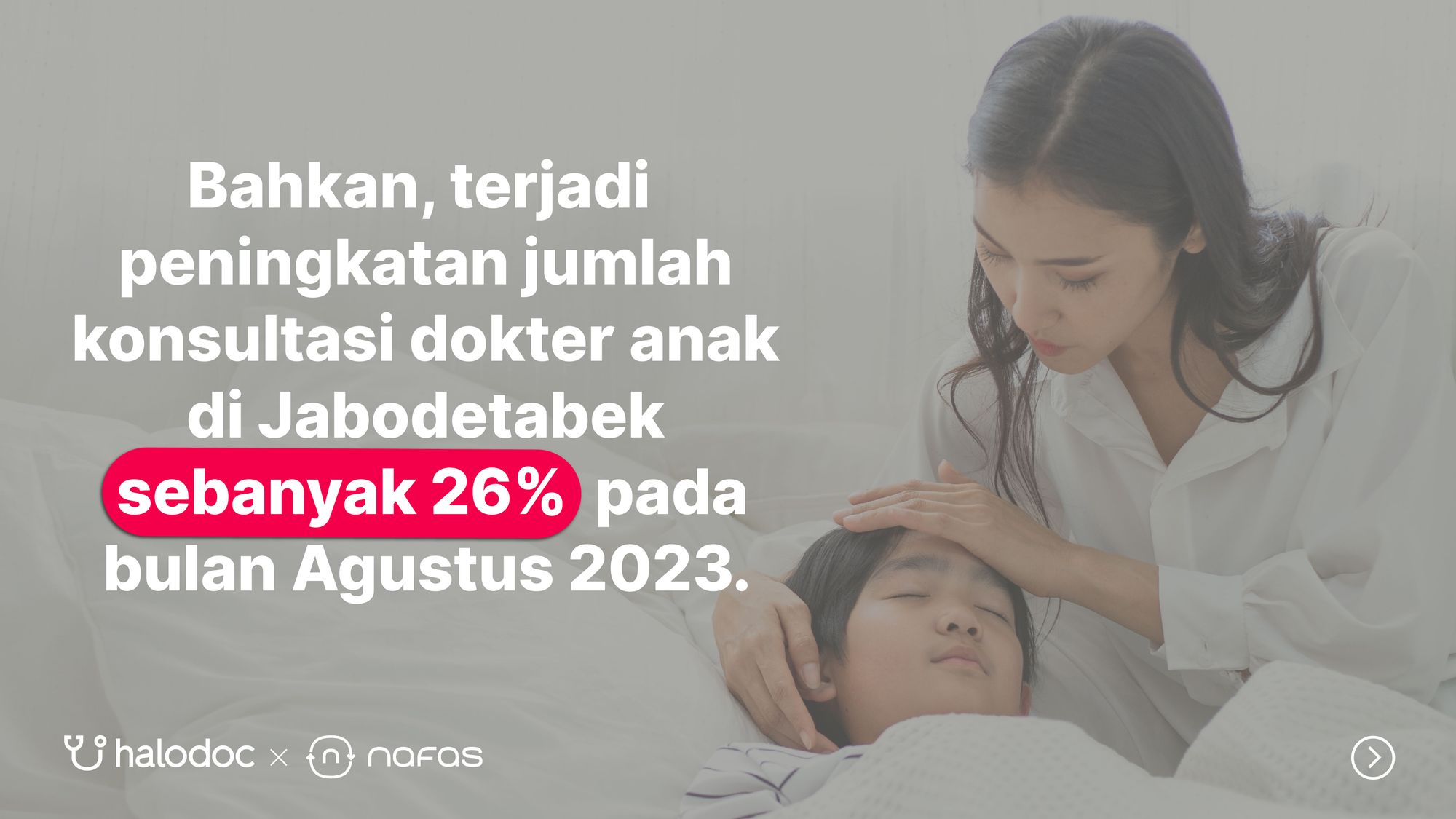 Data gathered from our collaborative research indicates a notable spike in pediatric consultations in August 2023, compared to the preceding month. Cases involving URIs in children were the leading contributors to this uptrend.
Conditions like the Common Cold, Fever, Cough, Rhinitis, and Sore Throat predominated pediatric consultations throughout the July-August 2023 period.
— dr. Irwan Heriyanto, MARS, Kepala Bidang Medis Halodoc
Deterioration of Air Quality in the Greater Jakarta Region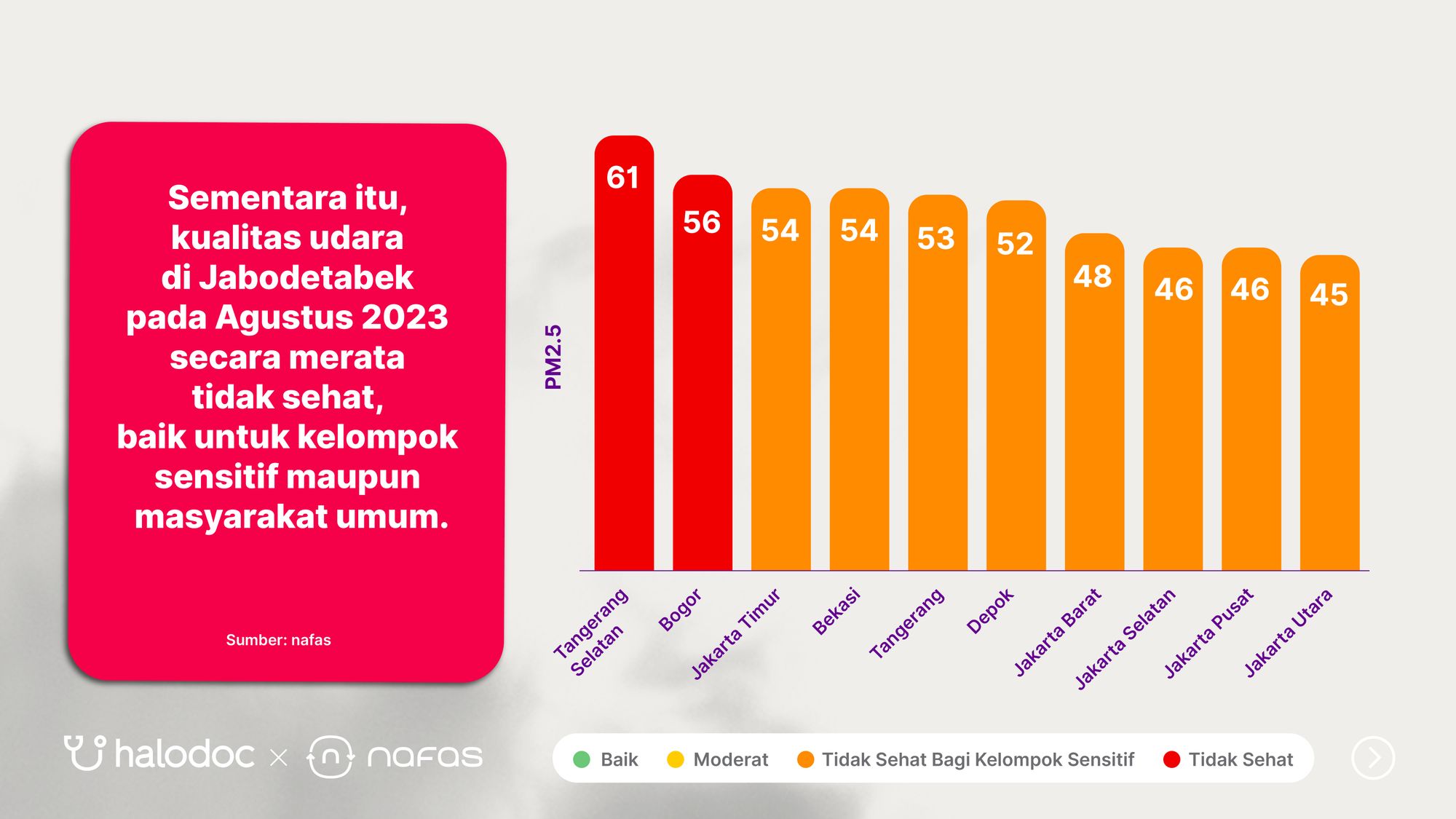 This surge in pediatrics consultations aligns closely with observed degradation in air quality. During the research period, air quality metrics across the Greater Jakarta region indicated "Unhealthy" levels, impacting both those sensitive to pollution and the population at large. South Tangerang and Bogor recorded the highest levels of air pollution, with average monthly PM2.5 concentrations reaching 61 µg/m³ and 56 µg/m³, respectively.
What Can We do to Shield Children from Air Pollution Hazards?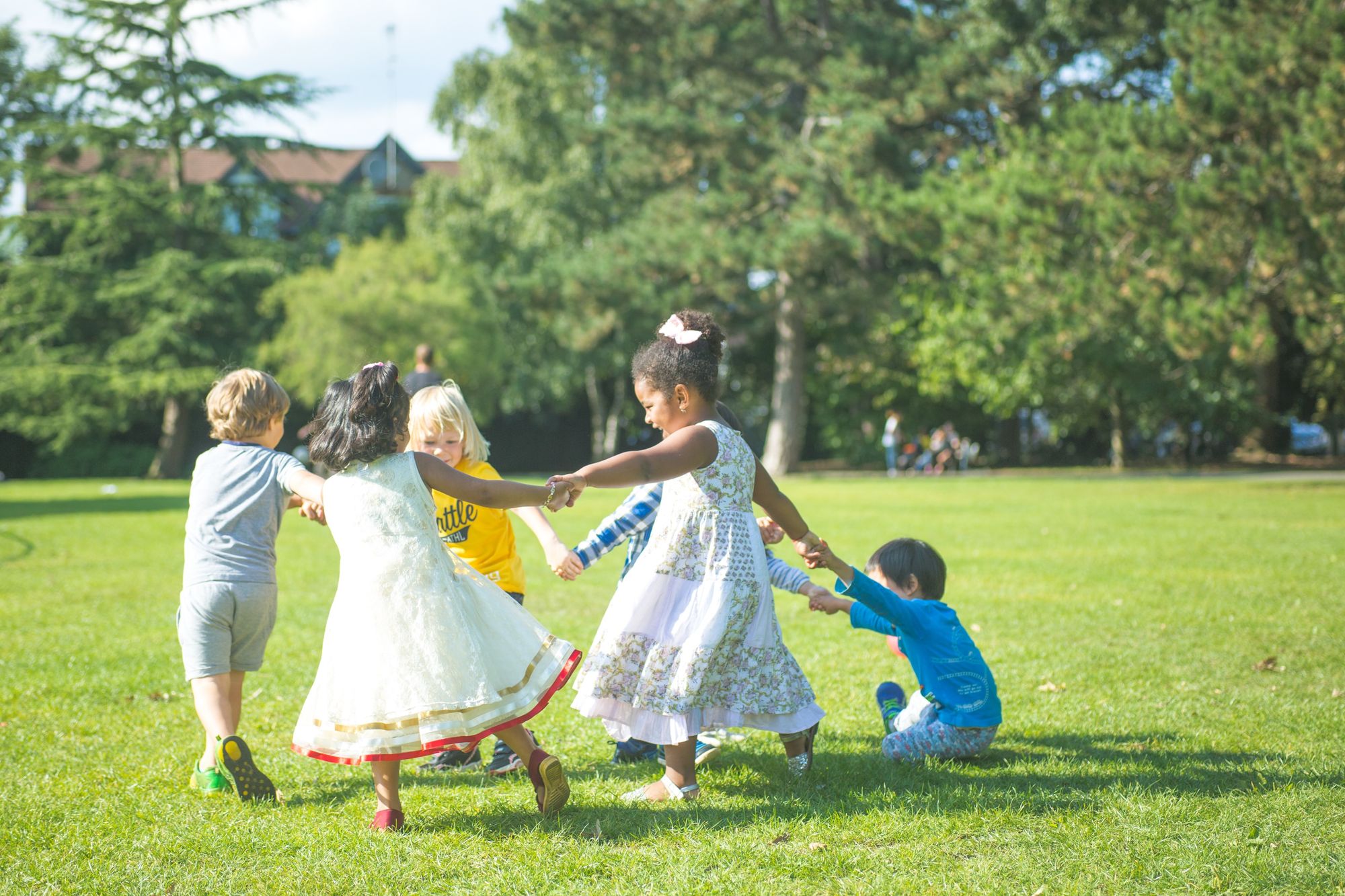 Here are some practical recommendations from the Indonesian Pediatric Association (IDAI) that can be adopted to safeguard children from the detrimental effects of air pollution:

1. Consistently monitor air quality to appropriately adjust your child's activities.
2. Curtail outdoor activities and modulate the intensity of physical exercise based on current air quality metrics,
3. Make sure to wear masks when venturing outside.
4. Keep children away from known sources of pollution such as cigarette smoke, burning trash, and the like.

✅ Do not take air pollution lightly! Keep an eye on air quality through the Nafas app and seek immediate medical advice if your child exhibits symptoms of URIs like coughs, colds, and sore throats.
---