Data Drop: South Tangerang
---
---
Hi, residents of South Tangerang!

Have you seen the condition of PM2.5 in your city? In this article, we will be showing you PM2.5 pollution in South Tangerang.

Located 30 kilometers southwest of Jakarta City, South Tangerang started to be developed in the 1980s and, at the moment, has become a city with almost 1.4 million residents. Districts like Serpong, Bintaro, Serpong Utara, Lengkong Wetan, and others were designed to be residential-friendly areas. Being a densely populated city, air pollution has become a problem in South Tangerang, just like it is in Jakarta (even worse in some places). It's not terrible every day, but on average it's not great.
---
How bad is the PM2.5, then?
First, let's recall about PM2.5 that we face and the threshold limit.

The World Health Organization (WHO) has identified PM2.5, a fine and tiny pollutant, as being particularly hazardous to human health. According to WHO guidelines, the yearly average limit exposure to PM2.5 guideline is 5 μg/m3. This means that the yearly average of PM2.5 that we should breathe is 5 μg/m3.

As some of you may already know, Jakarta usually gets compared to the rest of the world in terms of how bad the air quality is. Moreover, according to the results of the measurement of the Air Quality Index (AQI) this June 2022, Jakarta ranks as the most polluted city in Indonesia and the world.

Here, Nafas will set the context of South Tangerang and DKI Jakarta as a comparison.

Year To Date in 2022, you can see that South Tangerang is 16% more than DKI Jakarta.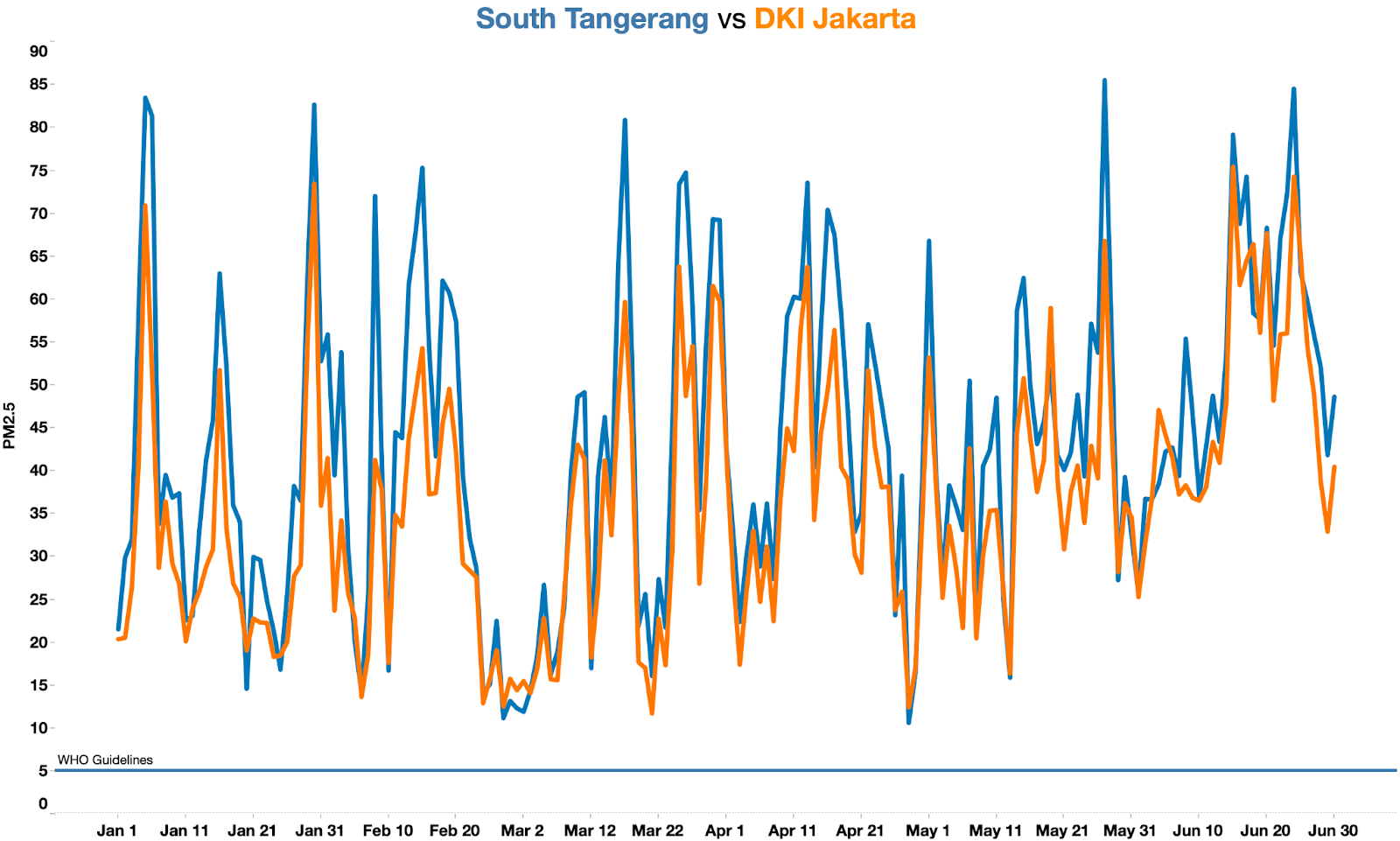 Now, do you remember that Jakarta ranks as the most polluted city in Indonesia and the world in June 2022, as we mentioned before? Apparently, in June 2022, the PM2.5 number in South Tangerang is even worse


South Tangerang is 10% more than DKI Jakarta.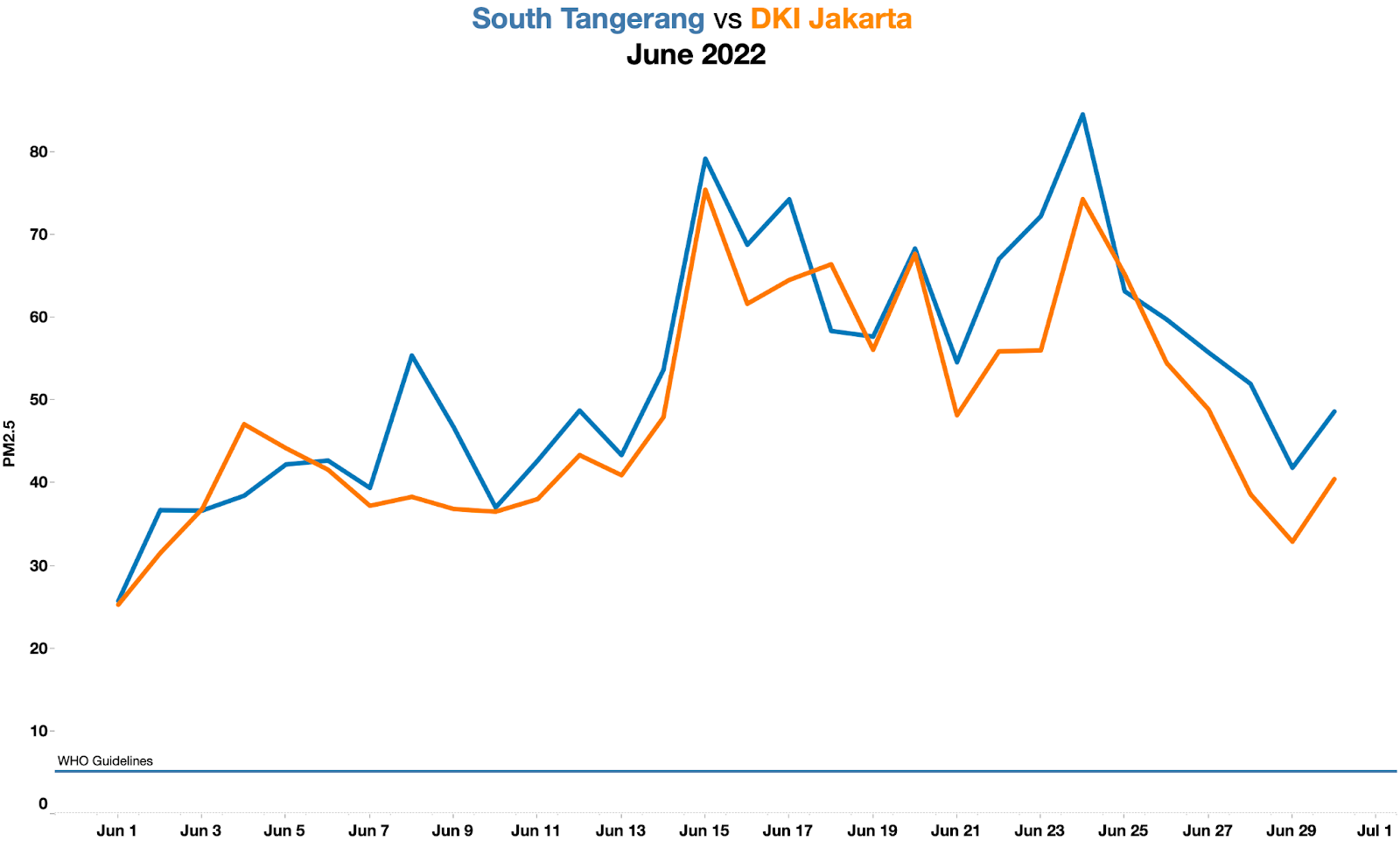 The intriguing thing, however, is that not all South Tangerang is created equal. According to data collected by Nafas, the following figure shows the PM2.5 numbers for June 2022 for each subregion in South Tangerang. These statistics demonstrate that not every region has a worse situation than DKI Jakarta.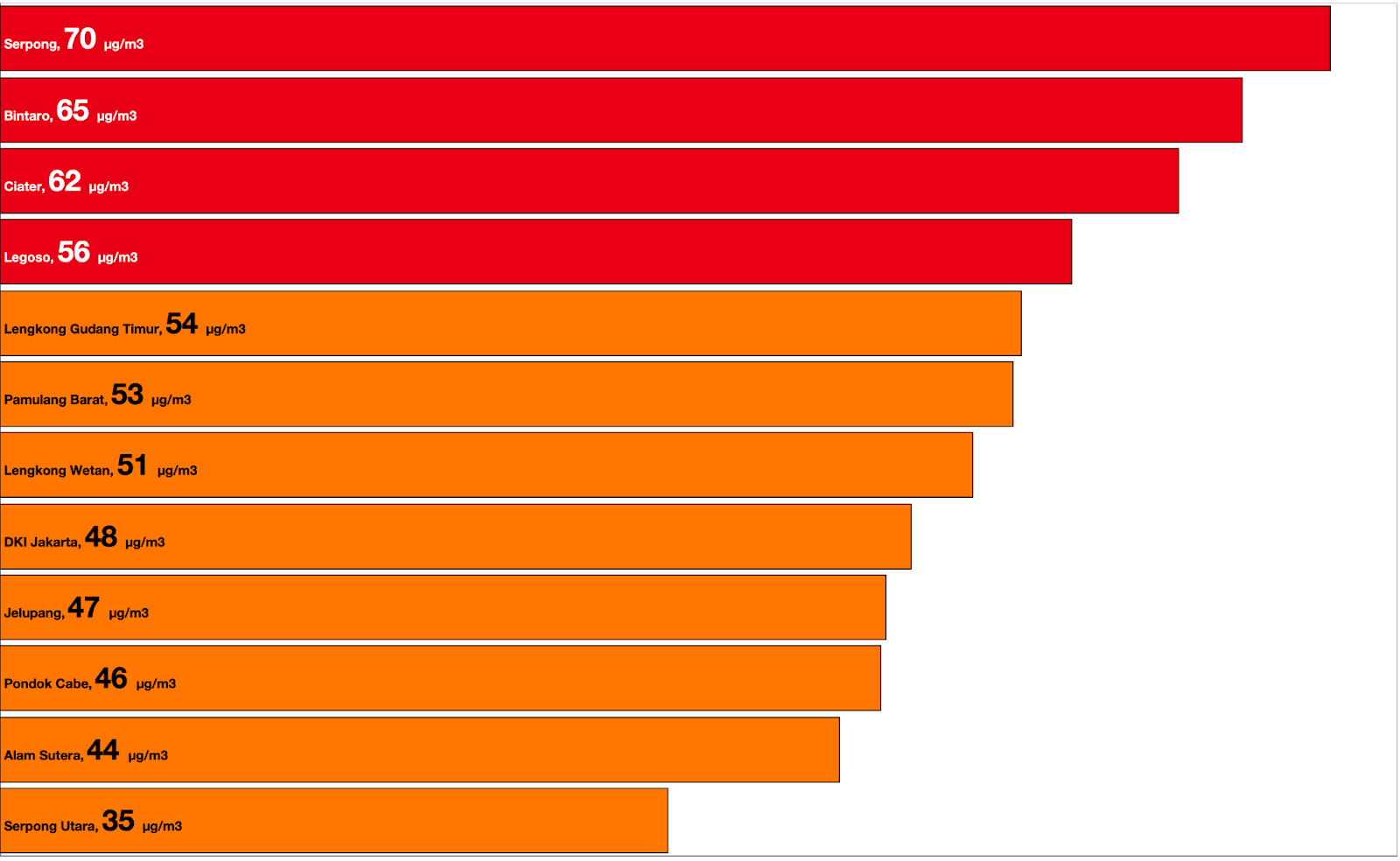 Furthermore, we discovered differences in air quality between the upper and lower areas of South Tangerang. The upper area was referred to as the northern area and the lower area as the southern area. Turns out that the southern area of South Tangerang has 35% worse air pollution than the northern area of South Tangerang. We attempted to compare it with DKI Jakarta and the results are as follows.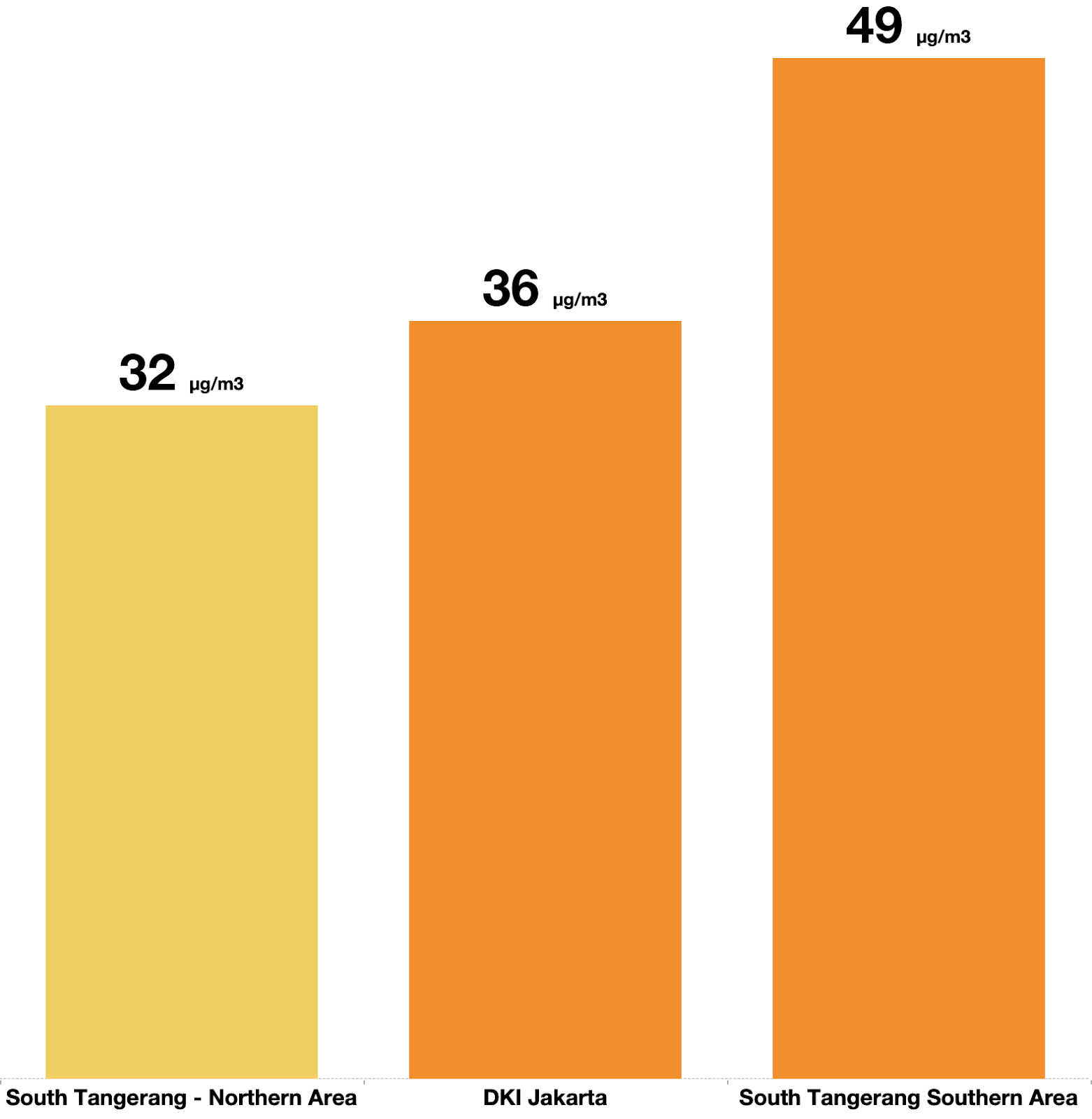 And here is what it looks like over 24 hours. In June 2022, you can see that on average air pollution is the highest in the morning. This can occur due to temperature inversion that narrows The Planetary Boundary.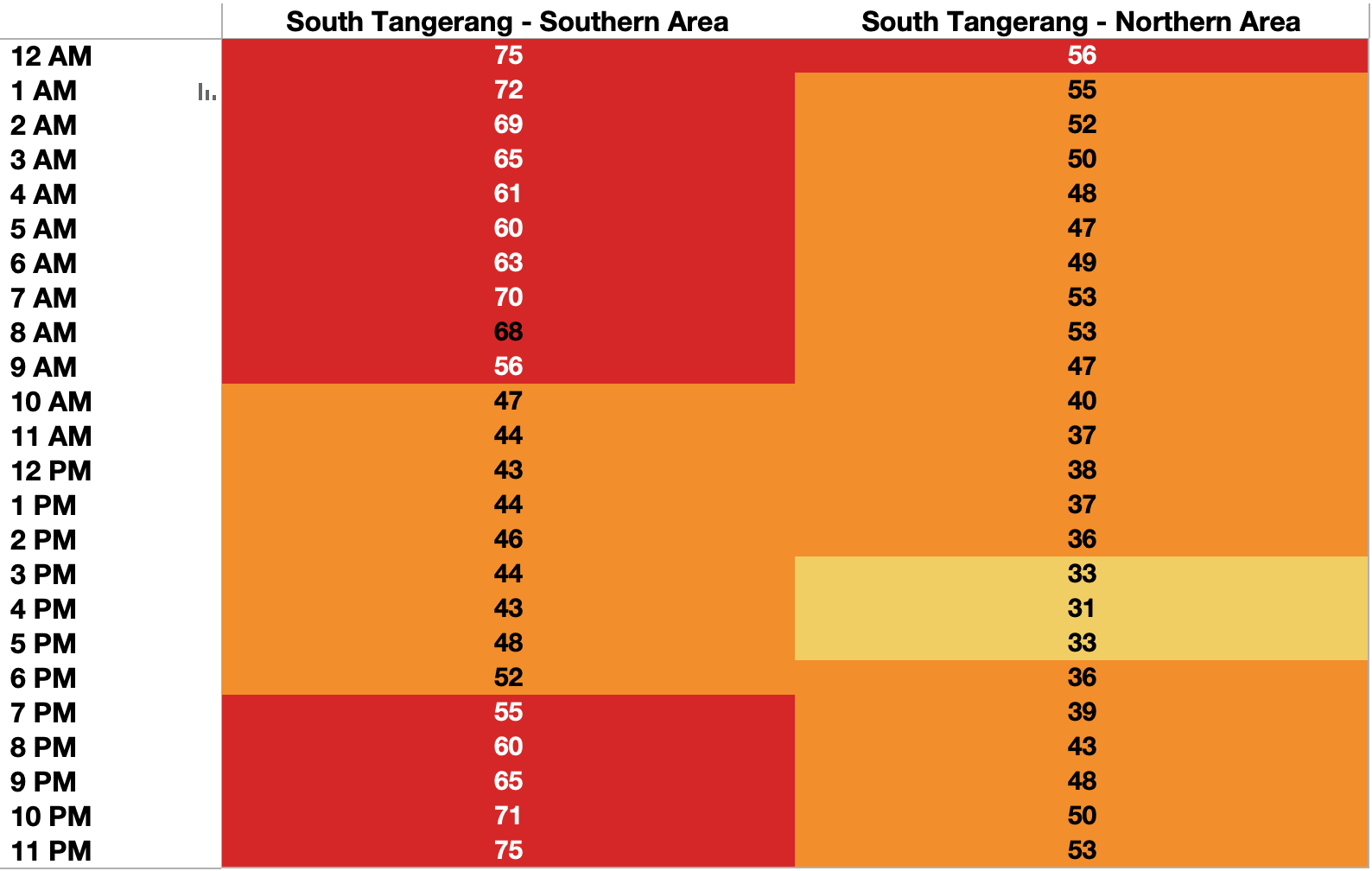 ---
Avoid exercising in the morning
Normally, in the morning, some of you who live in the South Tangerang area probably love to spend time outside exercising, right? Most exercise happens between 5 AM and 9 AM because that's when there are "fewer cars" and the "air is fresher".

Turns out, air pollution is terrible at those times. Hereby the monthly averages of PM2.5 in South Tangerang. Monthly averages are calculated by adding all the readings and dividing by days.

Exercise is essential, but this shouldn't be done when we are breathing poor air. People who walk, run, jog, or engage in any outdoor activity should refrain from doing so until the smog settles. According to a study from South Korea, people aged 20 until 35 who exercised daily over 10 years in air pollution above PM2.5 26 μg/m3 had a 33% higher chance of heart disease than those who exercised. The reality is those numbers show that the PM2.5 in South Tangerang is much higher than 26 μg/m3.

However, this does not mean that every morning in South Tangerang in June 2022 has poor air quality. There are good days and bad days.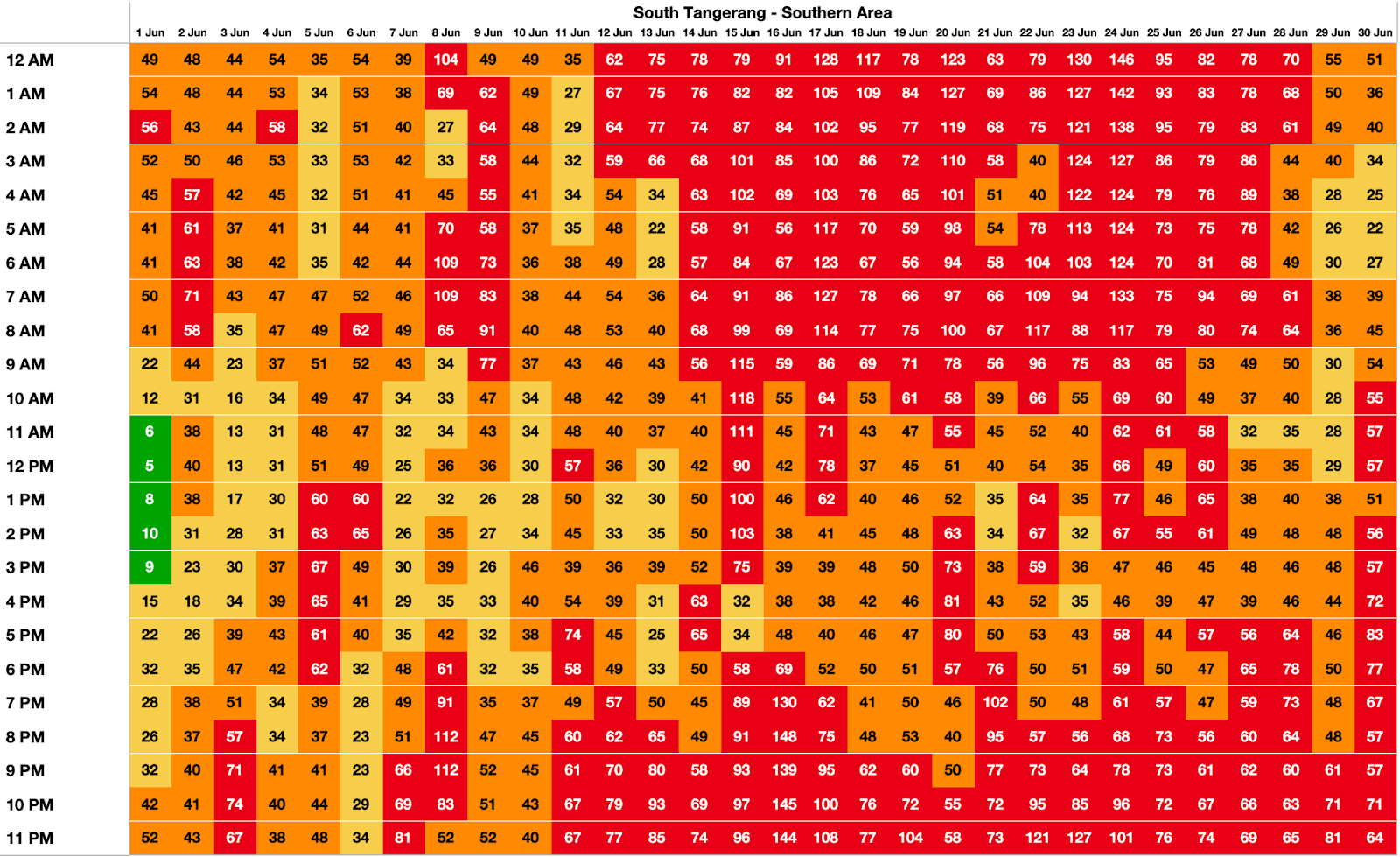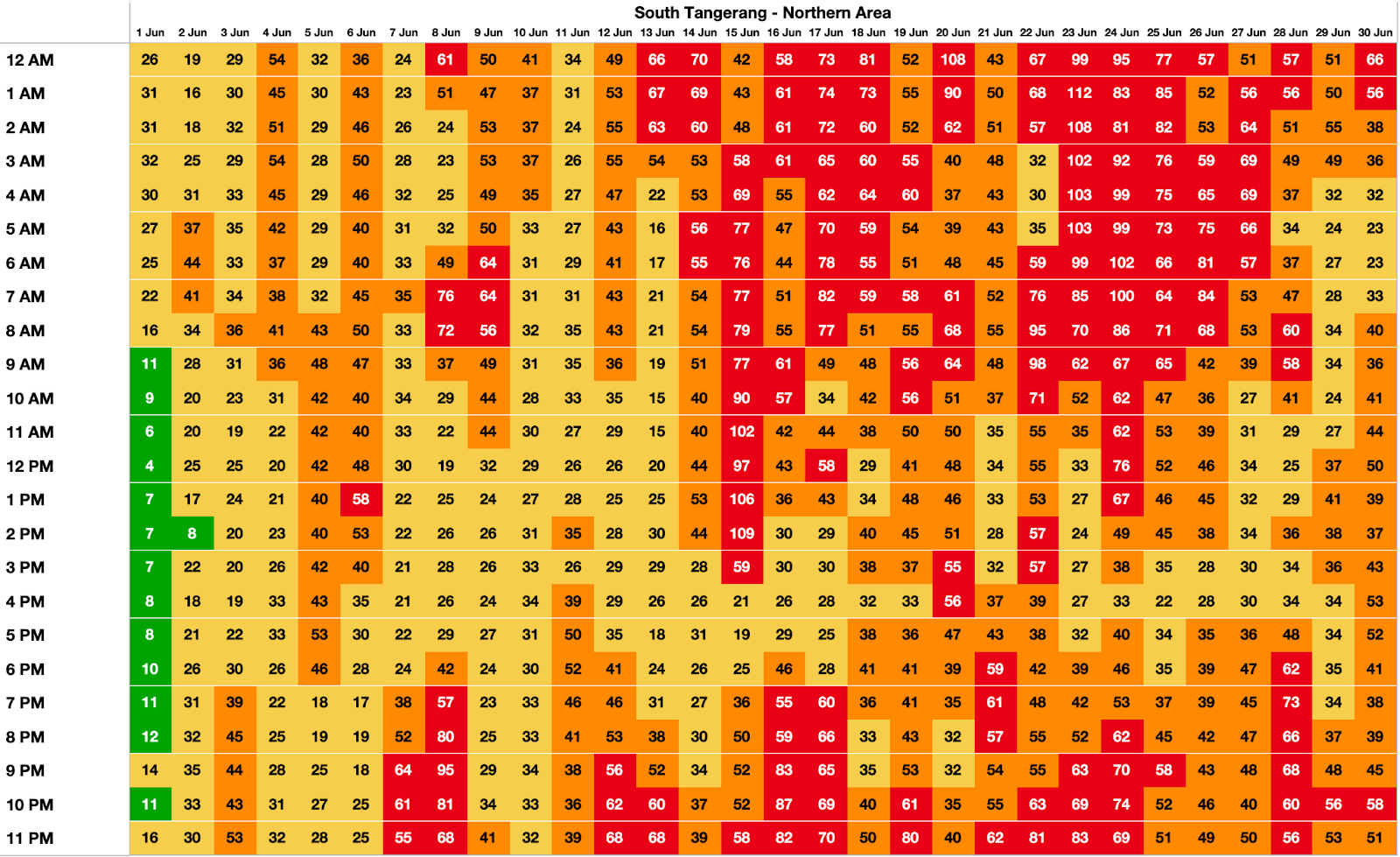 ---
So, how to deal with this situation?
Even the most health-conscious people occasionally forget to consider air pollution before making plans for outdoor activities. For those who may be particularly susceptible to the impacts of air pollution, such as youngsters, the elderly, those with lung or heart diseases, and pregnant women, it is especially vital to avoid severe air days. Try the following suggestions to enjoy the outdoors while reducing your exposure to air pollution:

Short Term:
Check your air quality with

Nafas

before going outdoors (wear a proper mask if you have to)

Get your friends to check the air quality too

If pollution is consistently bad in your area, get

a HEPA purifier

Long Term:
Bring this up to your local RT/RW - there might be trash burning going on in the area

Bring this up to your representatives in the areas

Let's show and voice that you care about this issue so that the people who can do something about it also care too!
---
References:
Jakarta Residents Lose Four Years Life Expectancy from Air Pollution. (2022). Indonesia Expat. https://indonesiaexpat.id/news/jakarta-residents-lose-four-years-life-expectancy-from-air-pollution.
Lee, B.-J., Kim, B., & Lee, K. (2014). Air Pollution Exposure and Cardiovascular Disease. Toxicological Research, 30(2), 71–75. https://doi.org/10.5487/tr.2014.30.2.071.
---