3 tips for using your aria Pure40
---
---
We created the Pure40 to be a purifier that we wanted to have in our own homes - packed with performance and simple enough to control from our phones.

Here are 3 tips for you to maximize your Pure40 experience.
Tip #1 Setting Your Desired AQI Levels



Keeping your indoor air healthy should be simple, which is why we created a special Auto feature for the Pure40 - set the air quality you want to have indoors, and the Pure40 will do the rest! Anything under 50 is good!

We recommend setting a level between 30 and 50, as setting it too low could shorten the filter life and cause the Pure40 to operate at high energy levels.
Tip #2 Creating A Schedule For Your Pure40



Not everyone runs their purifier 24/7, which is why we created a simple to use schedule feature. You can set the time, day of the week and the settings for when you want the Pure40 to turn on and off.

Most of our days now are spent working at home, so we have our schedules set to run from 8AM to 8PM for our Pure40 in the living room, and from 7PM to 8AM for the Pure40 in the bedroom.
Tip #3 Keep Track Of Your Healthy Air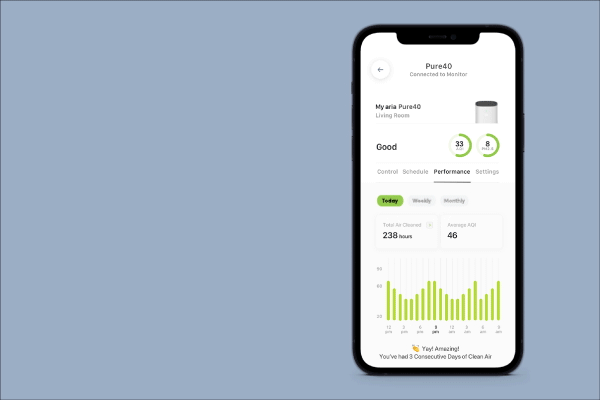 While working, the Pure40 collects data every few minutes from which we create an hourly average. When you click on your Pure40 in the app, you can see the data by hour, by day and even by month.

Why is this important? Looking at the hourly data, we can identify any problems and the times that they happen. That gives us the chance to see if we need to make any changes in our home.
Maintaining Healthy Indoor Air
The aria Pure40 works to keep your air quality healthy. So what to do if the numbers are Unhealthy? Some things that affect air quality:
Not completely "indoor" - some homes in Indonesia have open spaces that are covered, but not actually indoors. Need to move the AirTest inside.
Open windows & doors - when they are open, unhealthy air from outside can come in. Close your windows and doors.
"Seepage" - homes in Indonesia are not designed to have a proper seal, meaning that Unhealthy air from outside can come indoors through cracks in walls, window frames, under doors, which is quite common.
Frying and toasting - deep fried food is tasty, but it produces a lot of very small smoke particles (same with making toast). It's best to run a purifier to help clean up the indoors.

These are the most common issues, and it is important to be aware of them in order to maximize how your Pure40 works to keep your air healthy.
---