Sudden Acne and Eczema Flare-up? It Could Be Due to the Effects of Air Pollution!
---
---
Air pollution not only affects the respiratory system but can also impact the skin.
While many people believe that air pollution only targets the lungs through inhaled pollutants, this is not entirely accurate. Air pollution can affect various parts of the body, including the skin, leading to a range of problems.

Our skin serves as the first line of defense against external elements and helps protect us from airborne particles and free radicals. The skin microbiome, consisting of bacteria, viruses, and fungi, plays a crucial role in wound healing, reducing oxidative damage, limiting allergen exposure, and maintaining skin elasticity and moisture.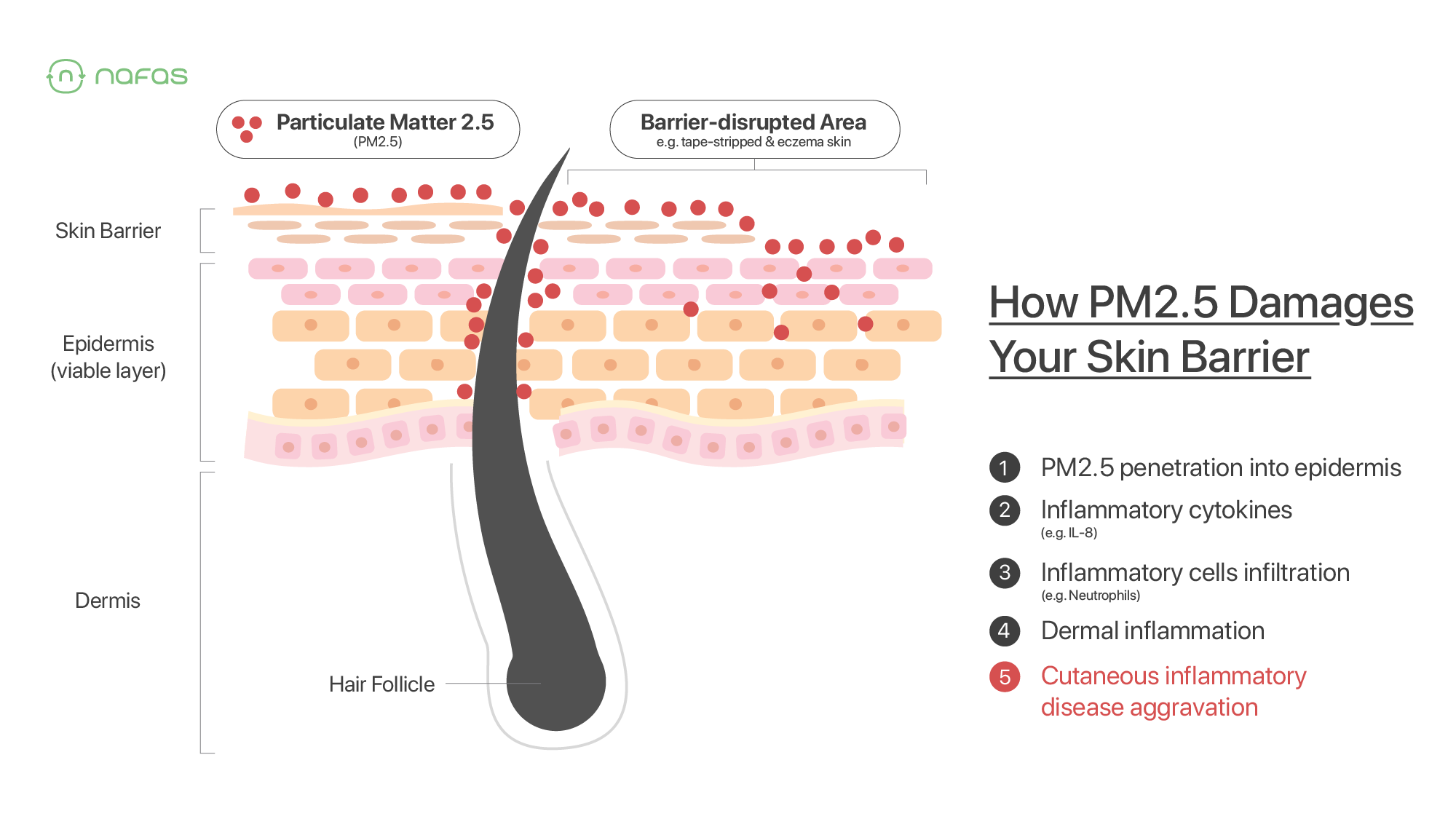 However, when exposed to excessive foreign compounds and pollutants like PM2.5 particles, the skin microbiome cannot function optimally. These pollutants can clog the skin pores and harbor bacteria, resulting in damage to the skin's barrier and the development of various skin issues such as aging, acne, and eczema (atopic dermatitis).
Numerous studies have demonstrated that air pollution can trigger skin problems, affecting both the face and the body.
For example, an increase in PM2.5 concentration by 10 μg/m3 has been shown to raise outpatient visits for acne vulgaris by 1.71% based on data from 120,842 patients in China (Ding et al., 2017). Additionally, eczema or atopic dermatitis can also be a consequence of air pollution exposure.

💡 For those who are not familiar with eczema or atopic dermatitis read this:
Eczema, characterized by skin inflammation, commonly occurs in children and can persist into adulthood. While atopic dermatitis cannot be cured, its inflammation can be managed.
Seeing the significant increase in air quality in Jabodetabek in May 2023 compared to the previous month, residents should be cautious. High pollution can trigger the emergence of the mentioned skin problems.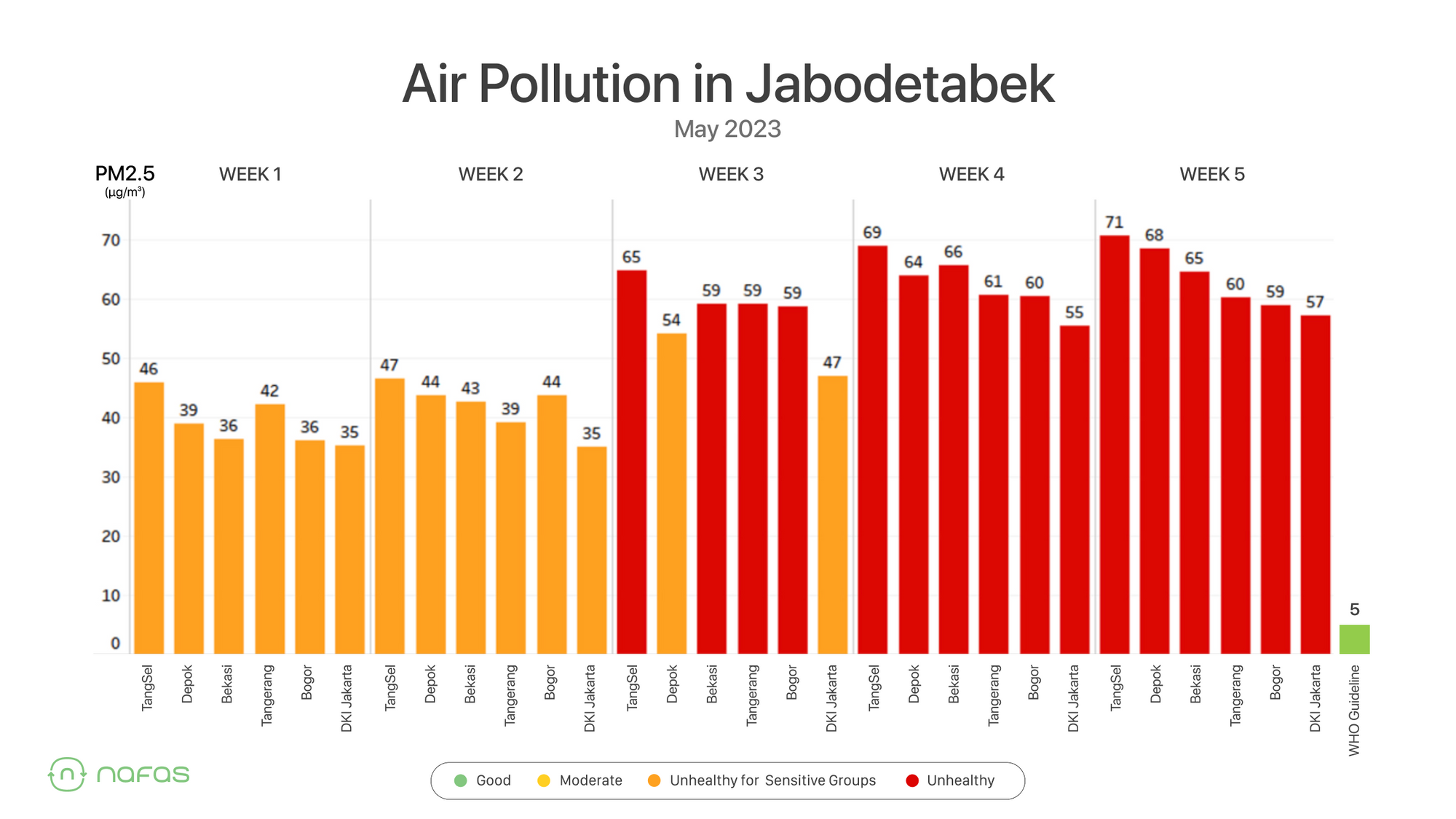 The most common and often thought to be unrelated to poor air quality is acne. However, acne is prone to occur when the skin is dirty due to accumulated pollutants.

Studies conducted in South Korea have found a positive correlation between high air pollution exposure and medical visits for eczema or atopic dermatitis. One study concluded that a 2.71% increase in eczema patient visits per month occurred with every 10 μg/m3 increase in PM2.5 in South Korea (Park et al., 2021). Furthermore, a 5.1% rise in medical visits for pediatric cases of atopic dermatitis was observed with each 10 μg/m3 increase in the average weekly pollution level (Fadadu et al., 2023).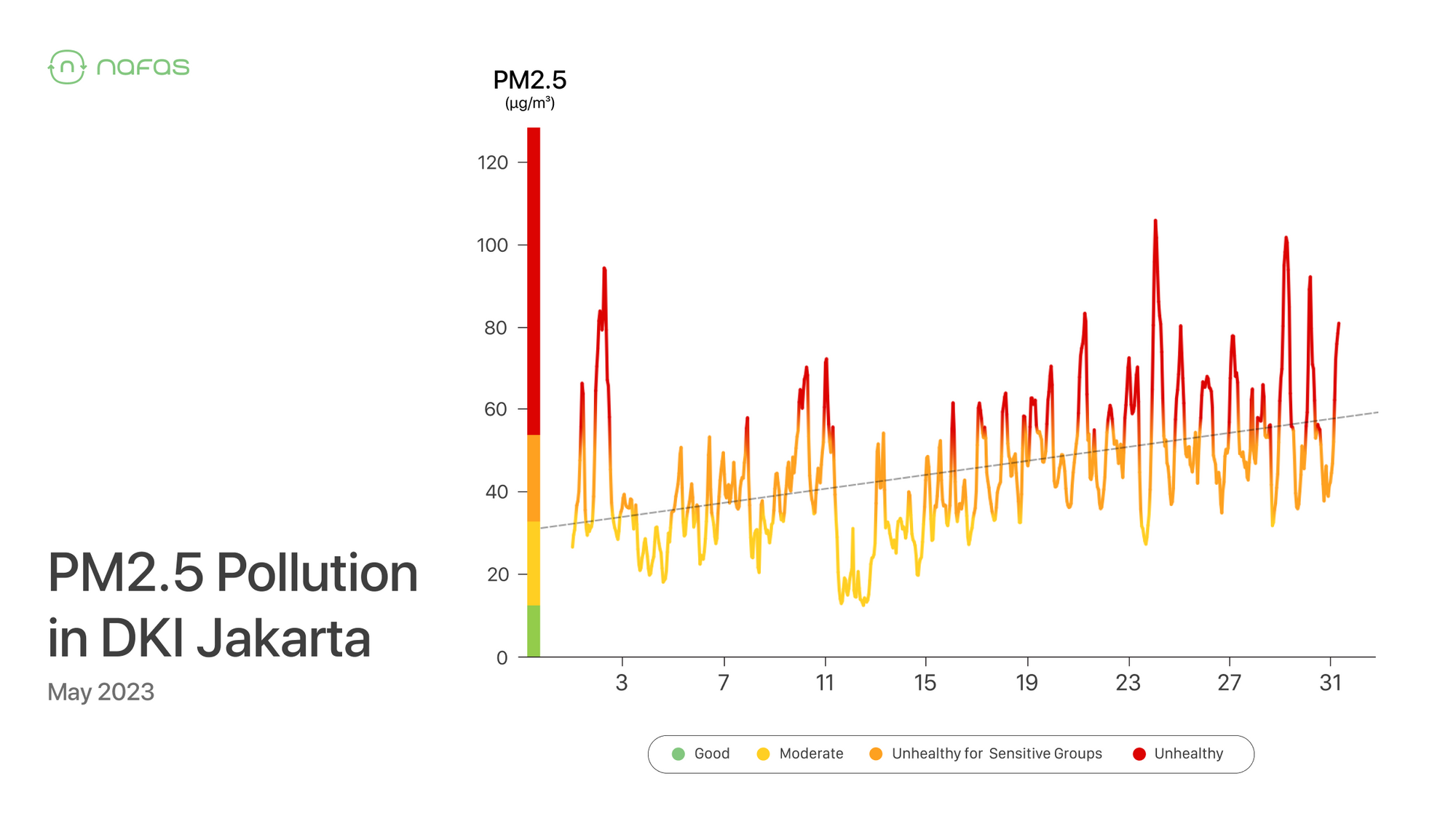 DKI Jakarta itself reached a weekly PM2.5 level of 57 ug/m3, which is approximately 11 times above the WHO annual reference! This high level of pollution can easily trigger various health issues in the community. Previously, a pediatric specialist expressed concerns on social media that high air pollution leads to many cases of children with complaints of cough, cold, and other respiratory infections.

Referring to the baseline study conducted in South Korea, such high levels of pollution also have the potential to increase the number of medical visits for skin problems such as atopic dermatitis in children by 13.8% within one month.
Conclusion
To protect the skin in polluted areas, it is crucial to be aware that air pollution affects not only the respiratory system but also the skin. Individuals with skin issues should take precautions to minimize the impact of high pollution exposure on their skin.

Here are some tips to help you minimize the outdo: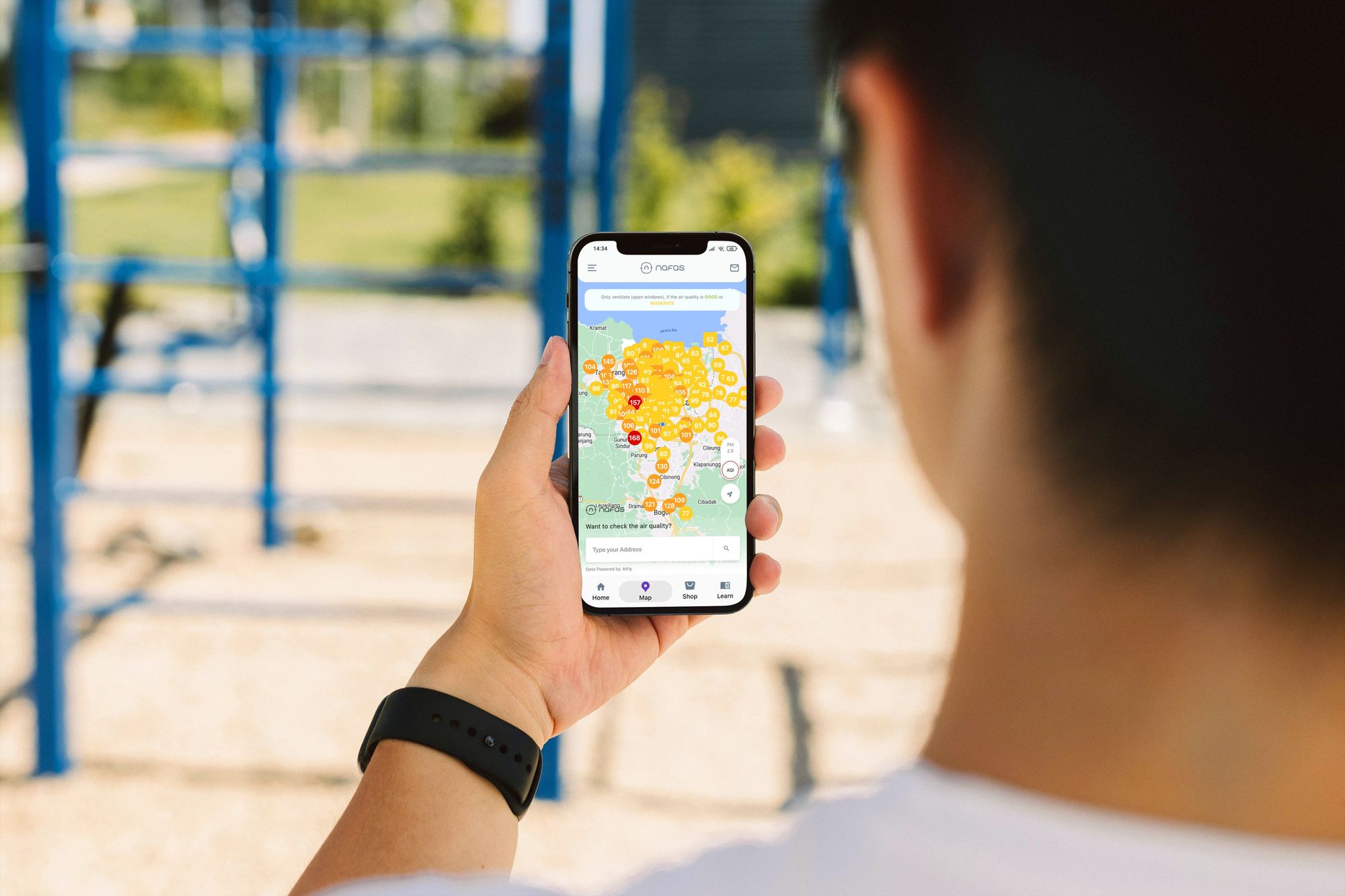 Here are some tips to reduce air pollution exposure and help decrease the potential for skin problems:
Regularly check the air quality using Nafas app before engaging in outdoor activities.
Avoid exercising outdoors when the air pollution level is high. If you still want to exercise, reduce the duration and wear a respirator mask like KN95/N95 to filter out air pollution particles. Alternatively, choose exercise places that are certified as Clean Air Zone gyms and yoga studios.
Pay attention to skin cleanliness and moisture by regularly cleansing your face after outdoor activities and using skin protection products like sunscreen and moisturizers.
Watch your nutrient intake and stay hydrated by drinking enough water as recommended (For adults, it is recommended to drink about eight 230ml glasses per day, totaling 2 liters).
Avoid smoking and exposure to cigarette smoke as it can worsen skin problems caused by air pollution.
By following the tips above, hopefully, we can reduce air pollution exposure and potential skin problems. Stay healthy!
Reference:

Ding, A., Yang, Y., Zhao, Z., Hüls, A., Vierkötter, A., Yuan, Z., Cai, J., Zhang, J., Gao, W., Li, J., Zhang, M., Matsui, M., Krutmann, J., Kan, H., Schikowski, T., Jin, L., & Wang, S. (2017). Indoor PM2.5 exposure affects skin aging manifestation in a Chinese population. Scientific Reports, 7(1). https://doi.org/10.1038/s41598-017-15295-8.

He, Y., Shi, C.-R., Guang, Q., Luo, Z.-C., Xi, Q., & Han, L. (2021). [Effects of Air Pollutants on Outpatient Visits for Atopic Dermatitis in Lanzhou]. Zhongguo Yi Xue Ke Xue Yuan Xue Bao. Acta Academiae Medicinae Sinicae, 43(4), 521–530. https://doi.org/10.3881/j.issn.1000-503X.13046.

Park, T. H., Park, S., Cho, M. K., & Kim, S. (2022). Associations of particulate matter with atopic dermatitis and chronic inflammatory skin diseases in South Korea. Clinical and experimental dermatology, 47(2), 325–334. https://doi.org/10.1111/ced.14910.
---