Nafas & Halodoc Study: Jabodetabek's Air Quality Increases Respiratory Disease Cases by 34%
---
---
💡 Summary:

1. Respiratory disease cases increase by 34% with every PM2.5 rise of 10 μg/m³
2. The percentage of respiratory disease cases in each district rises up to 41% when air quality deteriorates
3. PM2.5 concentration ≥ 55 μg/m³ (Unhealthy Category) risks causing respiratory issues within 12 hours
4. Bronchitis and Asthma cases surge fivefold within a 48-hour timeframe
5. Sensitive groups face the highest risk of respiratory problems with a case increase of up to 48%
---
This report is the result of a joint study conducted by Nafas, a digital air quality monitoring platform, in collaboration with Halodoc, a digital health service ecosystem. The method used in this study is descriptive statistical analysis to examine the relationship between PM2.5 pollution and the average cases/complaints of respiratory diseases on the Halodoc app during the June-August 2023 period for the Jabodetabek area.

In the Jabodetabek region, air pollution, especially from 2021 to 2023, showed a consistent pattern around June-August. The average PM2.5 level falls within the "Unhealthy for Sensitive Groups" category or above the WHO's annual exposure limit.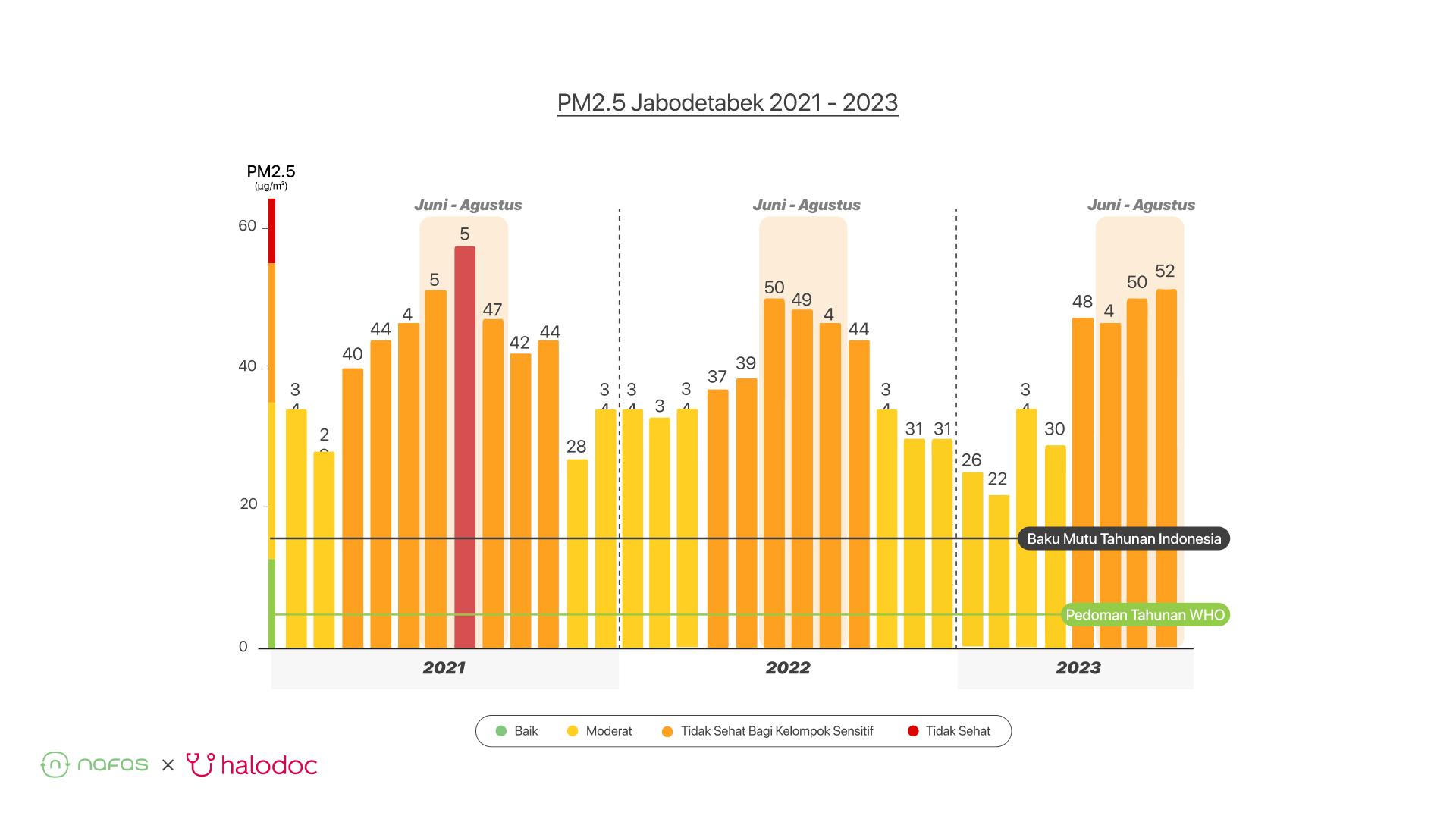 PM2.5 remains a hazardous pollutant due to its minute size, allowing easy inhalation and posing health threats to everyone, particularly vulnerable groups like children and the elderly.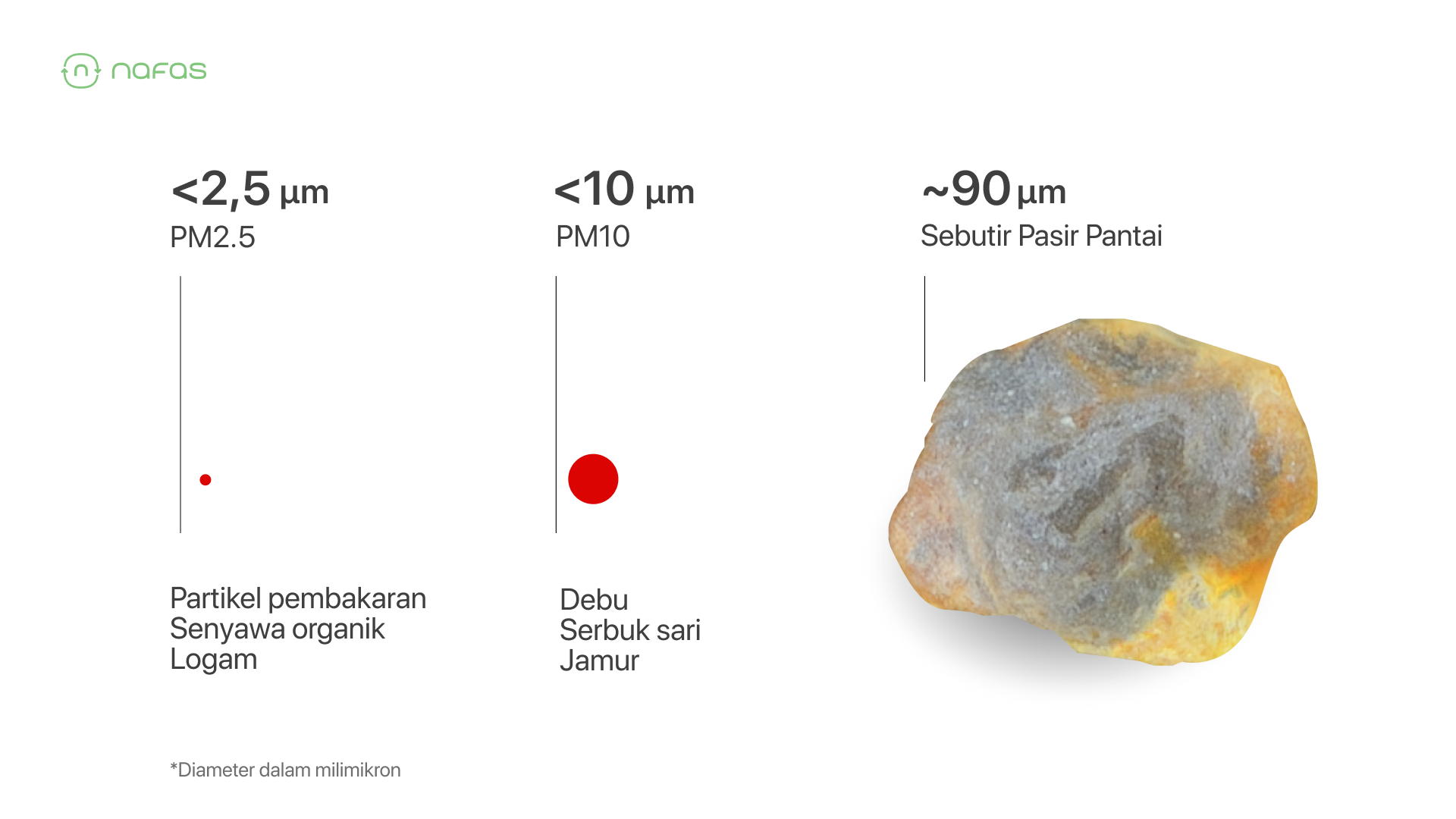 Hence, it's vital to understand how this pollution impacts the respiratory health of Jabodetabek residents.
How poor is Jabodetabek's air quality?
Based on Nafas sensor network, Jabodetabek's air quality predominantly falls under the "Unhealthy for Sensitive Groups" bracket. The highest pollution spike occurred in South Tangerang, where the PM2.5 concentration level reached up to 63 µg/m3 in August, almost 13 times higher than the WHO's annual exposure limit.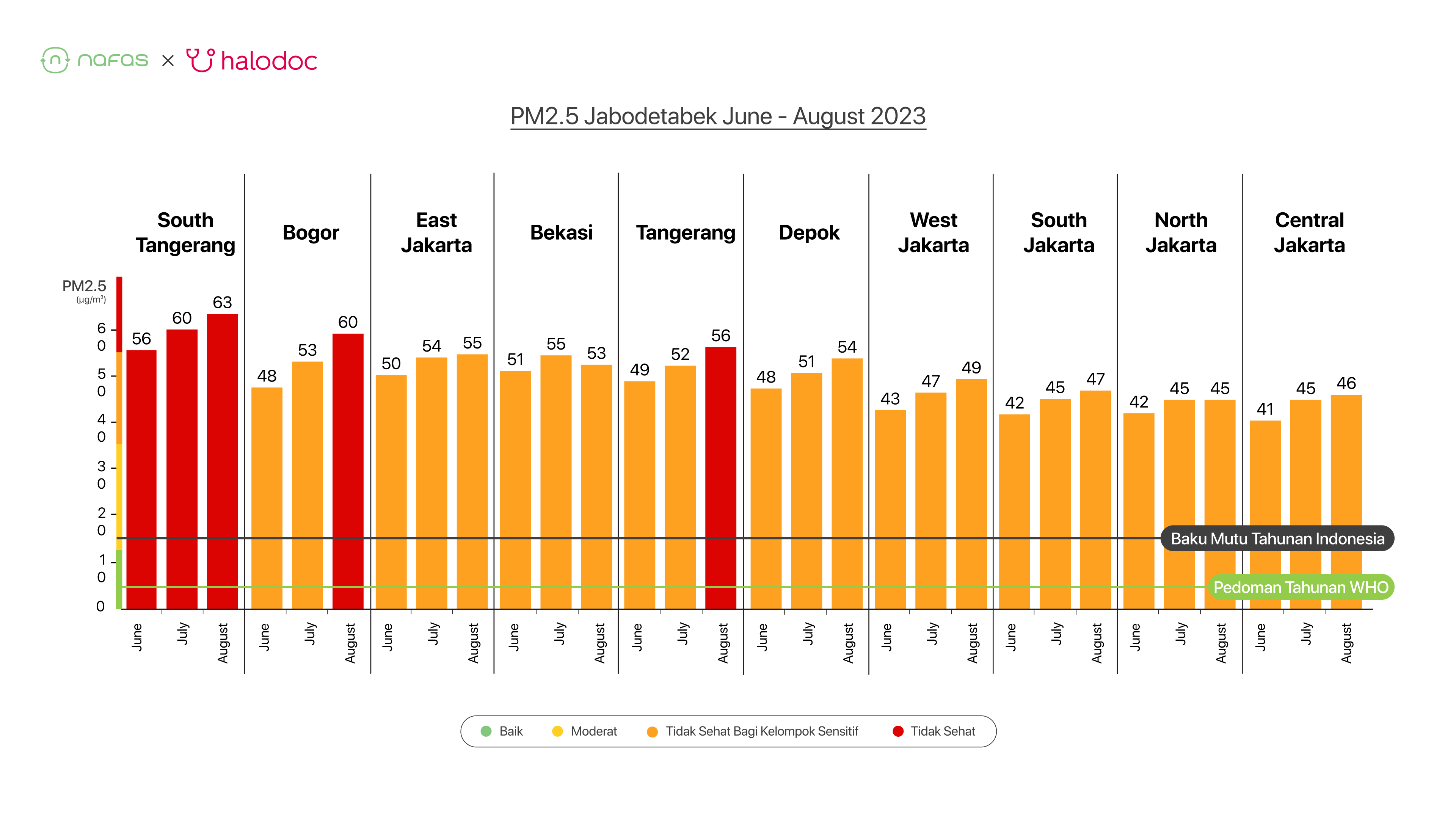 The deteriorated air quality in Jabodetabek during June-August 2023 had short-term health effects on residents, felt shortly after the rise in air pollution levels. Below are some key findings from the Nafas and Halodoc study.
Key Study Findings
Respiratory disease cases increase by 34% with every PM2.5 rise of 10 μg/m³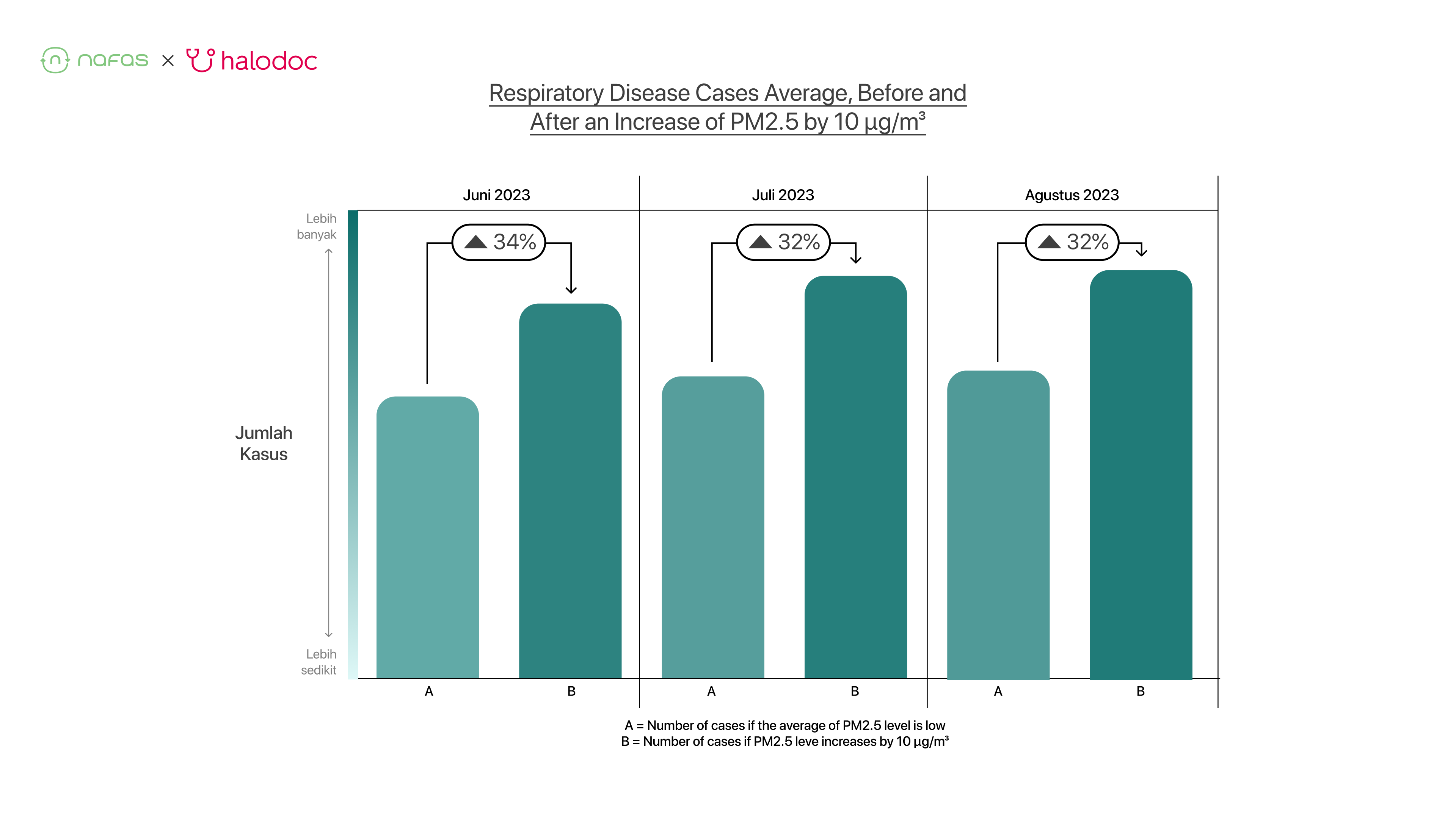 There was a 34% surge in respiratory complaints each time PM2.5 increased by 10 µg/m3 from a baseline of 31 µg/m3. The highest case increase occurred in June at 34%, while July and August saw a rise of 32%.
As pollution rises, the percentage of respiratory disease cases in each district increases up to 41%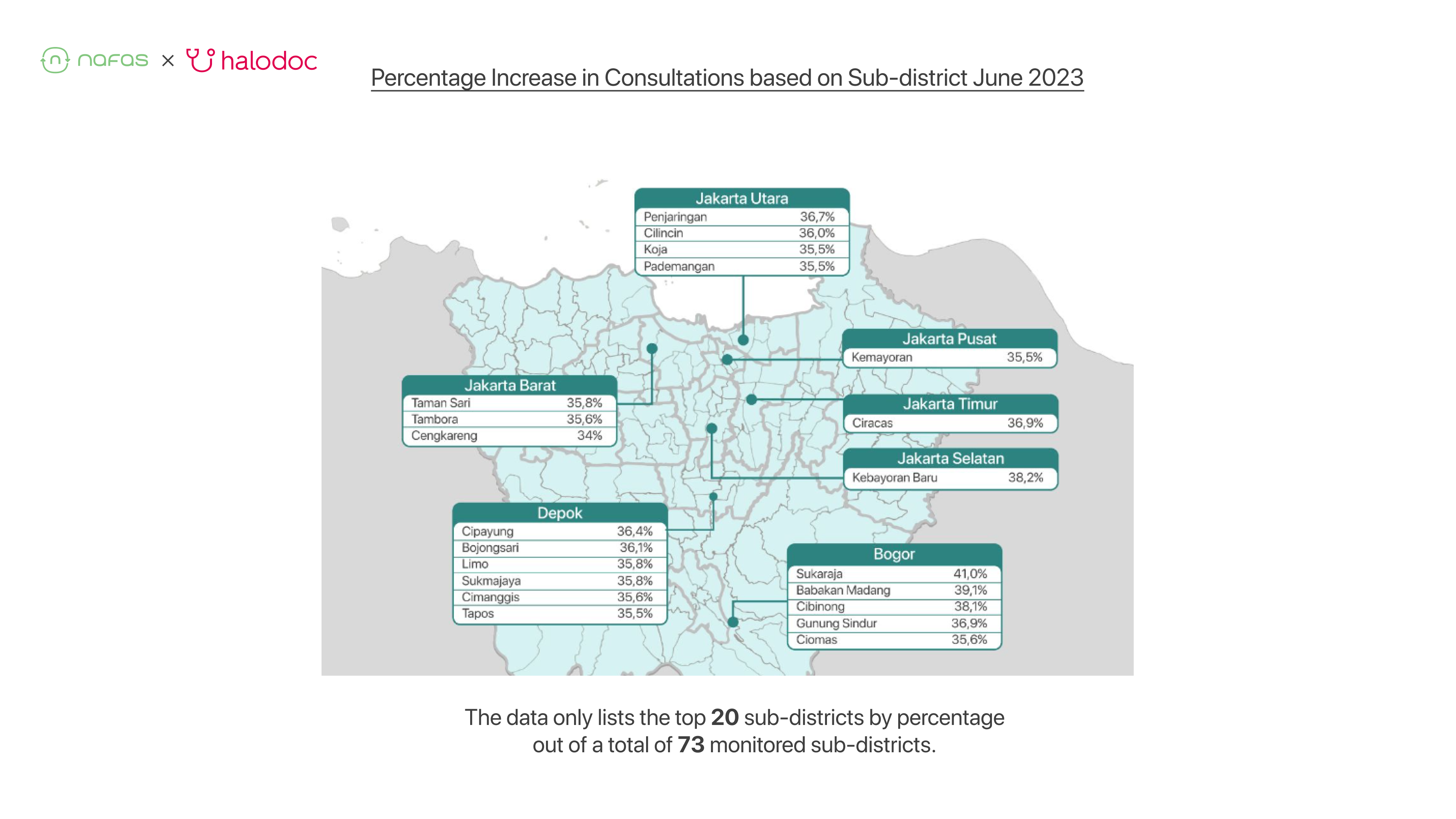 Based on data gathered from 73 districts in Jabodetabek, 20 districts showed the highest percentage rise in respiratory complaints with a PM2.5 increase of 10 µg/m3. The monthly peak in respiratory disease cases occurred in Kebayoran Baru District at 38.2% (June) and 35.4% (July), and in Serpong District at 34.7% (August).
Unhealthy air quality risks causing respiratory problems within a 12-hour span
Frequent high pollution events (PM2.5 above 55 μg/m³) correspond to a rise in respiratory disease complaints within a 12-hour span. This proves that air pollution not only acts as a silent killer with long-term health impacts but also affects residents in less than a day post high exposure.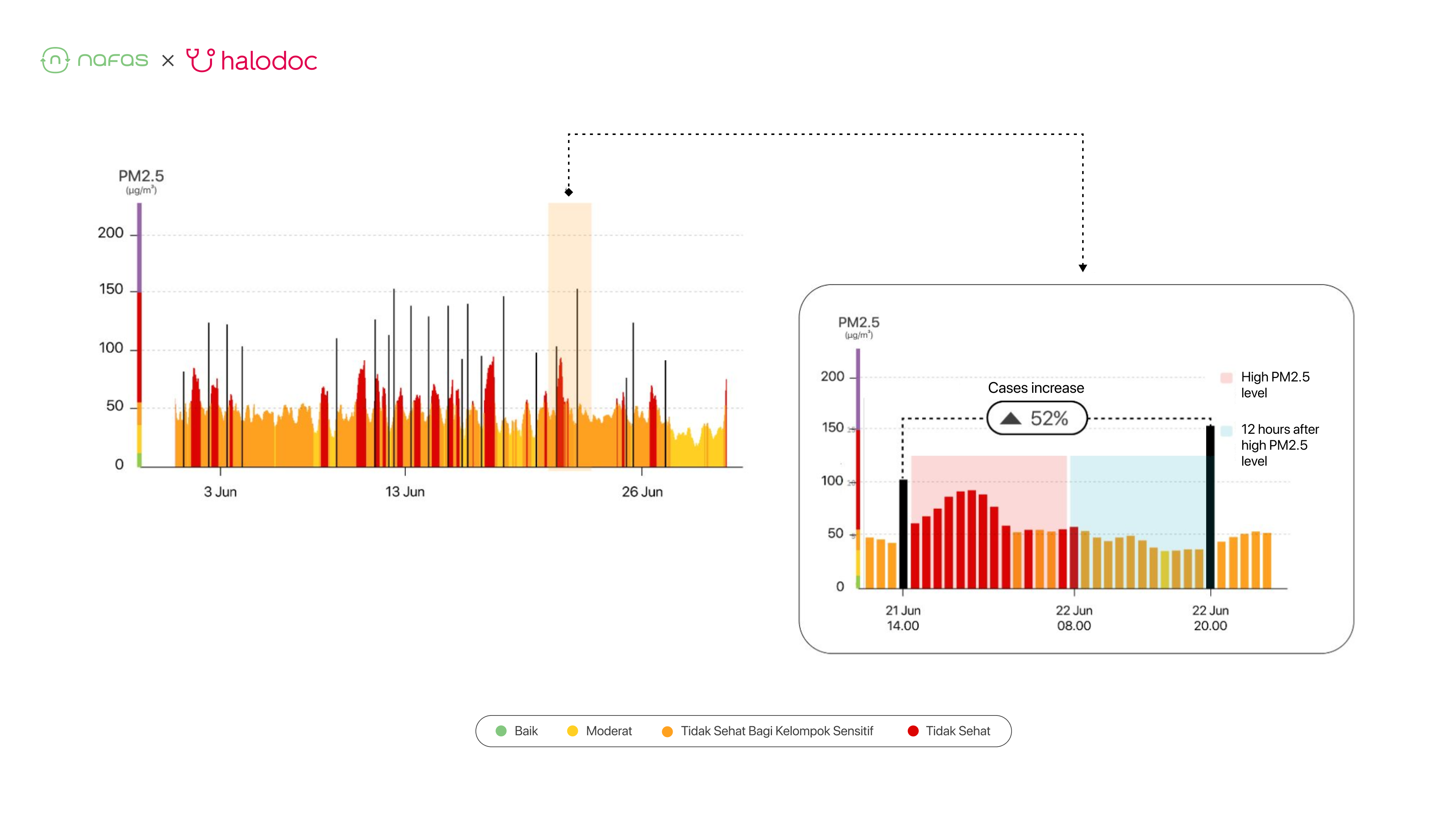 Cases of Bronchitis and Asthma surge fivefold within 48 hours
PM2.5 pollution can trigger various respiratory diseases. Some individuals might experience mild or severe symptoms, depending on factors other than pollution. This study focused on rhinitis, bronchitis, influenza, asthma, and sinusitis.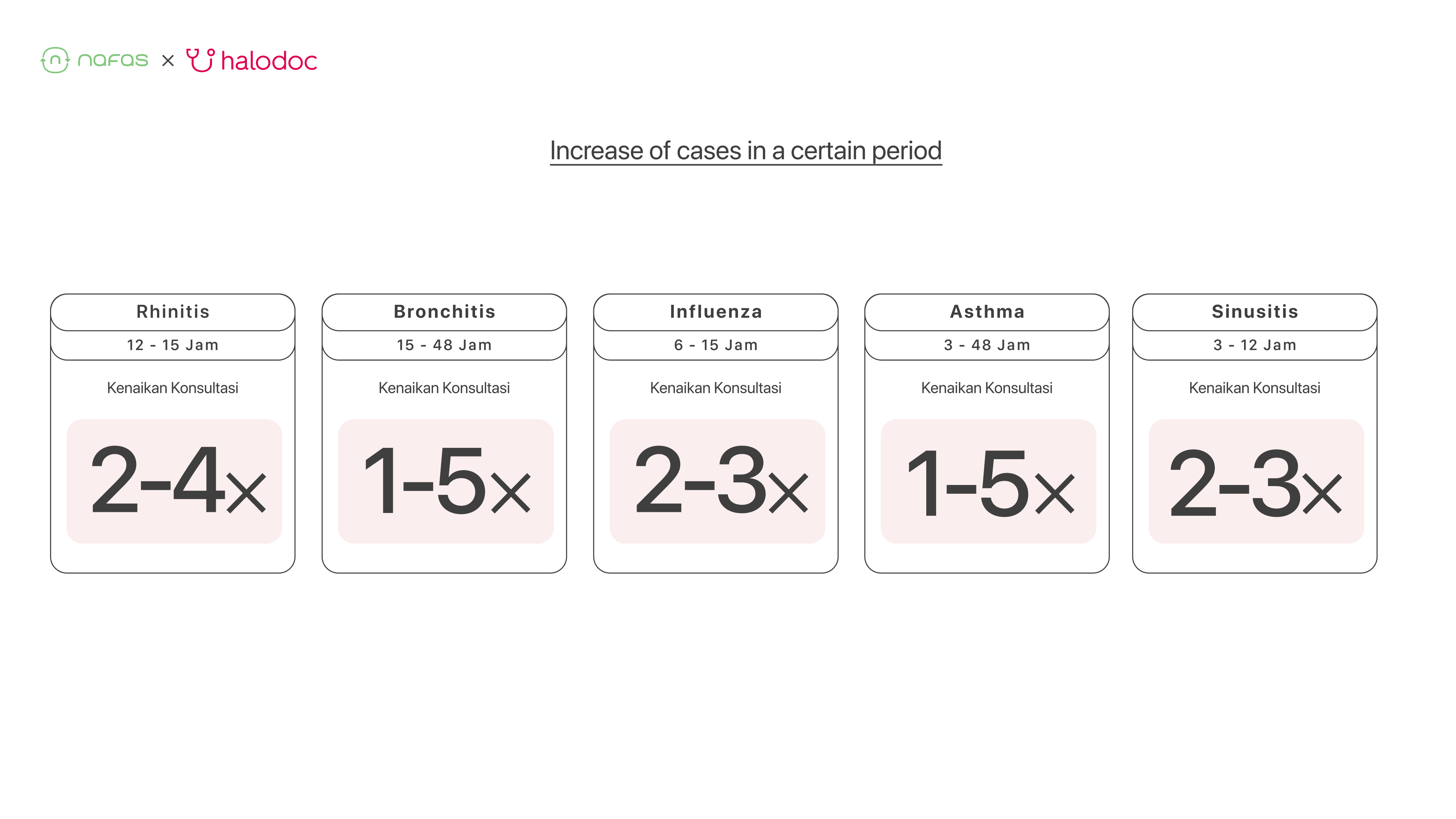 On average, all assessed respiratory diseases saw a case rise of 17% within 1-2 days post high pollution. The study also found that complaints related to Sinusitis and Asthma were the fastest to appear (3 - 48 hours) post peak poor air quality, while Asthma and Bronchitis complaints saw the highest surge (fivefold).
Vulnerable groups face the highest risk of respiratory problems with case increases up to 48%
PM2.5 pollution from June to August 2023 consistently fell under the Unhealthy category (both general and for sensitive groups). During this period, it was observed that respiratory complaints rose with increasing PM2.5 pollution.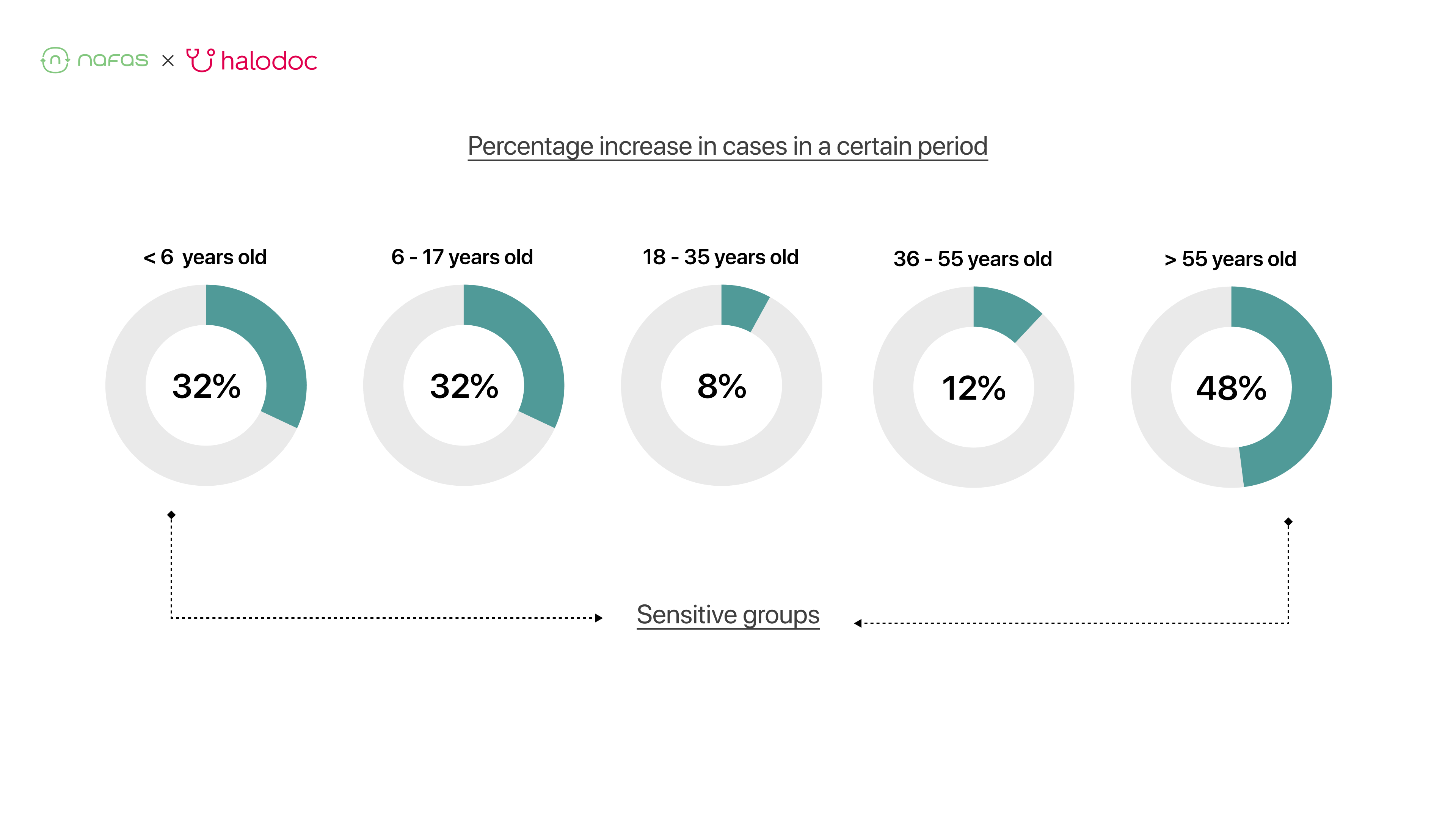 The most significant case surge occurred in the elderly aged 55 and above at 48%. The second most impacted group was children aged 5-18 at 45%. This confirms the most vulnerable groups to PM2.5 pollution: children, the elderly, and people with existing respiratory diseases.

The Nafas and Halodoc study calls on stakeholders, especially governments and health institutions, to take immediate action. The aim is to address the deteriorating air quality, which directly impacts the health of millions in the Jabodetabek region.
From this collaborative study, we can draw several conclusions:
Air pollution is a serious issue.
The Nafas and Halodoc study indicates that PM2.5 poses a risk of increasing respiratory complaints in a short timeframe.
Sensitive groups are more susceptible to respiratory problems.
The importance of reducing pollutant sources and exposure to air pollution cannot be stressed enough.
Air quality data from low-cost sensors can be utilized in health studies.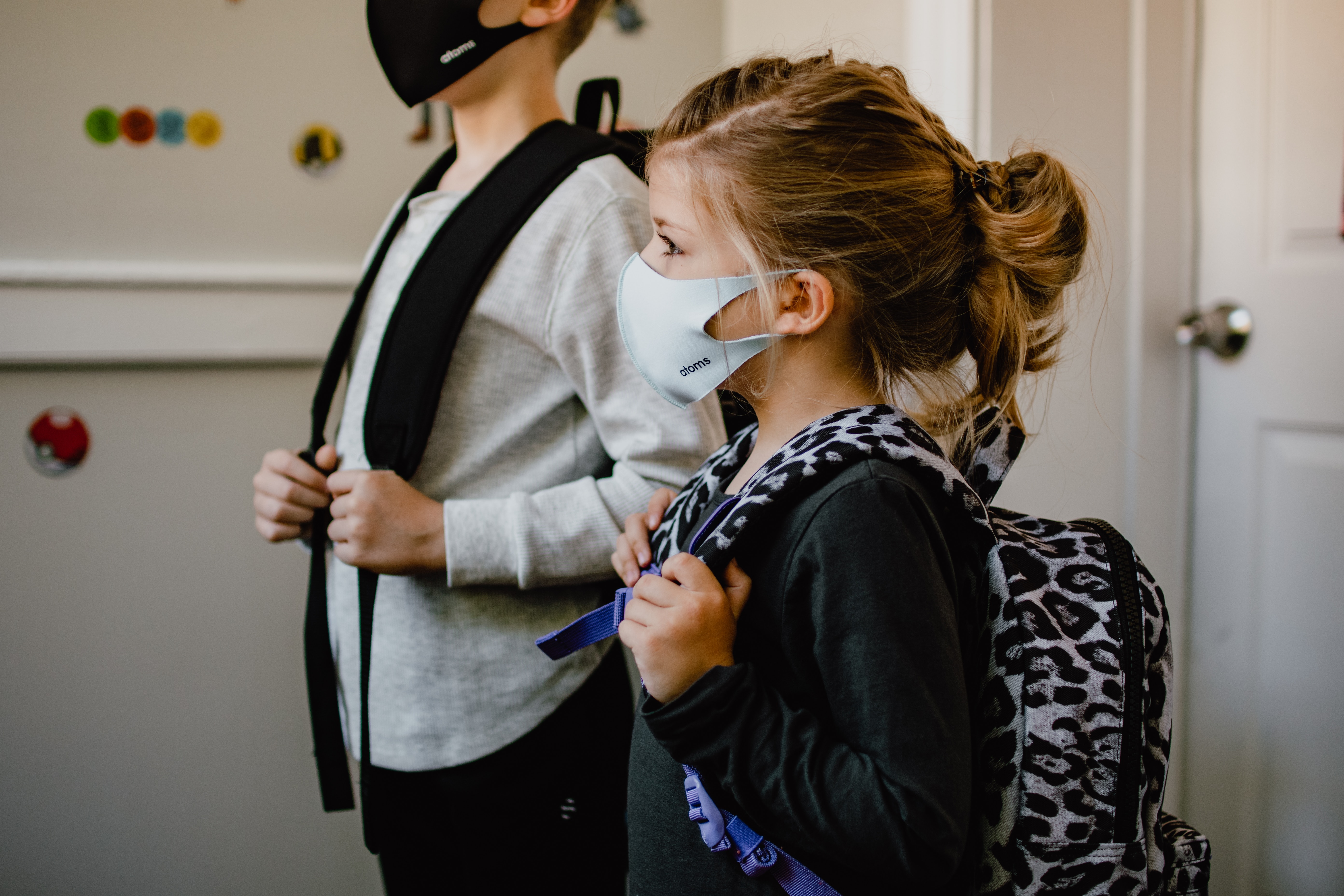 What can we do to protect ourselves and family members from exposure to air pollution?
Apply SEHAT protocol! To maintain good health condition in polluted areas, there are several things you can do, including following the SEHAT protocol:
Stay updated to current air quality in the Nafas app
Effects of pollution are real, stay home during bad air episodes
Have your mask on when you have to go outside
A vitamin and regular exercise are needed to boost immunity
Teleconsult Halodoc if you have respiratory problems
Besides applying the 'SEHAT' tips, choosing the right mask is also crucial in minimizing outdoor air exposure. The most recommended mask types are respirators like KF94 or KN95, which can filter PM2.5 particles. For children, choose a mask type and age-appropriate according to the doctor's recommendations.

Monitor air quality regularly with the Nafas app and consult with a doctor immediately if you have concerns via the Halodoc app!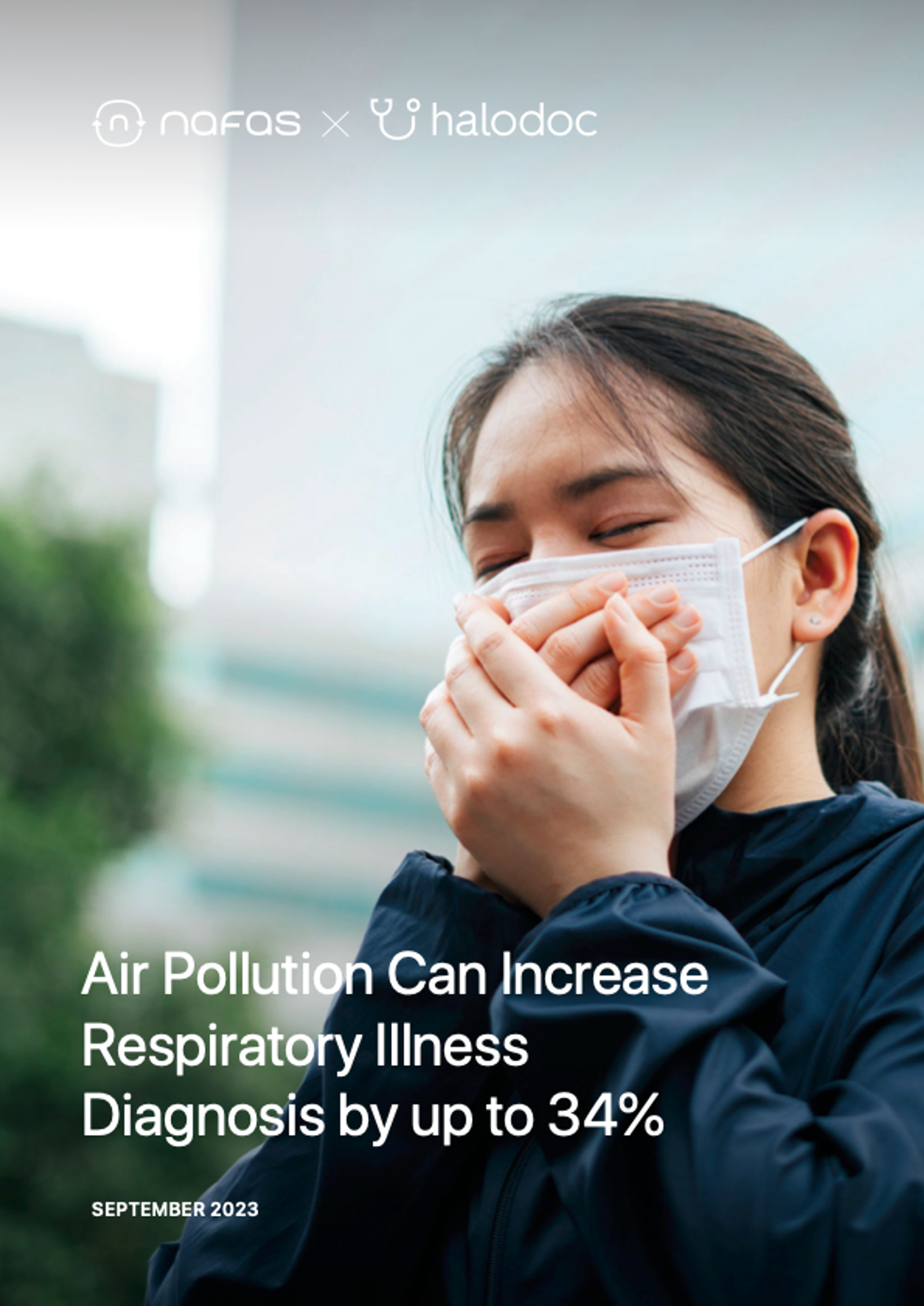 ---