Nafas August Report: Air Quality Declines, Rise on Acute Respiratory Infections in Children
---
---
💡 Summary:
1. South Tangerang holds firm as the most polluted city.
2. The average air quality in the Greater Bandung area in August is much worse than DKI Jakarta.
3. High pollution in Serpong exposes its residents to the equivalent of 117 cigarettes, a 5-cigarette increase from July.
4. Nafas & Halodoc Study: Childhood respiratory cases surge by 26% in Jabodetabek.
---
The Nafas Air Quality Report for August 2023 is out!

Pollution levels in various regions on the Nafas sensor network remain persistently high. Unhealthy air quality continues to prevail, affecting both sensitive groups and the general population. The increase in respiratory cases amid these adverse air conditions is not surprising.

One of the notable developments in August was the heightened government focus on air pollution issues. It commenced with a limited meeting led by President Jokowi, followed by the establishment of air pollution control task forces (as of this report's release on September 7, 2023, there are now a total of 4 task forces formed by KLHK, Pemprov DKI Jakarta, Kemenkomarves, and Polda Metro Jaya). These measures were accompanied by various actions aimed at curbing pollution rates.

Have these measures proven effective? Have they made a significant impact in rapidly reducing air pollution levels? Let's look at some important findings in the Nafas Air Quality Report for August 2023!
South Tangerang Retains Its Title as the Most Polluted City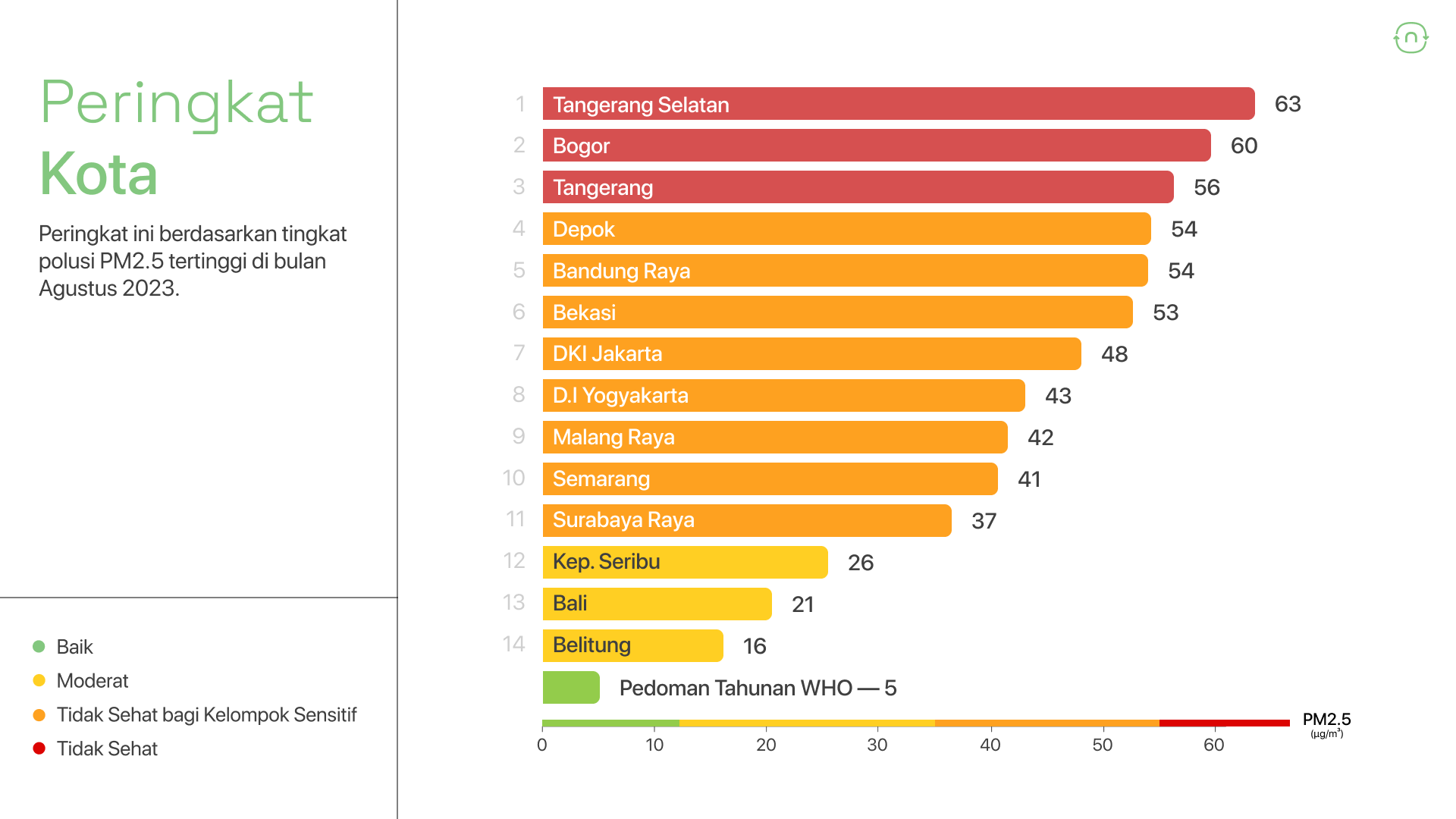 Since May, South Tangerang has consistently held the top position as the most polluted area on the Nafas sensor network. In August, the average PM2.5 pollution level in South Tangerang reached 63 µg/m3, categorizing it as "Unhealthy." Following closely in the second and third positions are Bogor and Tangerang, both experiencing air quality categorized as unhealthy.
Serpong Residents 'Smoked' More Than Last Month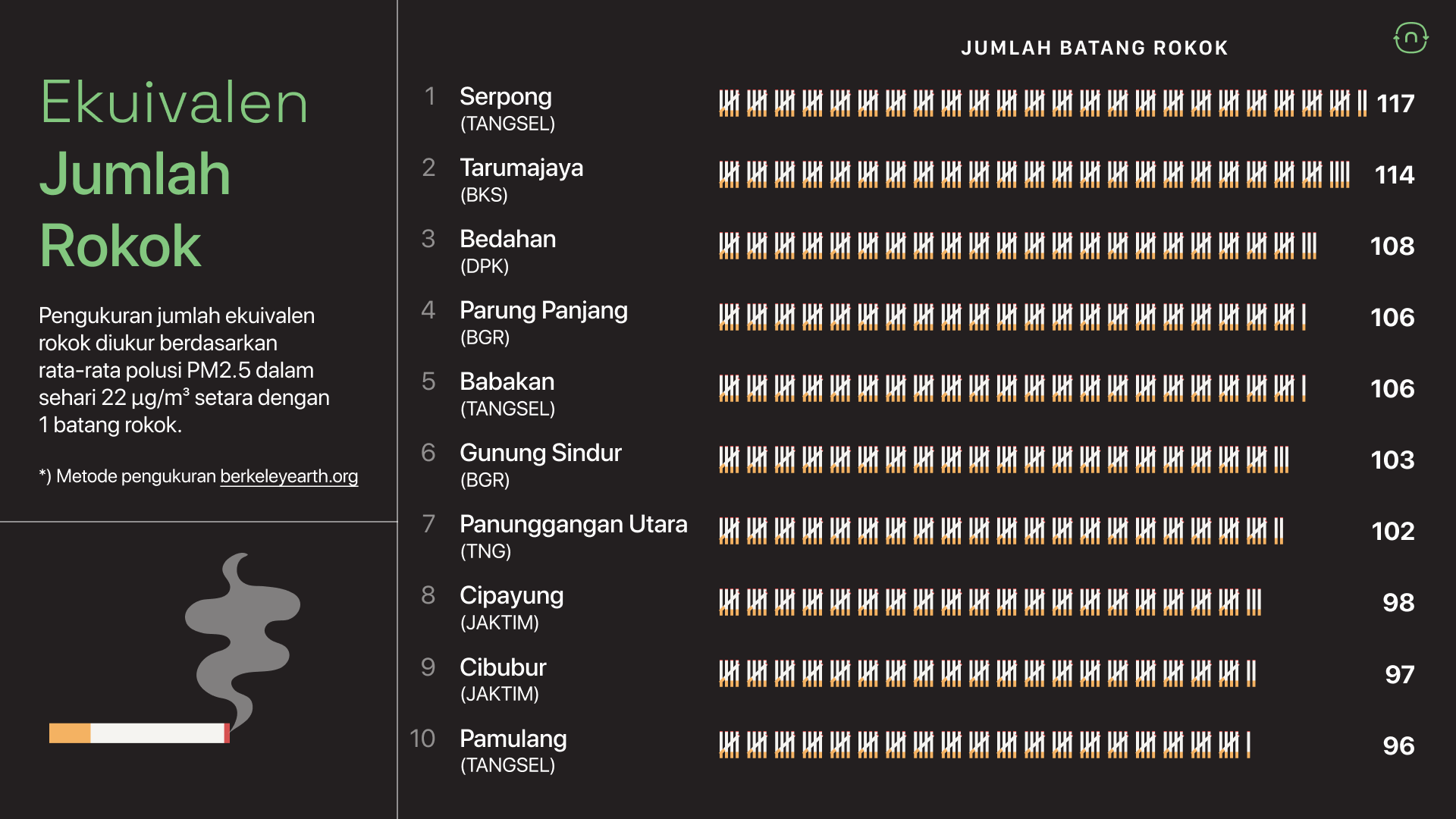 Last month, numerous media outlets drew attention to the poor air quality in Serpong, Tangsel, likening it to inhaling 112 cigarettes. This month, it has been revealed that air quality further deteriorated, causing Serpong residents to inhale the equivalent of 117 cigarettes in August, marking a 5-cigarette increase compared to July!

In the same period, residents of Tarumajaya, Bekasi inhaled the equivalent of 114 cigarettes, while Pamulang was exposed to pollution equivalent to 96 cigarettes.
Air Pollution is Not Confined to Jakarta Alone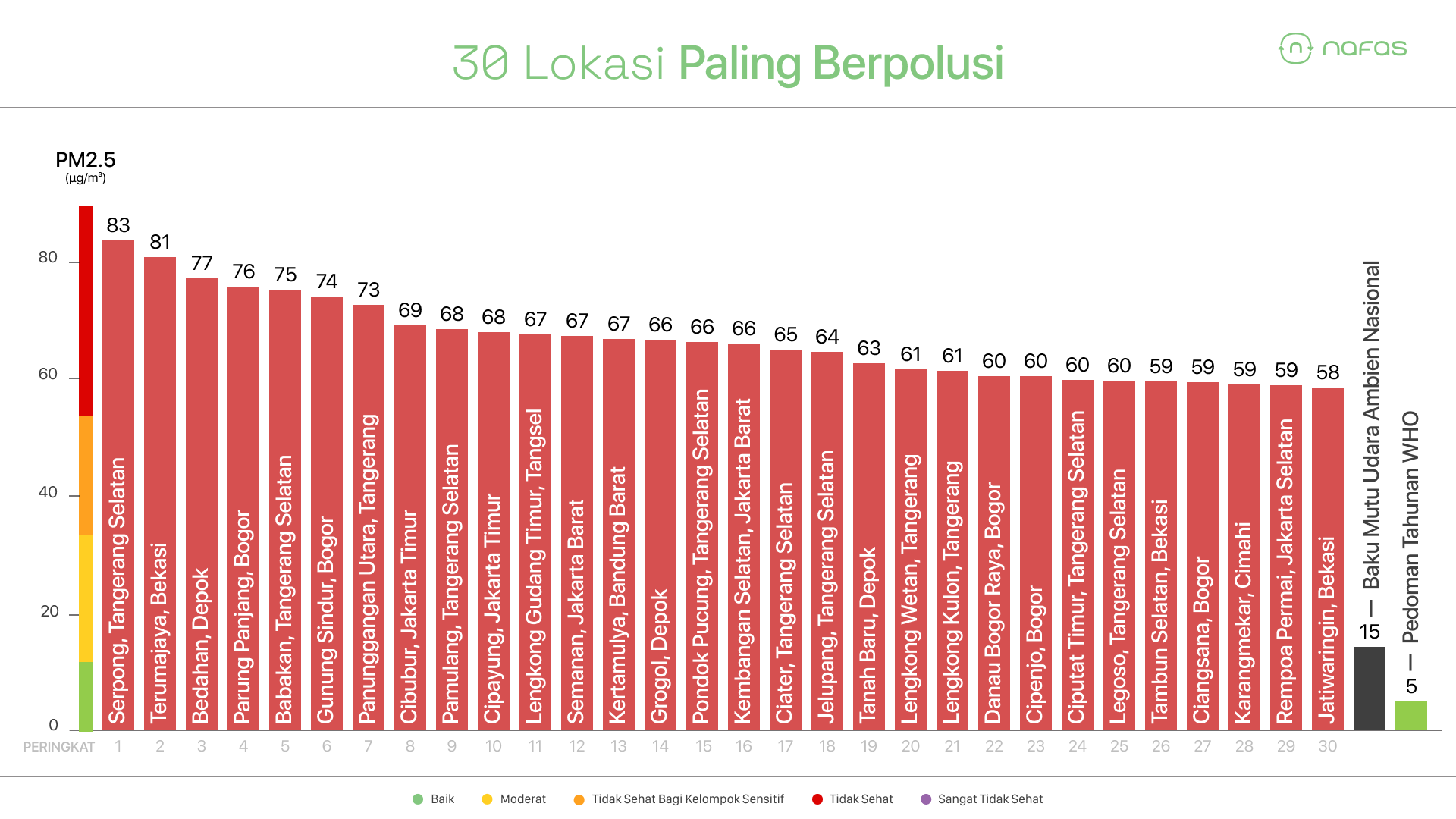 Despite recent media and social media coverage primarily centered on pollution in DKI Jakarta, it is evident that air pollution is not solely an issue for the capital city. As evidenced by the list of the 30 most polluted locations, many areas in surrounding cities such as Bogor and Bekasi, and even beyond Jabodetabek, including Bandung, are grappling with high pollution levels.
Did pollution decrease during Indonesia's 78th Independence Day celebration?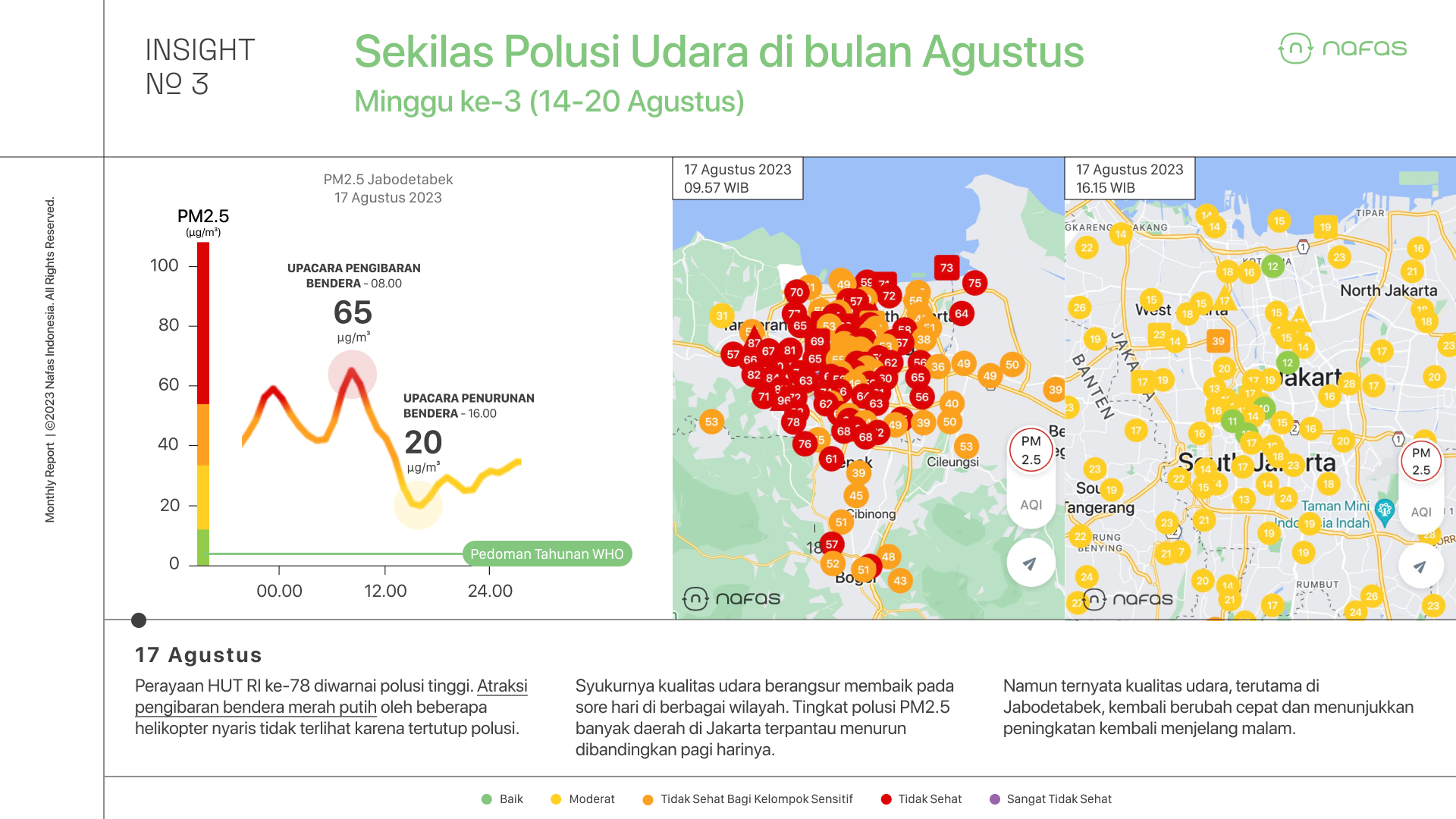 In the morning, many netizens were distracted by the sight of helicopters engaged in the red and white flag-raising activities, their presence obscured by the haze of pollution. Later in the afternoon, air quality briefly improved, albeit temporarily. Pollution levels once again rose in the evening.

Following an investigation by the Nafas team, it was revealed that the temporary decrease in PM2.5 pollution levels on the evening of August 17 was attributed to an increase in wind speed at that time.
School Children at High Risk of Exposure to High Pollution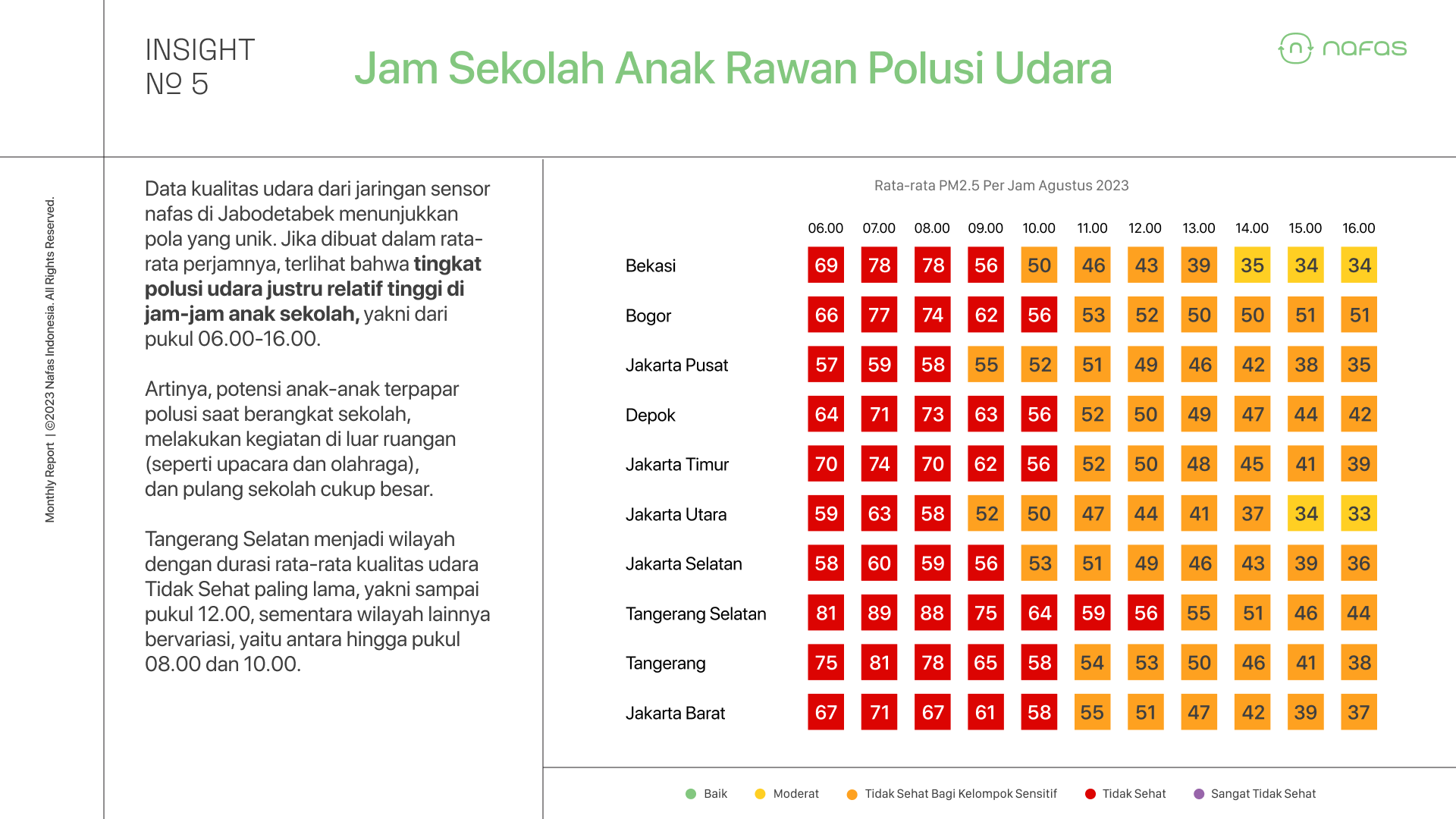 Another significant finding in this report is the observed patterns of pollution escalation from morning to afternoon. This implies that school children are at a higher risk of exposure to elevated pollution levels during their journeys to school, while attending school outdoor activities (such as ceremony and sports), and on their way back home. This is a cause for concern, as numerous studies have documented the adverse impact of air pollution on children's health.

In line with the joint study conducted by Nafas and Halodoc, there has been a 26% increase in pediatric doctor consultations, particularly for respiratory diseases, in August!
Health Protocol for Air Pollution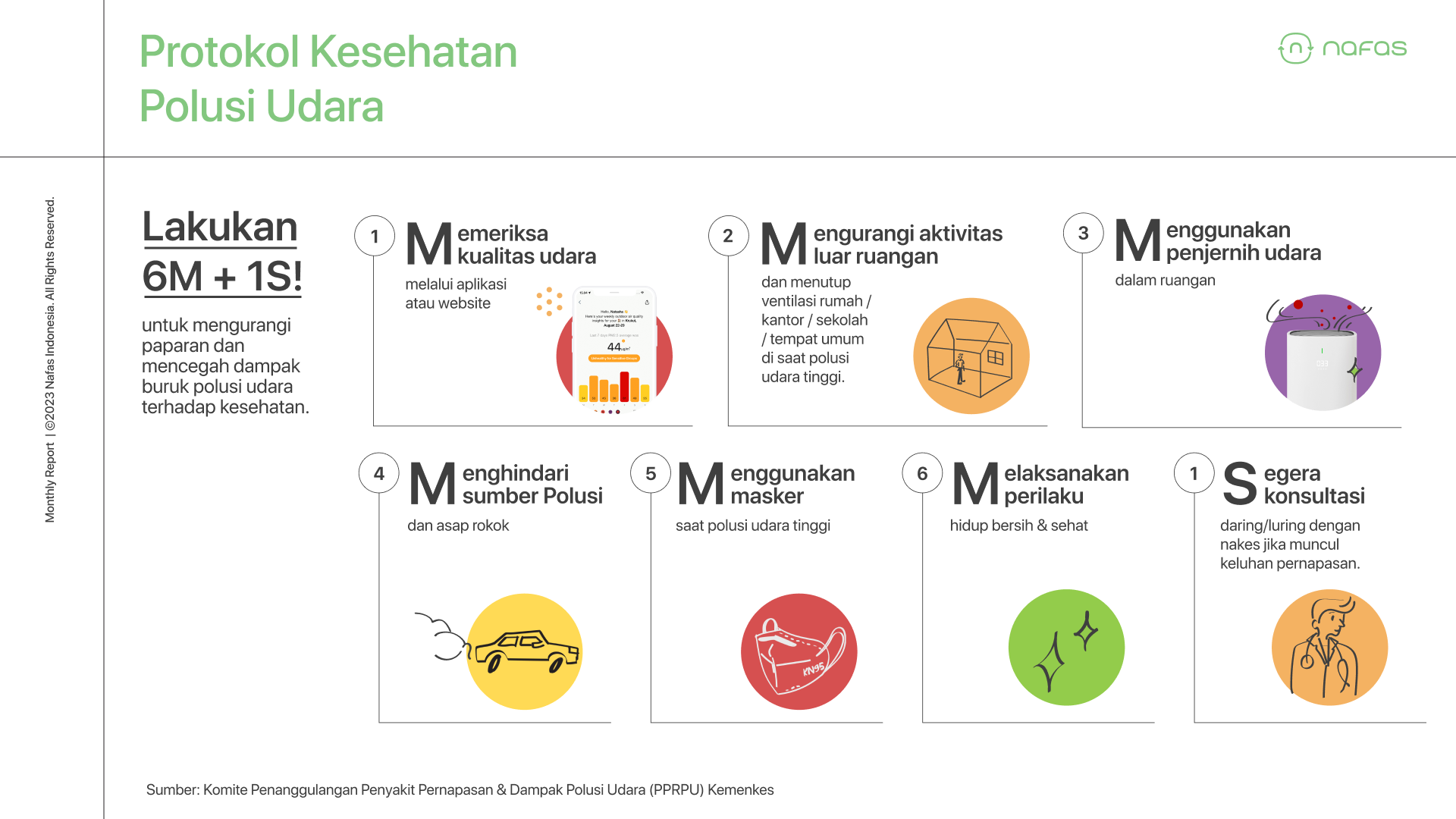 Air pollution is an ever-present threat that affects us all. Follow the 6M+1S health protocol as recommended by the Respiratory Disease Prevention & Air Pollution Impact Committee (PPRPU) of the Ministry of Health. Don't forget to participate in reducing daily sources of air pollution, such as using private vehicles wisely and using public transportation when traveling.


🔗 Download the full report here 👉 https://bit.ly/NBDAgustus2023
---