Is the air quality in Alam Sutera already "safe"?
---
---
When people hear about 'Alam Sutera', they might think of South Tangerang's version of 'Jaksel'. Located in the southeast of Jakarta, Alam Sutera (or you can call it Alsut), is a place with plenty of cafes and restaurants to hang out and explore. But how is the air quality in this area?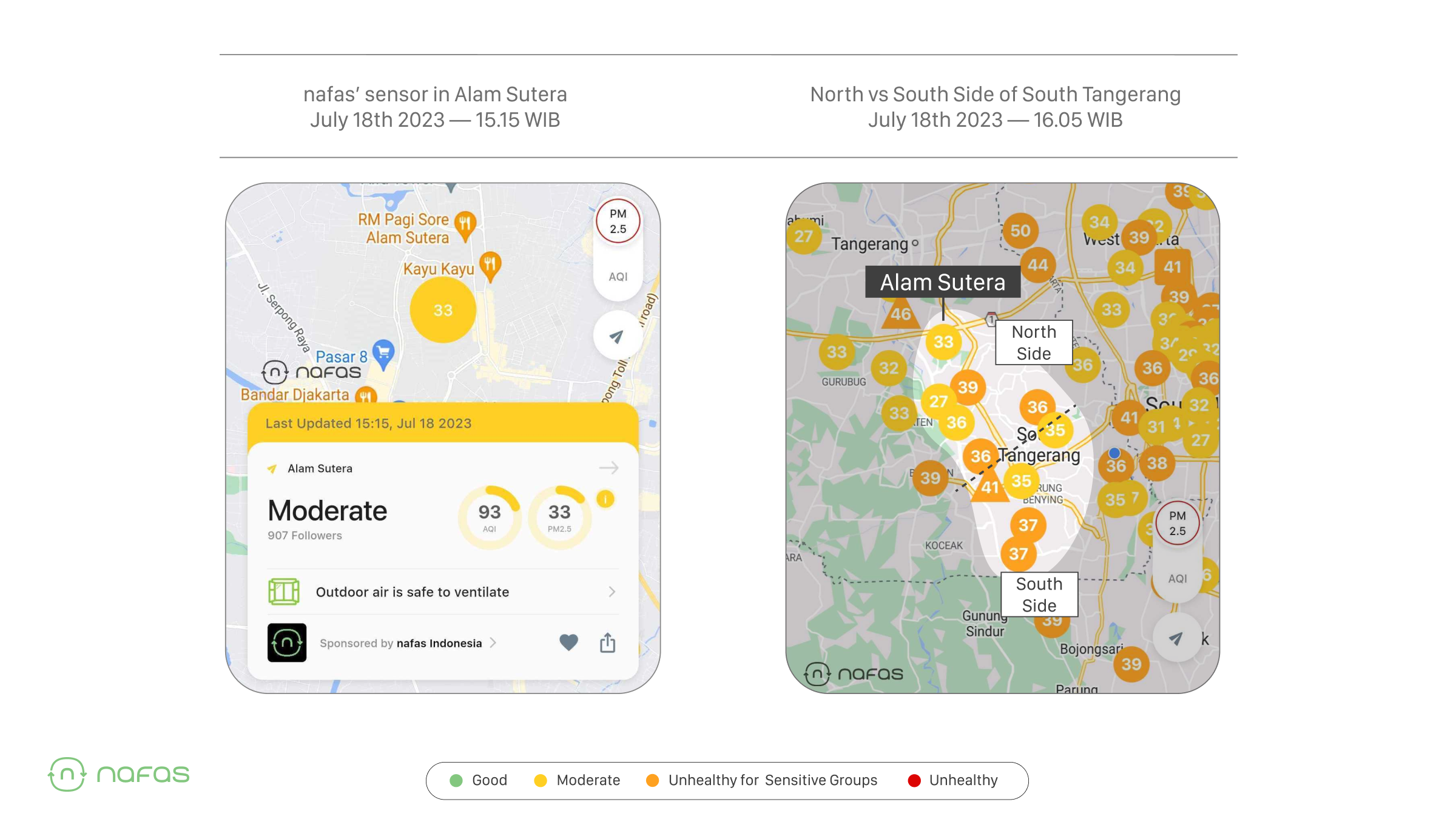 🏘️ Pollution in Alsut is lower than pollution in South Tangerang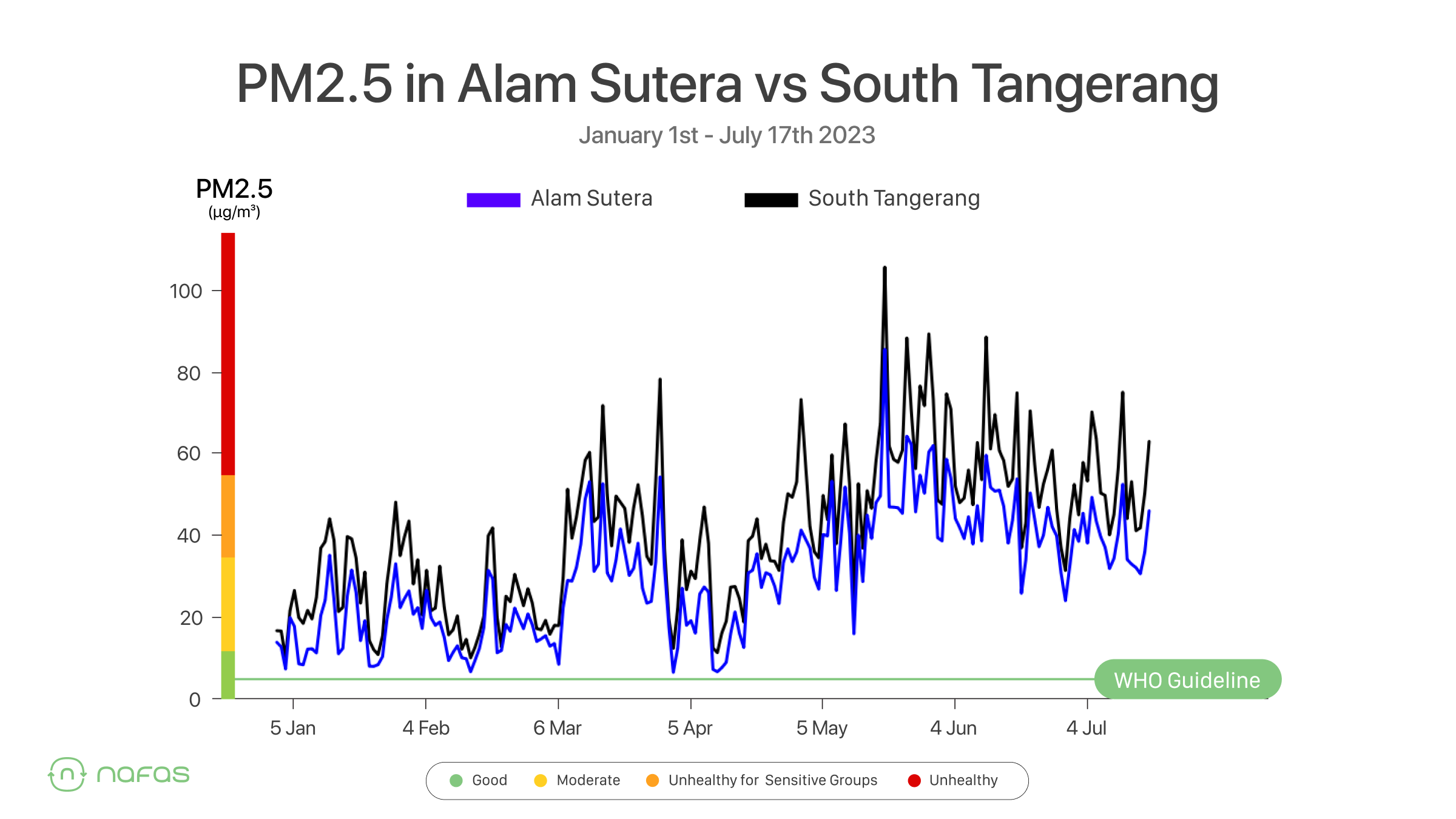 The figure above shows a comparison of the levels of air pollution in Alsut and South Tangerang. It appears on the graph that the level of PM2.5 in Alsut (blue line) is consistently below that of South Tangerang (black line), indicating that the amount of air pollution in Alsut is less than in South Tangerang. While pollution levels are relatively lower than the South Tangerang average, there are still frequent daily increases in PM2.5 pollution in Alam Sutera.
☠️ Sudden air pollution surge happens frequently
From June to July, Alsut experienced a drastic increase in air pollution, even exceeding 100 µg/m3. The highest PM2.5 hit on June 21 just before midnight, reaching 119 µg/m3 (24x above the WHO annual exposure limit)‼️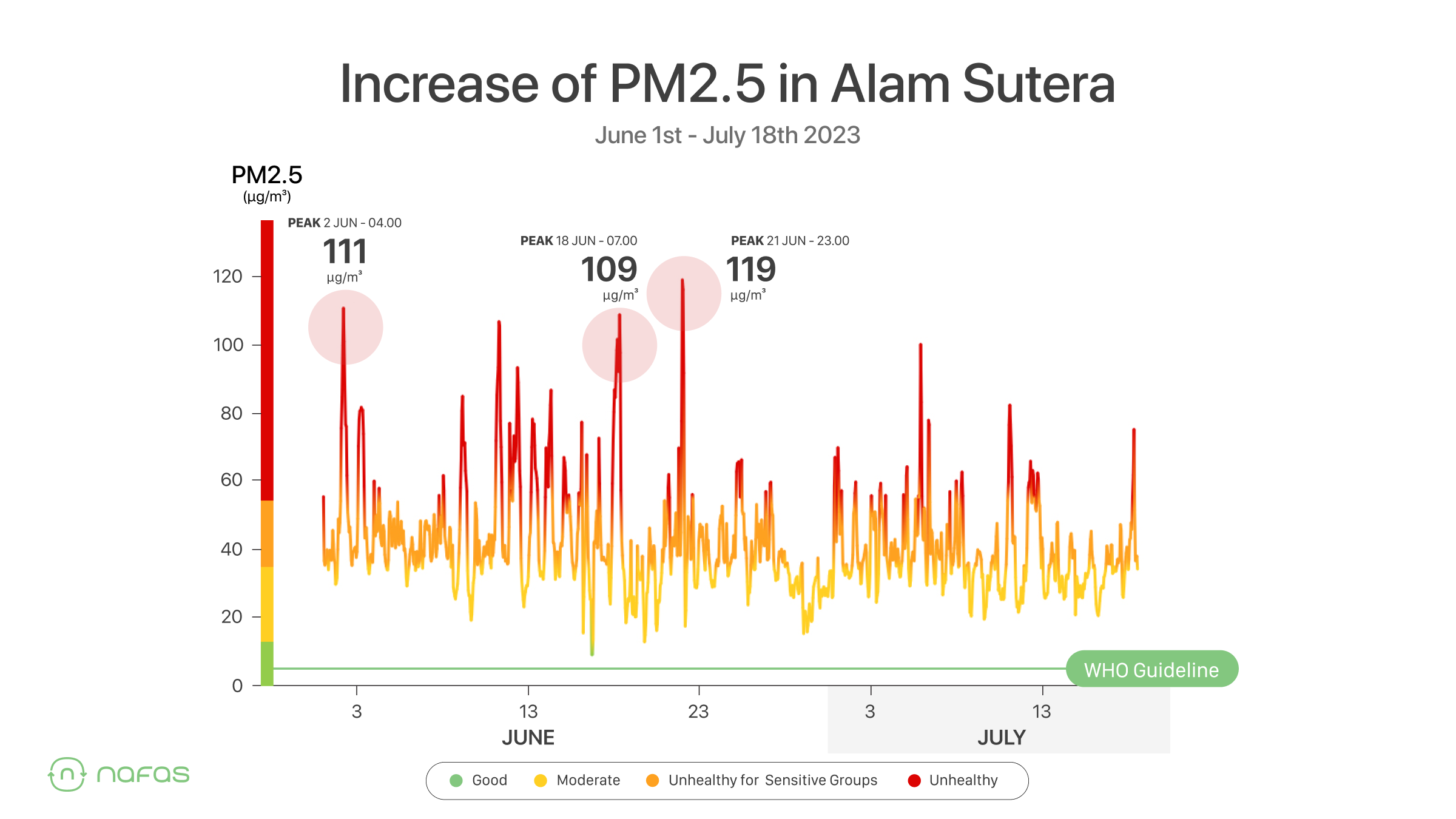 While the increase in pollution happened during the low mobility of commuters, it turns out that there are some pollution sources (innate and hyperlocal) in the nearby and lower boundary layer at night that trigger the accumulation of PM2.5 at ground level. This accumulated PM2.5 concentration will be read as high pollution.
Now, let's see the air pollution data in June and July! 👀
This is the air pollution data in Alsut for every hour from June to July 2023. Going by the data, Alsut residents have about 4 hours of moderately good air in the afternoon. This is a good time for Alsut residents who want to go outside for activities, such as jogging or hanging out at their favorite café.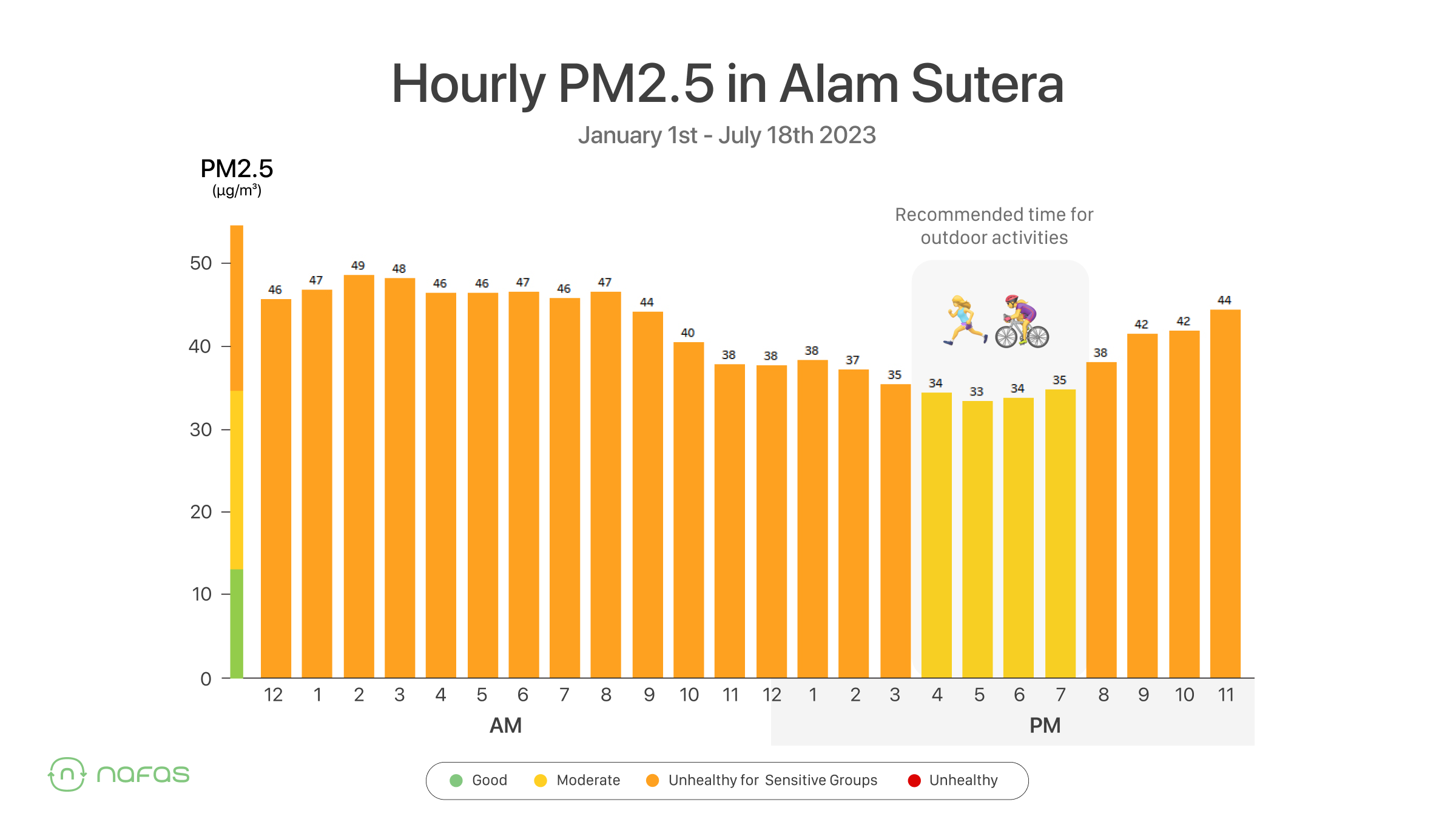 For more details, let's learn about the hourly air pollution data together!
Hourly data apparently shows even more clearly how Alam Sutera's air pollution fluctuated in June. Mid-June often has significant rises in PM2.5 pollution. Moreover, when totaled up, the polluted air inhaled by Alam Sutera residents from January to July 17, 2023 is equivalent to smoking 274 cigarettes! Thankfully, residents breathed good air almost every hour from June 28 to June 30.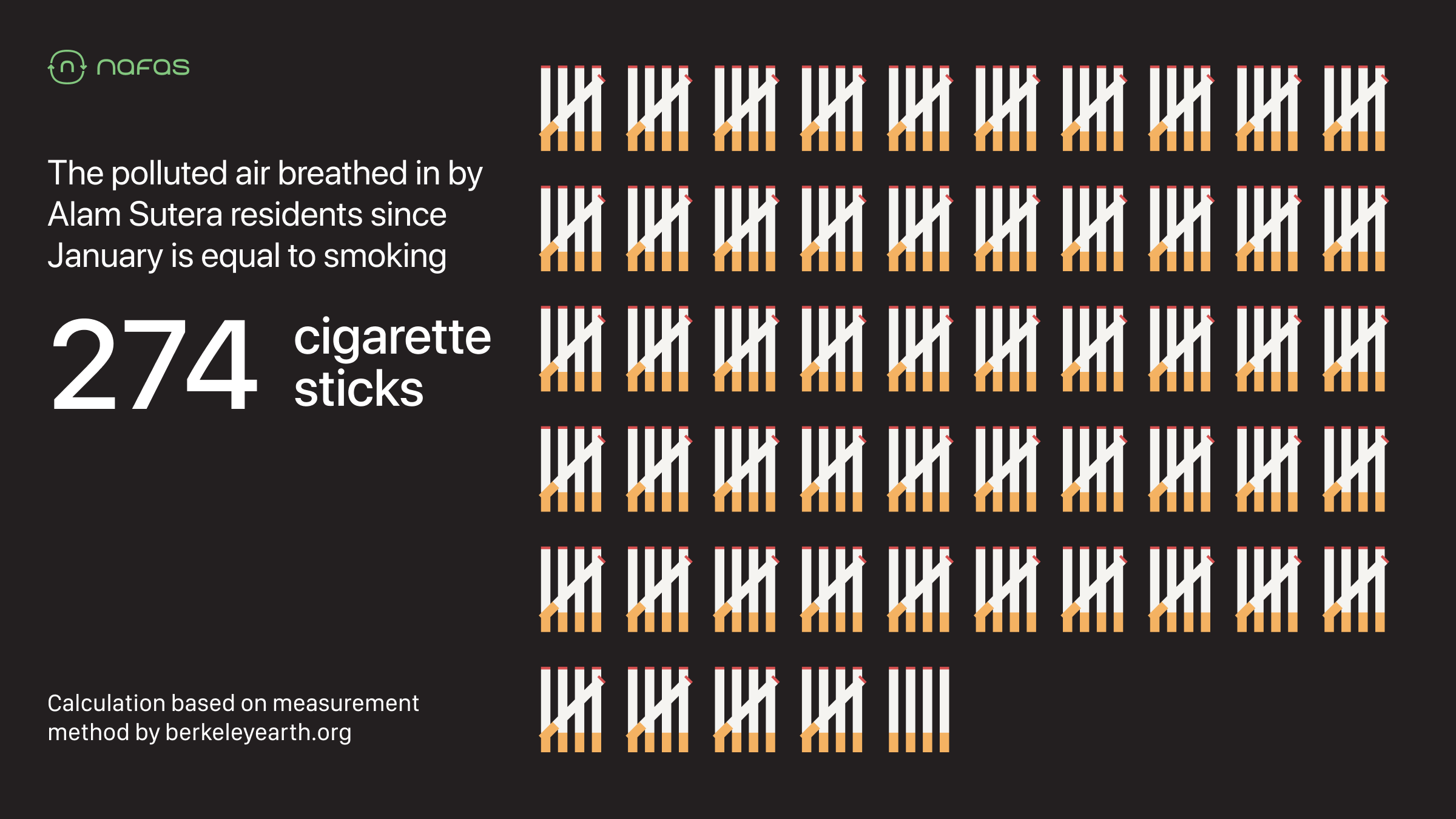 Also, the results of a collaborative study between Nafas and a local telemedicine company in Jabodetabek from June to August 2022 stated that the number of consultations related to asthma attacks doubled in 10-17 hours when PM2.5 was in the Unhealthy category for Sensitive Groups 🚩

The explanation of these data allows us to draw the conclusion that, despite Alsut's location in the northern part of South Tangerang, where pollution levels tend to be lower than in the southern part of South Tangerang, the daily increase in PM2.5 pollution still needs attention ☝🏻
🤷🏻‍♀️ What can we do to minimize air pollution?
Many things can be done to protect ourselves and our loved ones from harmful air pollution. The following tips are worth doing and should be practiced to reduce exposure to air pollution:

1) Start a healthy habit by monitoring your air quality. Downloading a Nafas app and checking the air quality regularly will help you know the latest air quality in your area, and what you should do.

2) Make important locations a 'favorite' to make it easier to check, such as the location where you live, the location of your child's school, or other locations that you often visit.

3) Wear a facemask when you go out. Preferably, use a respirator type such as N95.

4) Follow other Nafas recommendations, such as closing vents and using an air purifier with a HEPA filter to help clean the air when air quality is poor.
---