Is it healthy to breathe the air in Grogol Depok?
---
---
Grogol is a residential area in the same zone as Bedahan, which is western Depok. Home to more than 26,000 people, Grogol in Depok has 152 days of 'unhealthy' air quality, especially for sensitive groups. So, is the air quality in Grogol really that bad? Let's find out together! 👀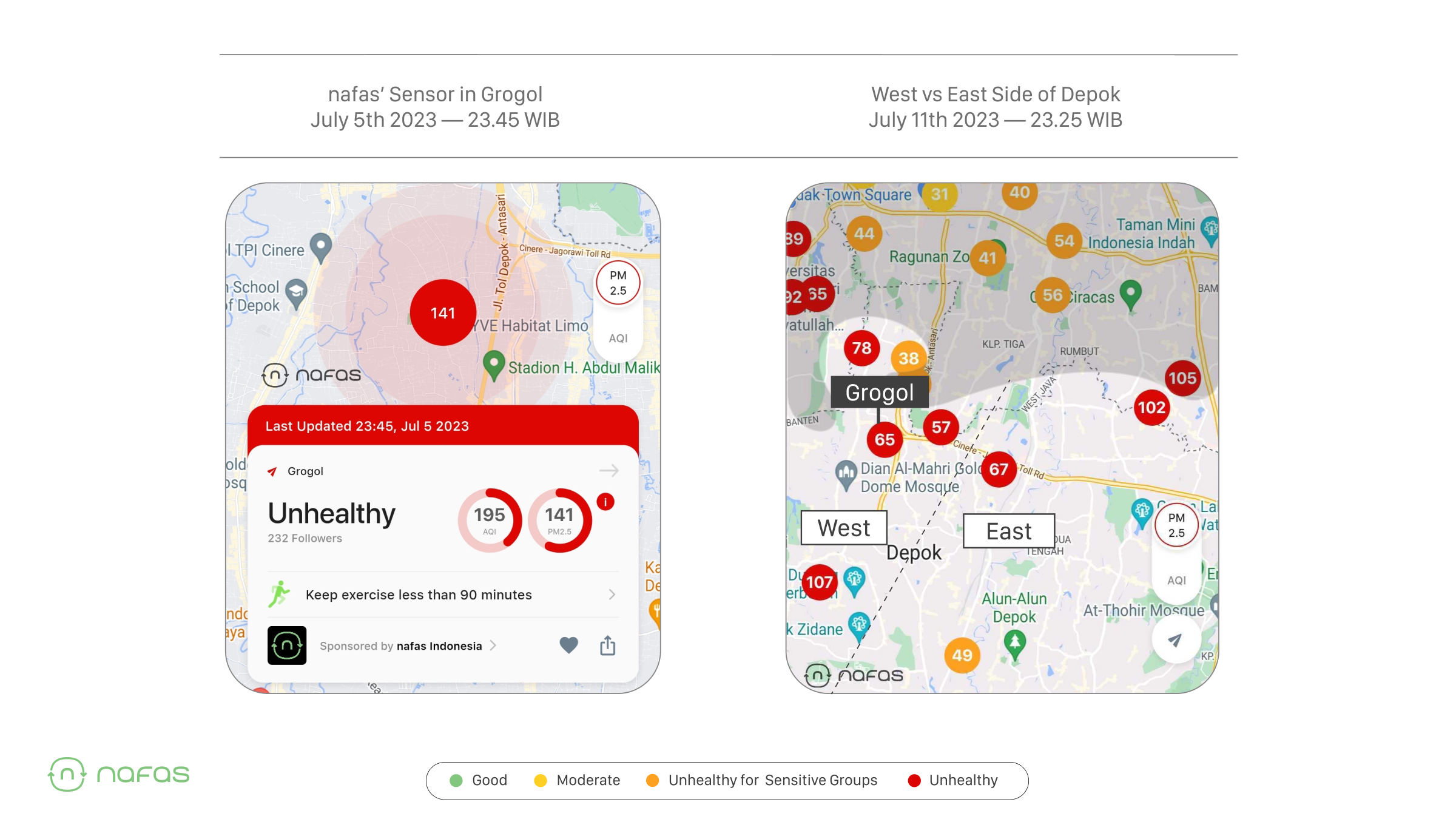 🏘️ Grogol is more polluted than Depok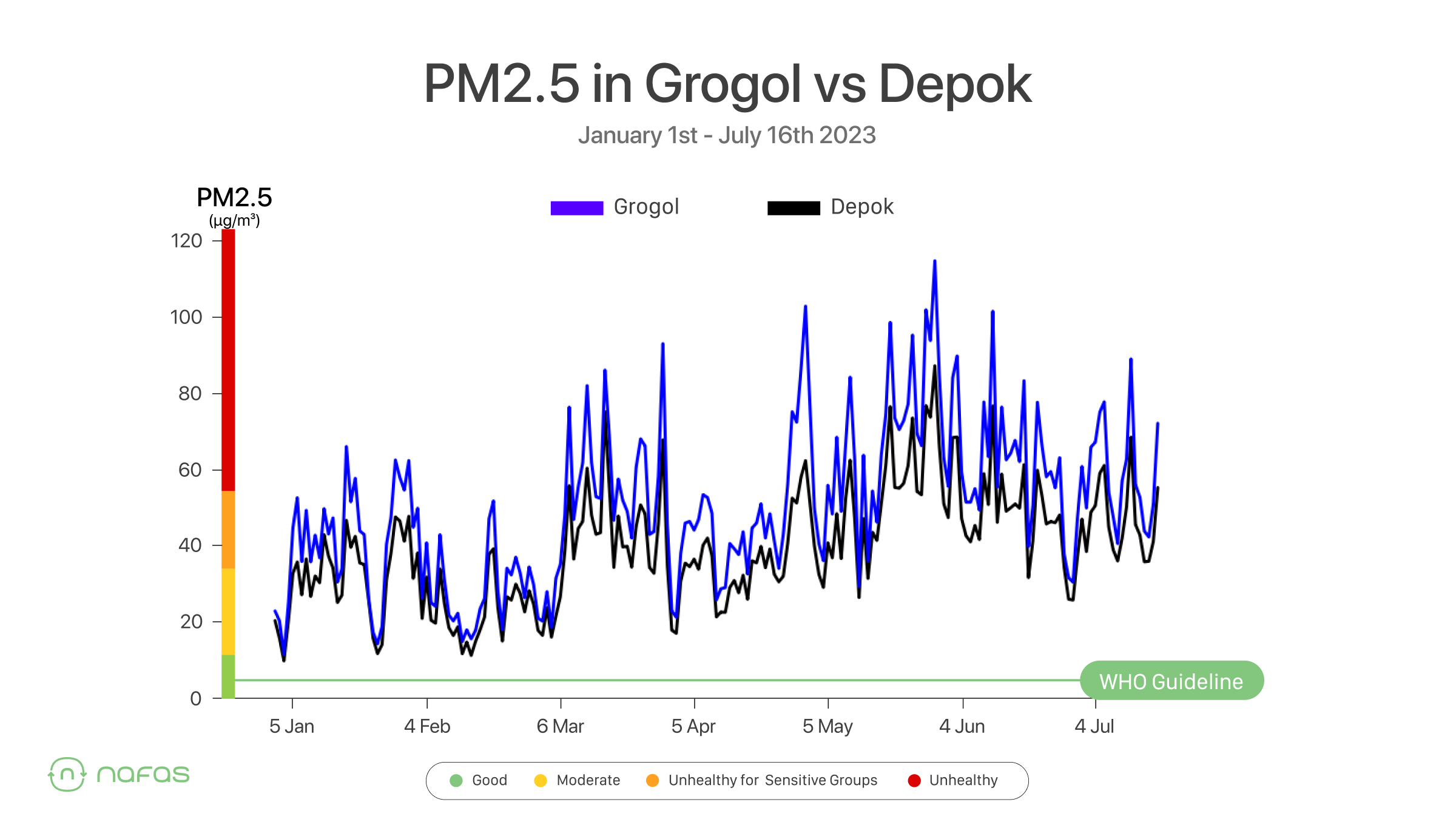 When we compare the air in Grogol with the air in Depok from January to July 2023, the air quality in Grogol is much worse than in Depok. The graph above shows that the amount of PM2.5 in Grogol (blue line) is consistently above Depok (black line), indicating that the air in Grogol is dirtier than in Depok. The May to July months were also monitored as this year's unhealthy air quality period in Grogol.
☠️ Air pollution in Grogol keeps fluctuating
Check out the graph of air pollution levels in Grogol since June below!

From June to July, it seems that air pollution in Grogol often increases significantly and exceeds 100 µg/m3, causing the air in Grogol to be unhealthy. PM2.5 even reached 186.2 µg/m3 (Very Unhealthy) on June 18, 2023, or 37x above the WHO annual exposure limit! 😱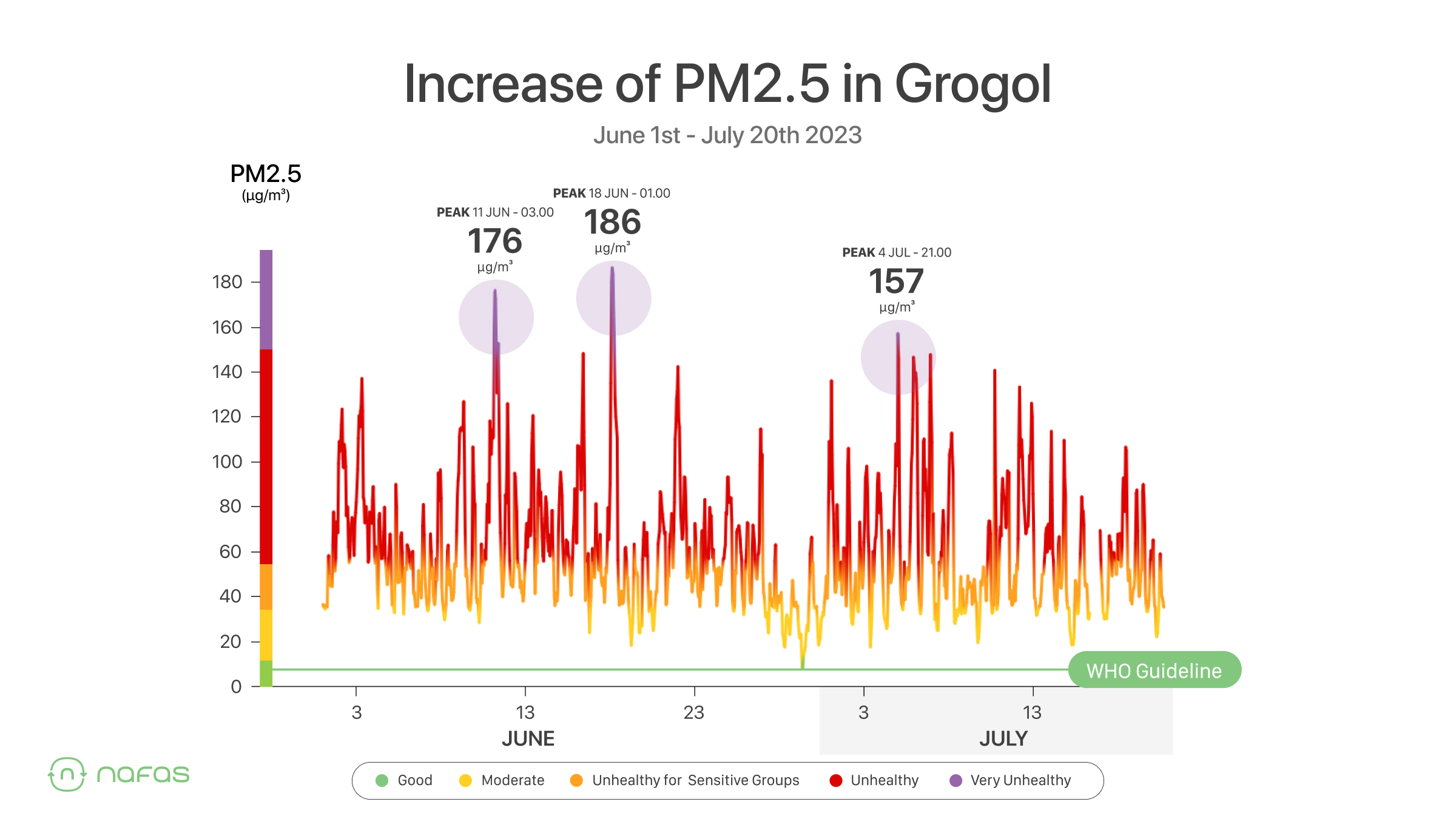 This is mainly caused by the presence of pollution sources (congenital and hyperlocal) in the neighborhood and the lower boundary layer at night which leads to the buildup of PM2.5 in the environment. This accumulation of PM2.5 concentration will be read as high pollution.
Let's sneak a peek at the air pollution data for last June and July! 👀
This is the air pollution data in Grogol for each hour from June to July 2023. According to the data, Grogol residents almost had no time with healthy air quality to breathe. In the last two months, Grogol residents breathed unhealthy air on average for the whole day 😷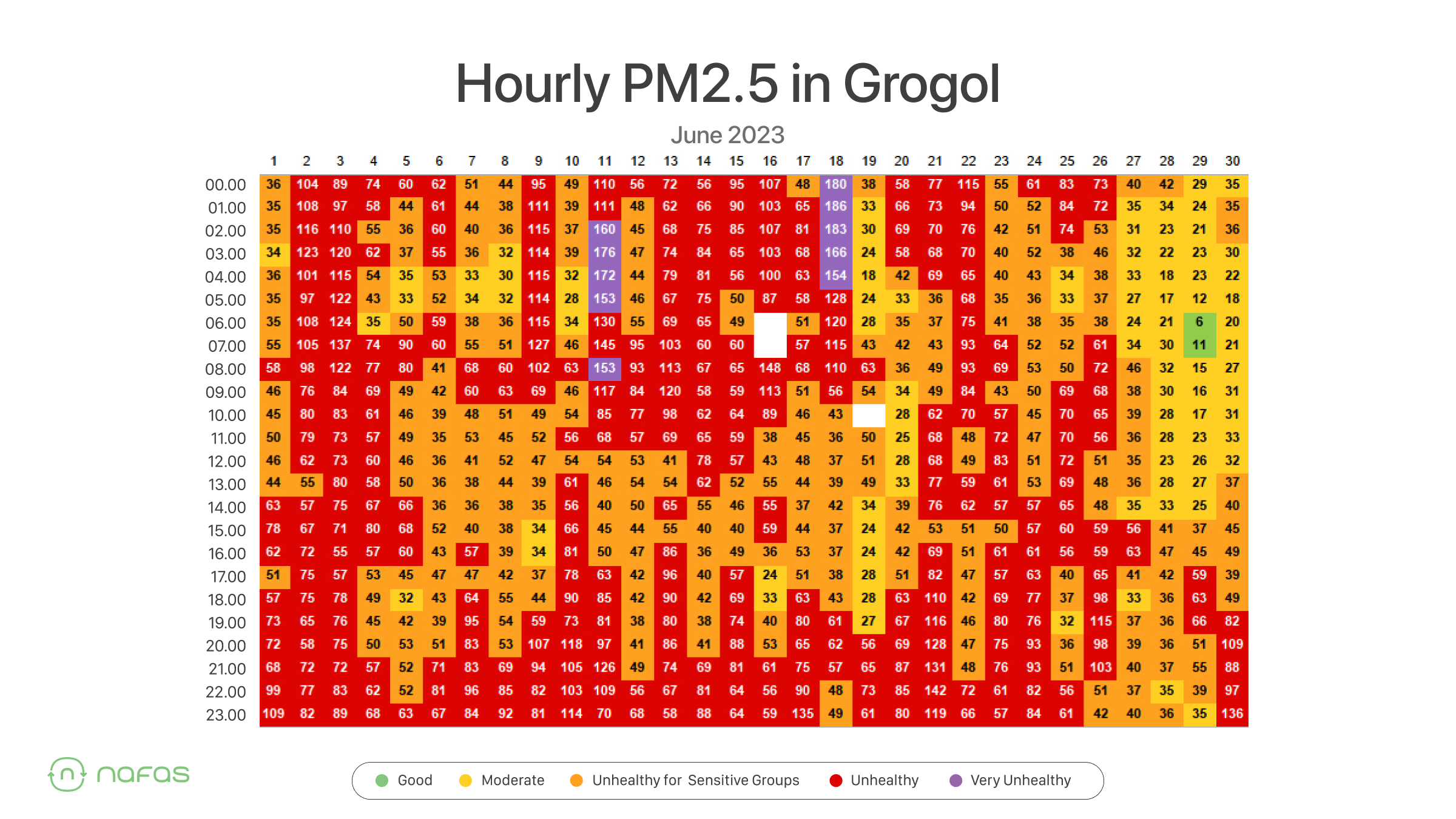 The image above is hourly data showing the severity and horror of air pollution in Grogol Sutera in July. Almost every day, residents breathed in unhealthy air nonstop. Even beyond the red color, purple (the color that represents 'very unhealthy' air) is also visible at some times. Days with 'Very Unhealthy' air quality often occur in the early morning. Comparatively speaking, breathing the air in Grogol with such poor air quality is equivalent to smoking 455 cigarettes! 🚬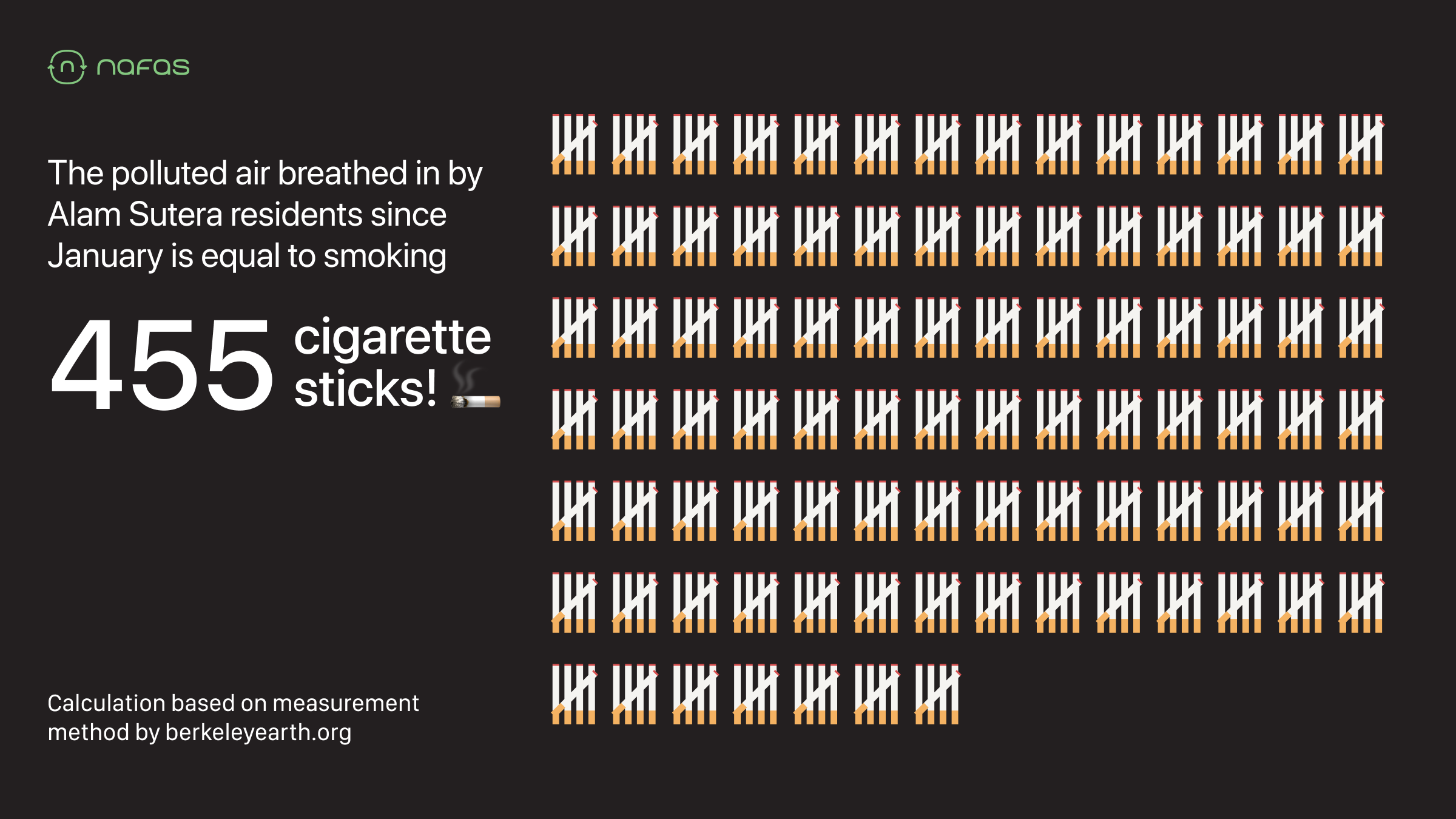 Furthermore, research jointly conducted by Nafas and a local telemedicine company in Jabodetabek from June to August 2022 stated that the number of consultations related to asthma attacks doubled in 10-17 hours when PM2.5 was in the Unhealthy category for Sensitive Groups 🚩

From the explanation of these data, it can finally be concluded that the level of air pollution in Grogol is worryingly high. The presence of pollution sources (hyperlocal and congenital) in the location can be one of the factors that affect the bad air in Grogol ☝🏻
🤷🏻‍♀️ Is it possible to avoid exposure to air pollution?
Grogol residents no need to panic! Sure, plenty of things can be done to protect ourselves and our loved ones from harmful air pollution. The following tips should be practiced to reduce exposure to air pollution:

1) Start a healthy habit by monitoring your air quality. Downloading a Nafas app and checking the air quality regularly will help you know the latest air quality in your area, and what you should do.

2) Make important locations a 'favorite' to make it easier to check, such as the location where you live, the location of your child's school, or other locations that you often visit.

3) Wear a facemask when you go out. Preferably, use a respirator type such as N95.

4) Follow other Nafas recommendations, such as closing vents and using an air purifier with a HEPA filter to help clean the air when air quality is poor.
---