Car Free Day is not Pollution Free Day
---
---
---
✅ Summary:
Residents of Jakarta believe that Car Free Day reduces air pollution levels.
Air quality data obtained from breath sensors around the CFD location shows no correlation between the two.
Check air quality before engaging in outdoor activities, such as exercising during Car Free Day.
---
Car Free Day has become part of the healthy lifestyle of Jakarta residents since it was first held in 2002. It is a moment when the Jakarta Provincial Government closes the main roads along Sudirman-Thamrin for a few hours in the morning to create an open sports space for the public. Until now, Car Free Day has been the main choice for residents to engage in morning runs, cycling, and rollerblading.

With no motor vehicles in the area, many people assume that pollution levels will drastically decrease. Nafas team examined sensor data around the location to prove whether Car Free Day does indeed reduce air pollution.

Before diving into the data, let's review how to interpret air quality. Breath uses the US Environmental Protection Agency scale to measure PM2.5 pollution. The scale ranges from 0-12 ug/m3, categorized as "Good," 12.1-35 ug/m3 as "Moderate," and higher values as "Unhealthy."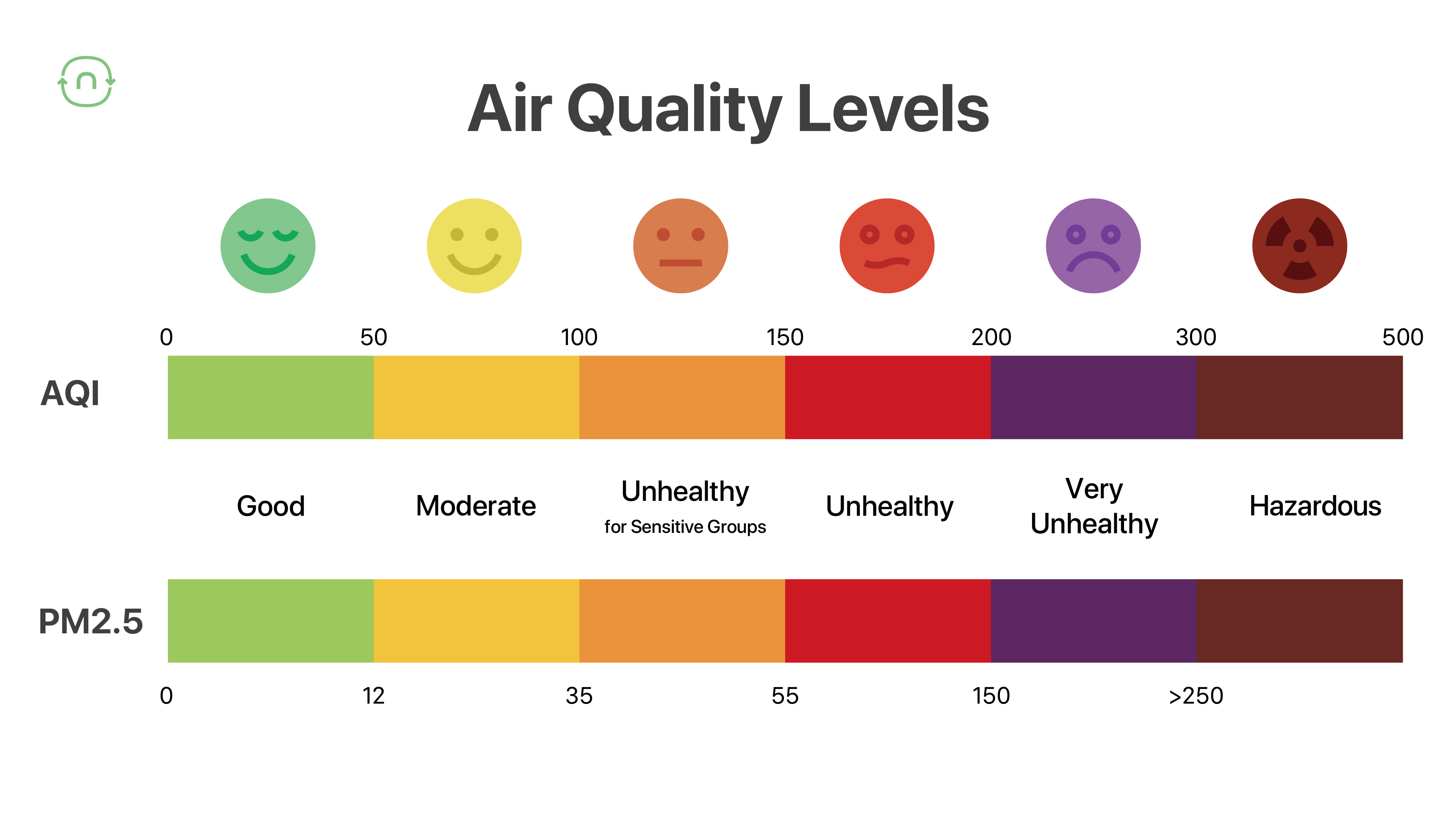 Car Free Day ≠ Pollution-Free Day 🙅
Now let's see how good the air quality is during Car Free Day (every Sunday, from 06:00 to 11:00) from June to December 2022. We used sensor data from Pattimura, which is the starting point of the CFD route, near the statue of Pemuda Membangun or 'Pizza Man.'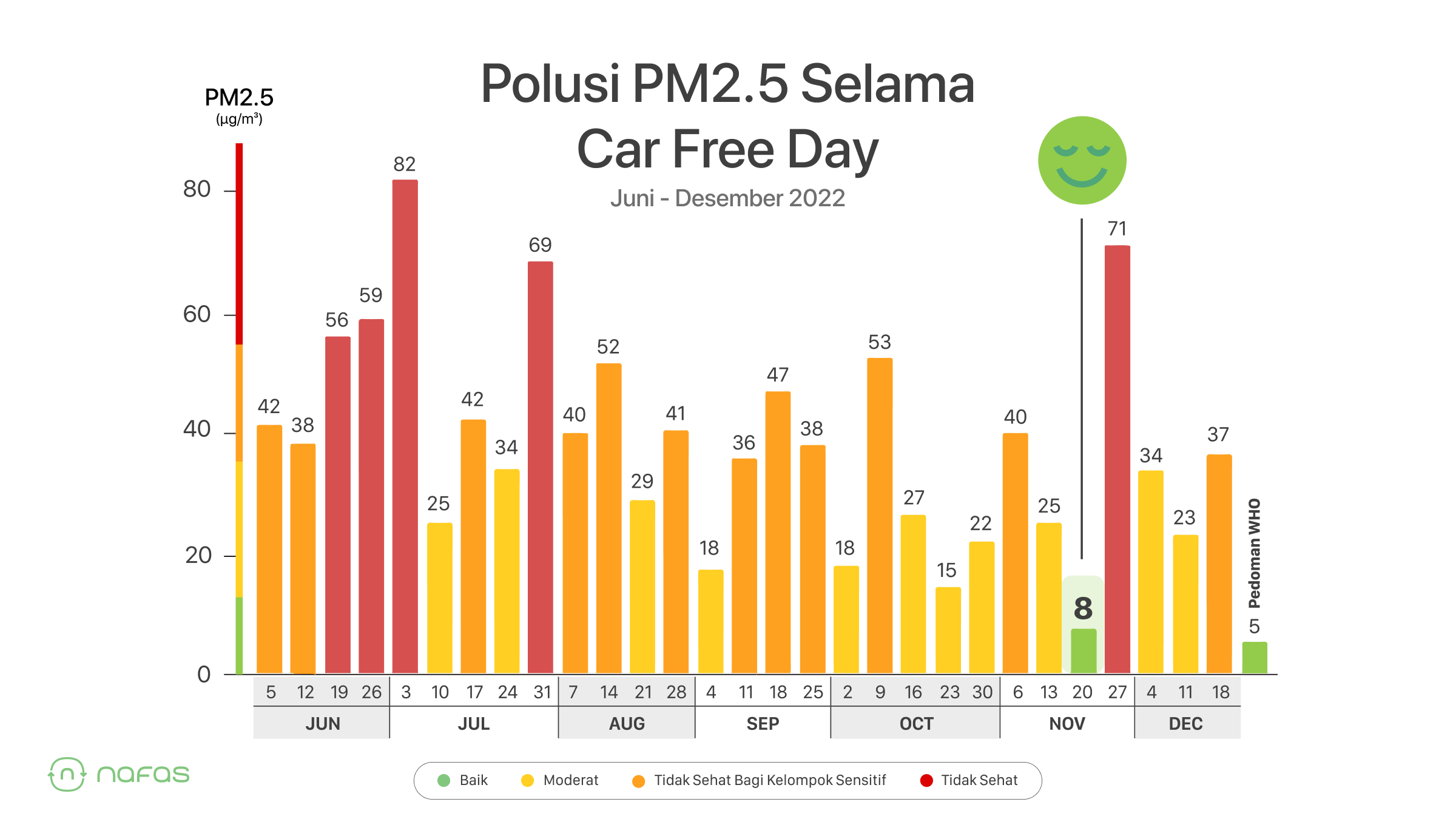 It turns out that air quality was categorized as "Good" only once in six months! The air quality during Car Free Day was predominantly classified as "Unhealthy for Sensitive Groups." Then we looked at the five days of Car Free Day with the highest pollution levels. On July 3, 2022, the average pollution level in Setiabudi even reached 82 ug/m3, which is 16 times higher than the WHO guidelines!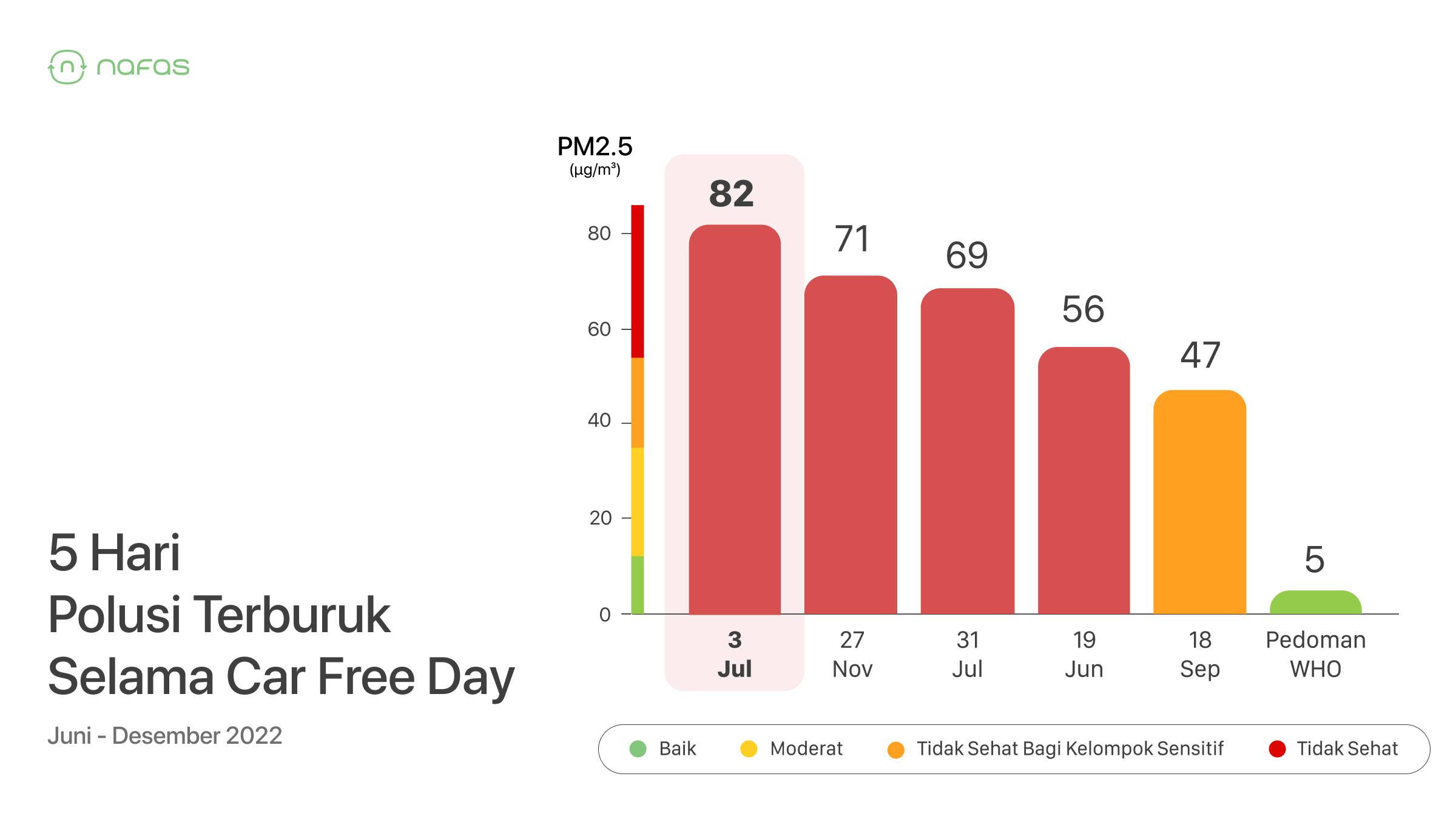 Exercising in high pollution = Higher risk of heart disease
A study by Seoul National University published in 2021 emphasized the increased risk of exercising outdoors during high pollution. Based on a study conducted over more than 10 years with 1 million participants, outdoor exercise with PM2.5 levels above 26 ug/m3 can increase the risk of heart disease by 33% for adults aged 20-35!

Looking at hourly data from the Pattimura sensor on the five worst CFD days between June and December 2022, we can clearly see that the pollution levels are much higher than the maximum threshold in the Seoul National University study.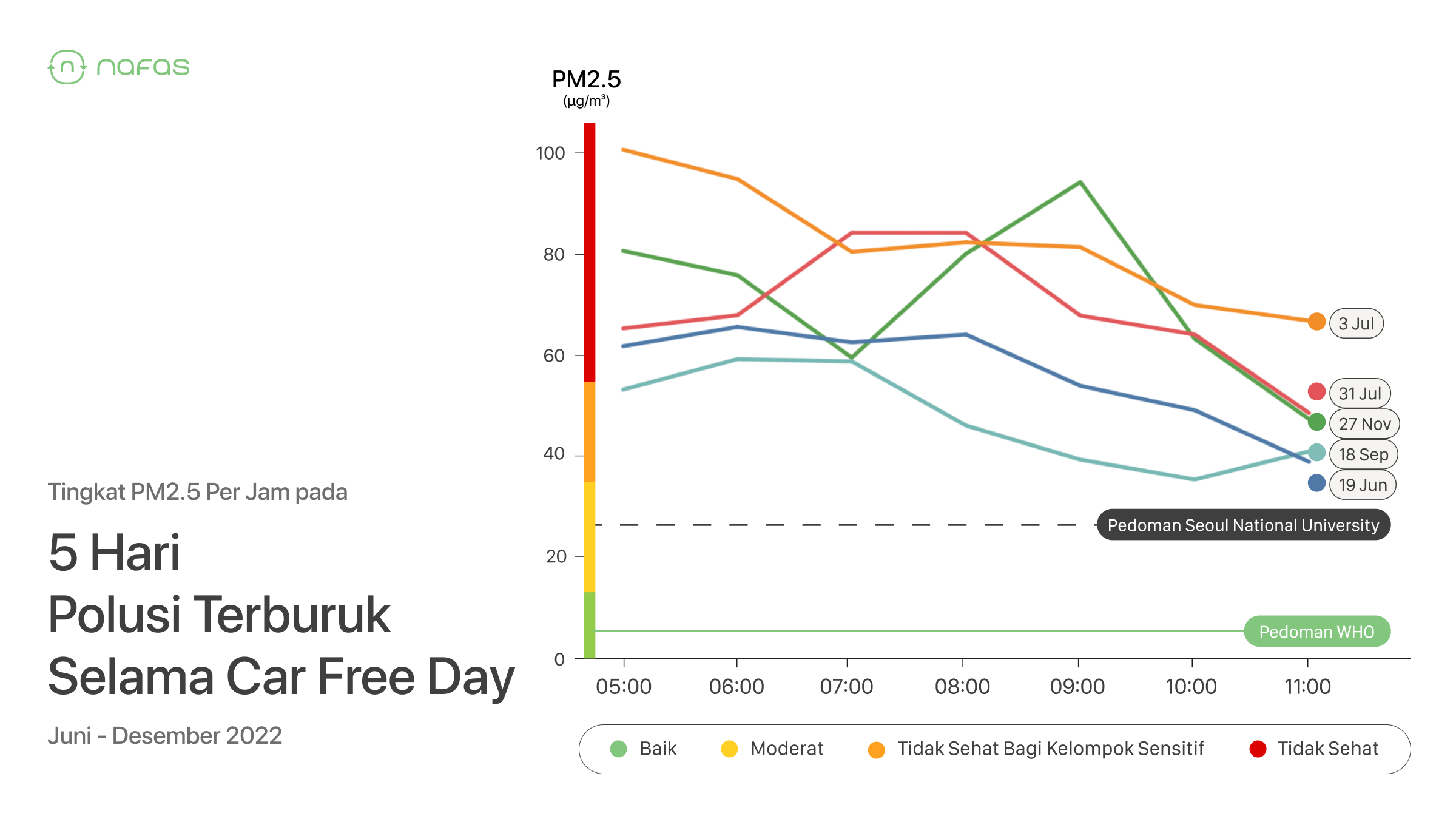 Car Free Day CAN have good air quality though
However, it doesn't mean that air quality during Car Free Day is always unhealthy. There are also moments when the air quality is moderate to good. For example, as seen in the data below. Between June and December 2022, there were 9 out of 29 CFD days with an average air quality below 26 ug/m3.
Why should I care? 🤔
PM2.5 pollution above 50 ug/m3 has been proven to have detrimental effects on children's health, especially lung development. Therefore, bringing children to exercise in the Car Free Day area when pollution is high doesn't lead to health benefits but can actually endanger their health.

So what can we do?🤔 There are at least three things we can do to reduce air pollution exposure, especially if we intend to exercise outdoors:
Download nafas app.
Regularly check air quality, not just during high pollution periods.
Follow the recommendations we provide based on the air quality at that time.
✅ Don't force yourself to exercise outdoors when air pollution is high. Stay vigilant, warga Nafas!
---