Bantargebang Landfill Fire: How Did It Affect Air Quality?
---
---
Social media was abuzz with videos from residents showing thick black smoke rising from the site of the Bantargebang landfill fire in Bekasi on the 29th of October. Covering an area of 108 hectares, Bantargebang operates as the final waste disposal site for both the DKI Jakarta and Bekasi Provincial Governments.

What happens when the largest waste disposal site in Indonesia catches fire? Given its volume, equivalent to a 16-story building, the resulting impact must be significant.

The Nafas Team investigated whether the fire was detected by their sensor network. Specifically, on October 29, 2023, there was a fluctuation in air pollution levels in the Jabodetabek area between 1:00 pm and 8:00 pm. During this period, air quality was categorized as "Unhealthy" for both sensitive groups and the general public.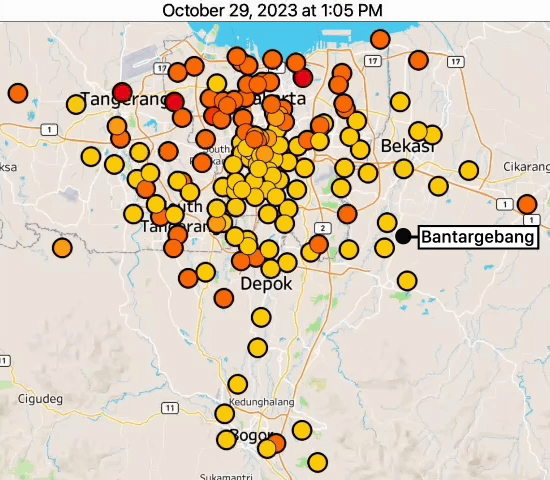 It is suspected that the fire was caused by methane gas emanating from the accumulated waste, exacerbated by the prolonged dry season. However, thanks to the firefighting efforts, the fire was extinguished by October 31.

But which areas were most affected by the Bantargebang landfill fire?
Bogor Raya, Tangerang, Tangsel, and Depok Recorded the Greatest Impact
Based on Nafas Team's observations, a strong wind was blowing southwest when the fire occurred. Nafas's sensors detected an increase in PM2.5 concentrations in the Jabodetabek region.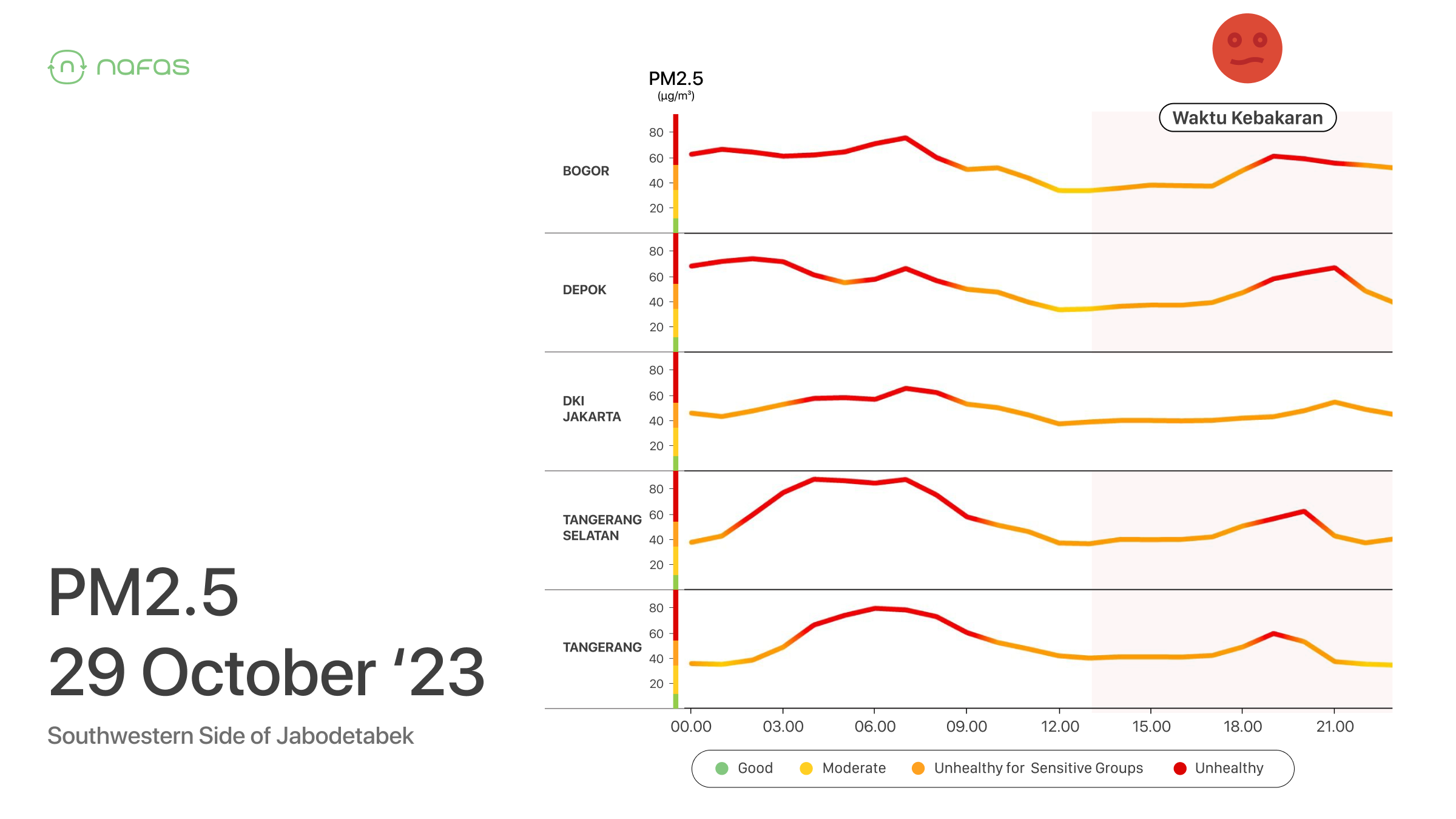 The fire started around 1:45 pm. With the wind blowing to the southwest, the PM2.5 concentration began to rise around 6:00 pm, especially in Bogor Raya, South Tangerang, and Depok. Air pollution levels then decreased after 9:00 pm.
Beware of the Dangers of Fire Smoke
The frequent occurrences of fires, from people burning trash, forest fires, to landfill fires, indicate that we must always be vigilant. Especially if it occurs near residential areas.

Fire smoke contains harmful substances such as particulate matter (PM2.5, PM10), carbon (CO, CO2, black carbon), heavy metals (like iron, lead, zinc, and nickel), NOx, and PAH (Polycyclic Aromatic Hydrocarbons).

Avoid being near the fire site to reduce the risk of pollution exposure. Smoke can cause respiratory issues, asthma, dizziness, nausea, and vomiting in the short term, as well as long-term risks like lung cancer, cognitive disorders, and heart diseases.

⚠️ Every burning activity can cause air pollution. Therefore, avoid burning trash as its impact is not only on the air but also our health!
---