LEARN / ARTICLE
Introducing Clean Air Zone
---
---
Air pollution, especially PM2.5 is a serious problem which threaten global public health. Air quality in Indonesia has been steadily deteriorating since the last few decades. The average of PM2.5 concentration in Jakarta in 2021 is 39 µg/m3 or 8x higher that WHO Standard, which is categorized unhealthy.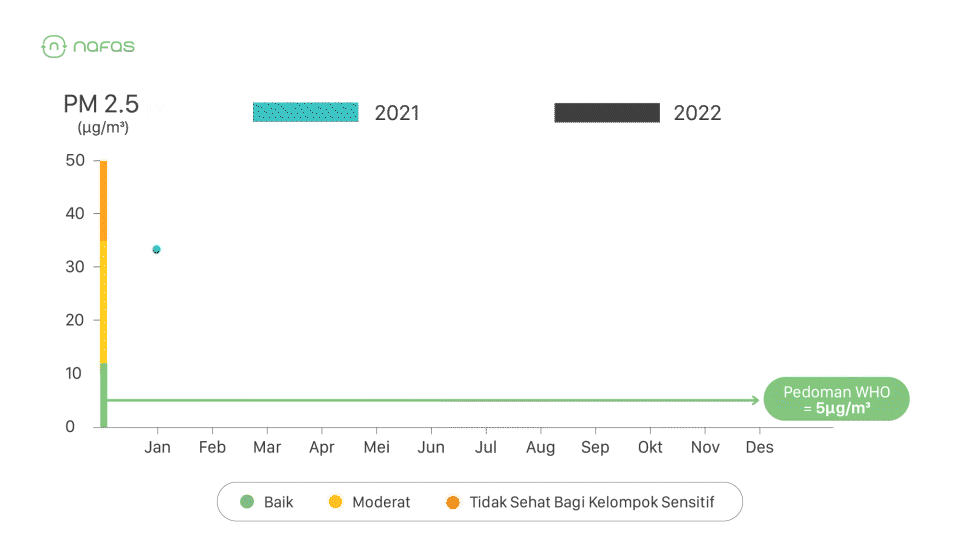 Based on Ministry of Environment and Forestry, 60% of hospital patients in Jakarta suffer from air-pollution related diseases. This fact supports nafas finding.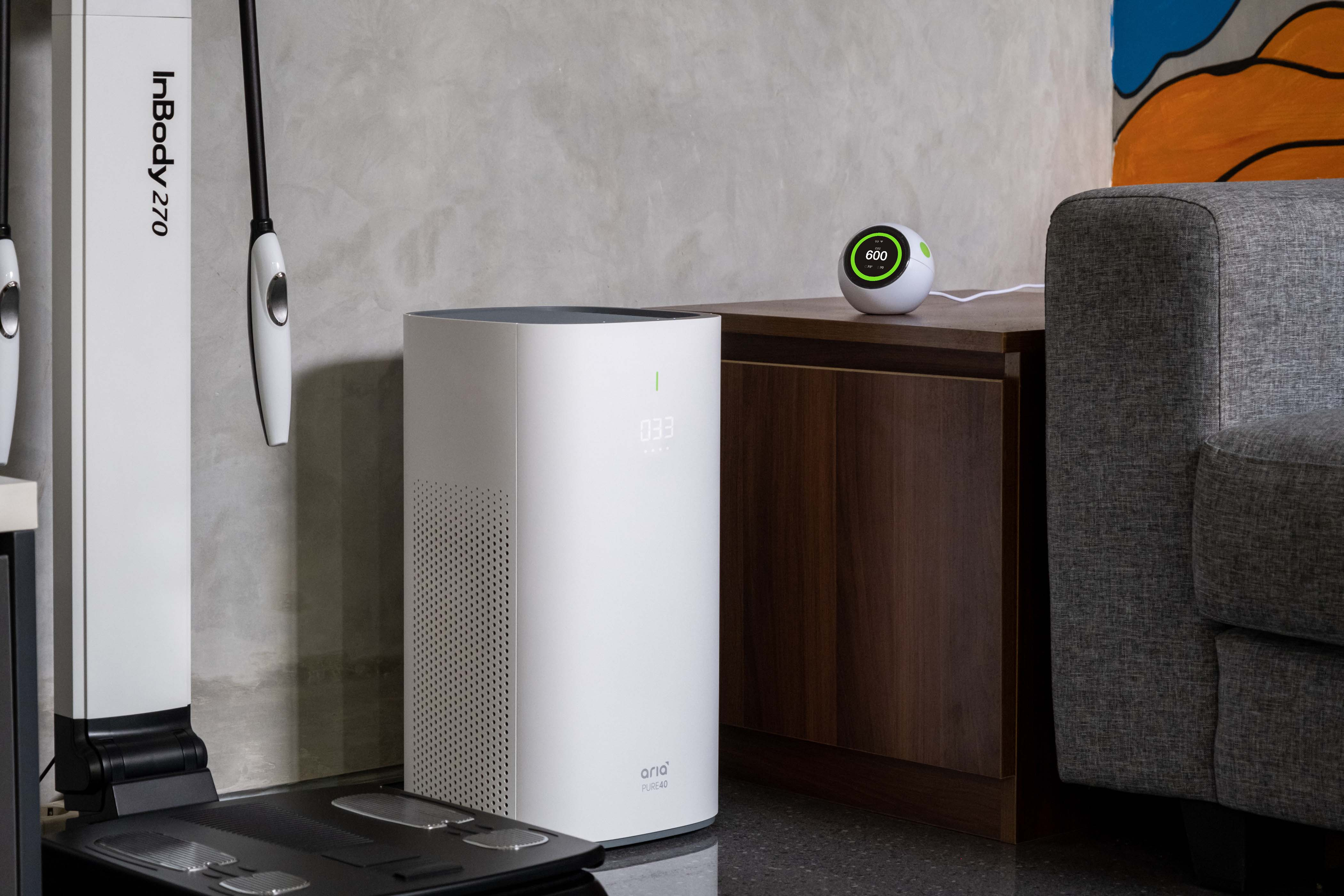 Air pollution from outdoor can easily pass through to indoor area with the potential of air pollution leak is up to 100%. Which means that there are no different between the air that we breathe outdoor and indoor.

Here, we compared the indoor air quality conditions in three different buildings, which are office, yoga studio, and school. The result showed that the elevation of indoor air quality rises up 6 times compared to the outdoor.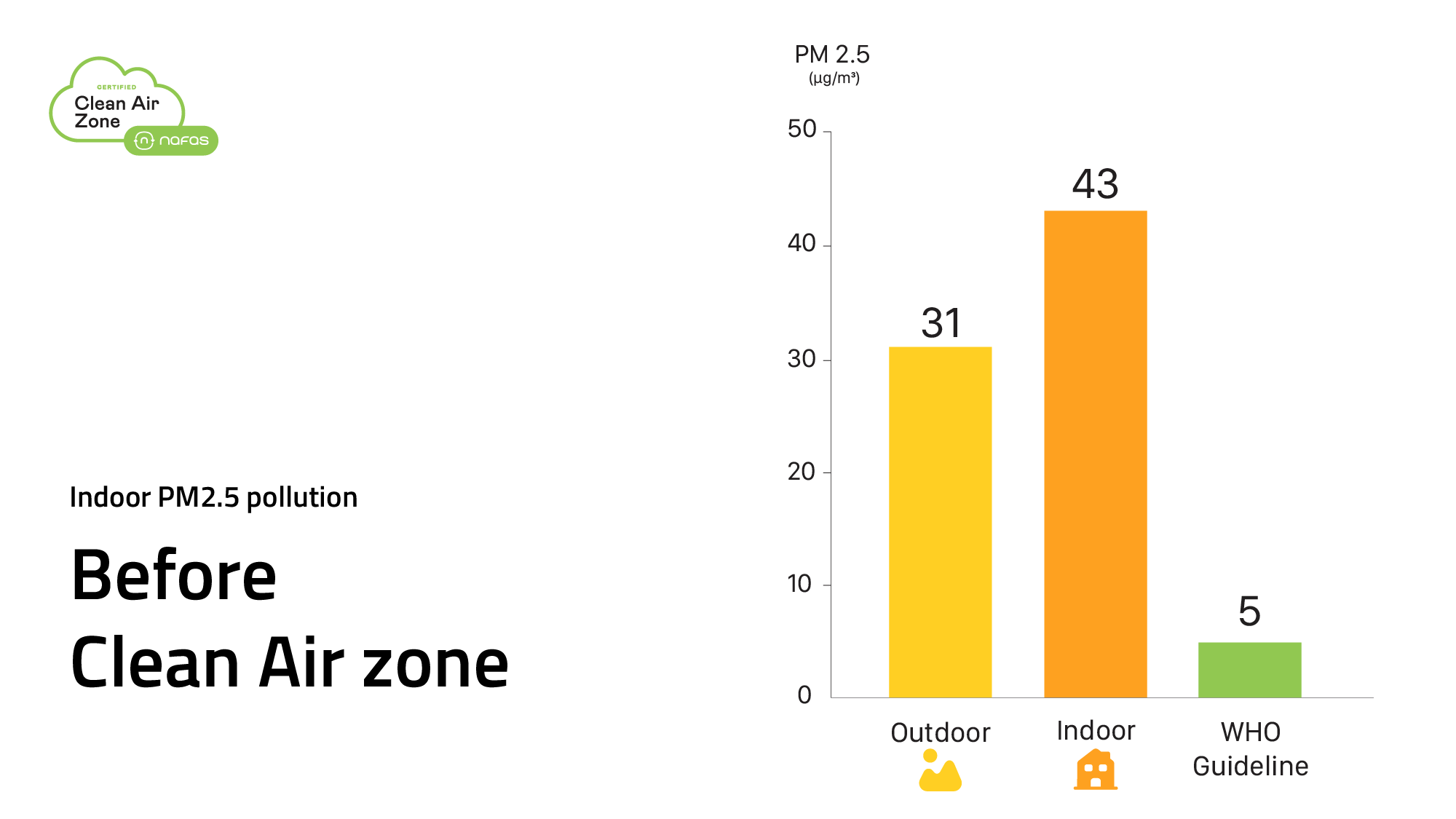 We should be aware of the short term effect of indoor air pollution. Harvard University stated that indoor pollution can decrease productivity up to 6% and lose in total of 26.6 working hours. Even an increase of PM2.5 above 12 µg/m3 can decrease 80% of workers cognitive skills. The recent research done by nafas and telemedicine company showed when pollution was high, the number of complaints of asthma, bronchitis, rhinitis, and influenza also increased significantly.

Maintaining indoor air quality shouldn't be difficult. That's what encourages nafas to develop Clean Air Zone.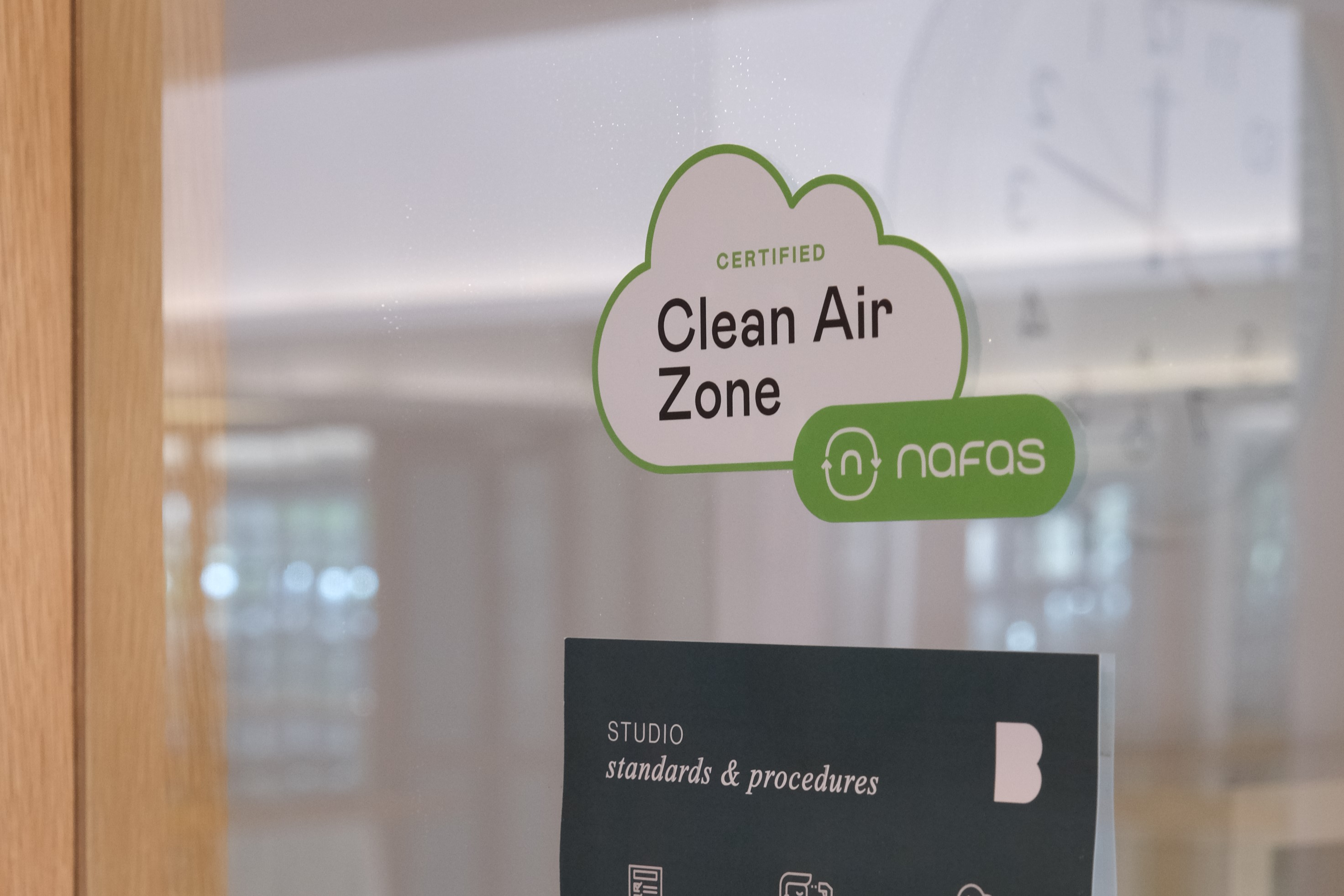 Clean Air Zone is an ecosystem specifically designed for the business to ensure the air quality inside is healthy and monitored.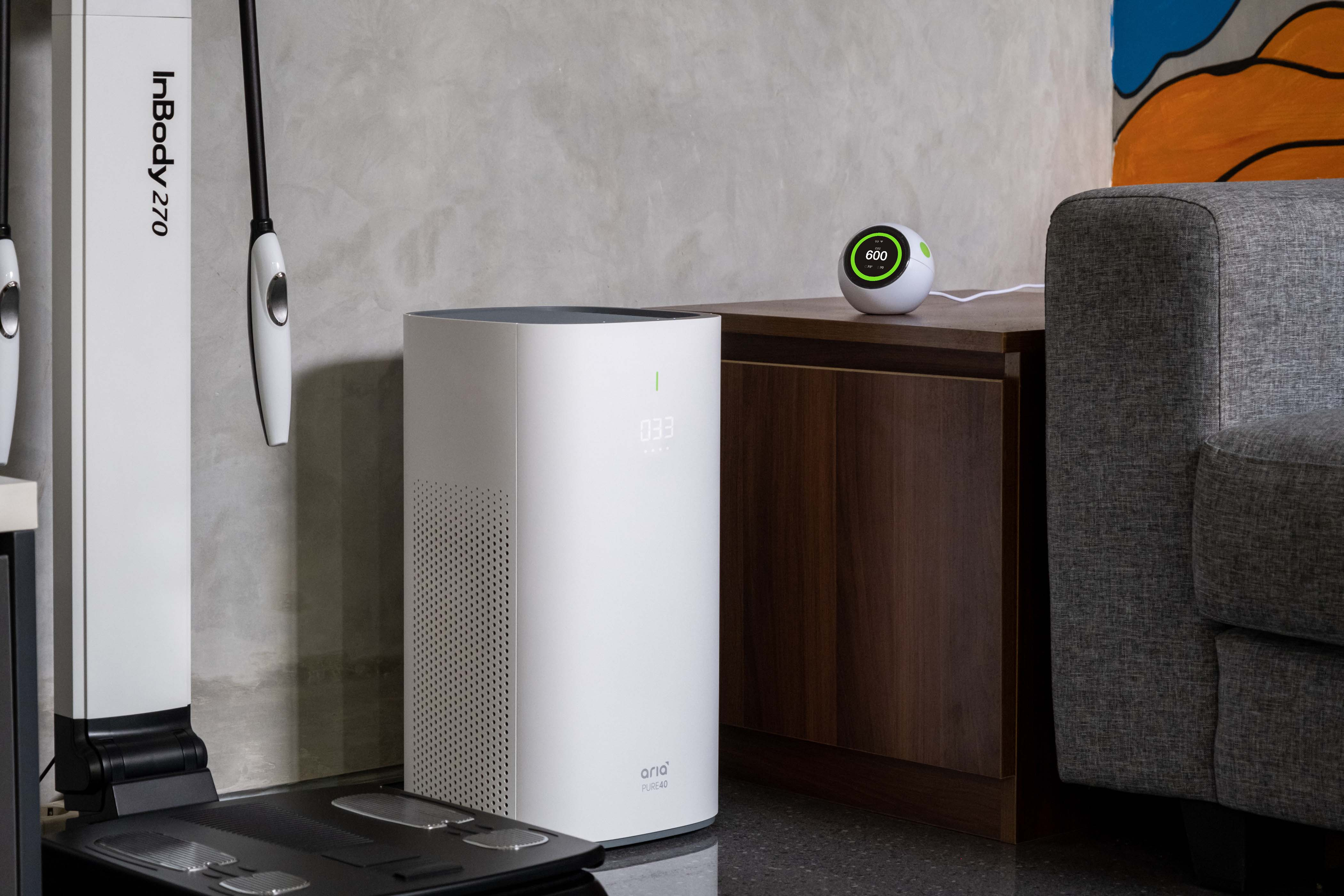 Clean Air Zone serves you transparent and accountable data, which makes it easy to check your indoor air quality. Here is the air quality comparison at a studio in a gym after becoming a Clean Air Zone.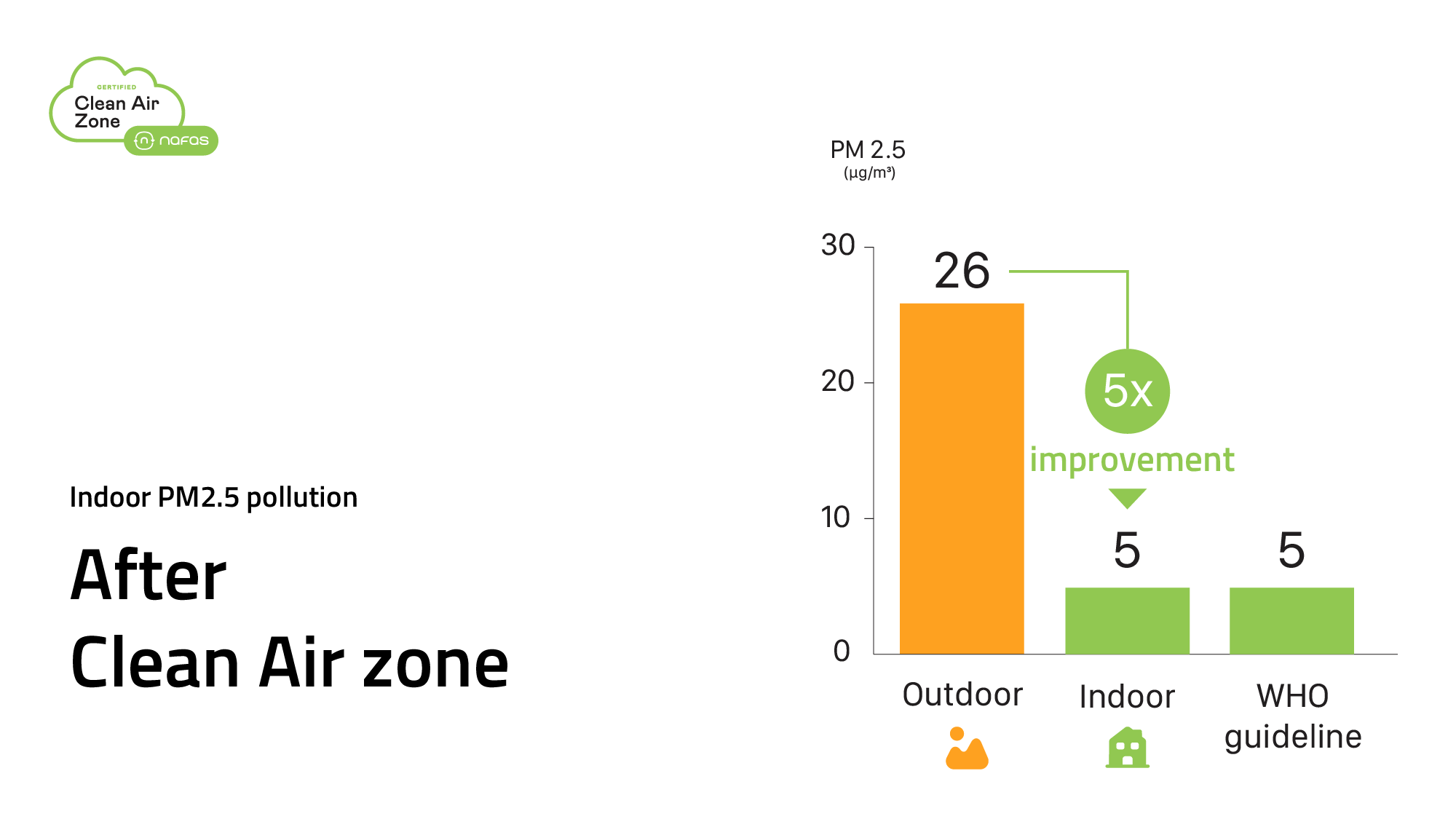 As we can see, before filtration, the air quality indicator was categorized as Unhealthy for Sensitive Groups (orange), then it is gradually improved and changed to Good (green). This means there is a real and needed improvement in indoor air quality done by Clean Air Zone.


✅ If you care about the air quality and interested in turning your business into a Clean Air Zone, click here for more info!
---