LEARN / ARTICLE
How Nafas Reduced Indoor Pollution by 70% at AC Ventures Office
---
---
CAZ Stories is a series of articles that spotlight the significant impact of Clean Air Zones on diagnosing and improving indoor air quality issues for businesses in Indonesia. For more insights, read our previous CAZ Stories on Improving indoor air quality at Mighty Minds Preschool by 89.5%

Air pollution in Jakarta has been a long-standing problem. In 2022, Jakarta's outdoor air quality presented a grim picture: the annual average PM2.5 concentration was a staggering 37 µg/m3, pr seven times higher than the annual WHO's recommended limit of 5 µg/m3.

WHO categorized Particulate Matter 2.5 (PM2.5) as especially hazardous due to its minute size, which allows it to penetrate deep into our lungs. While PM2.5 poses a risk to everyone, sensitive groups like children under 5 and adults over 60 are particularly vulnerable.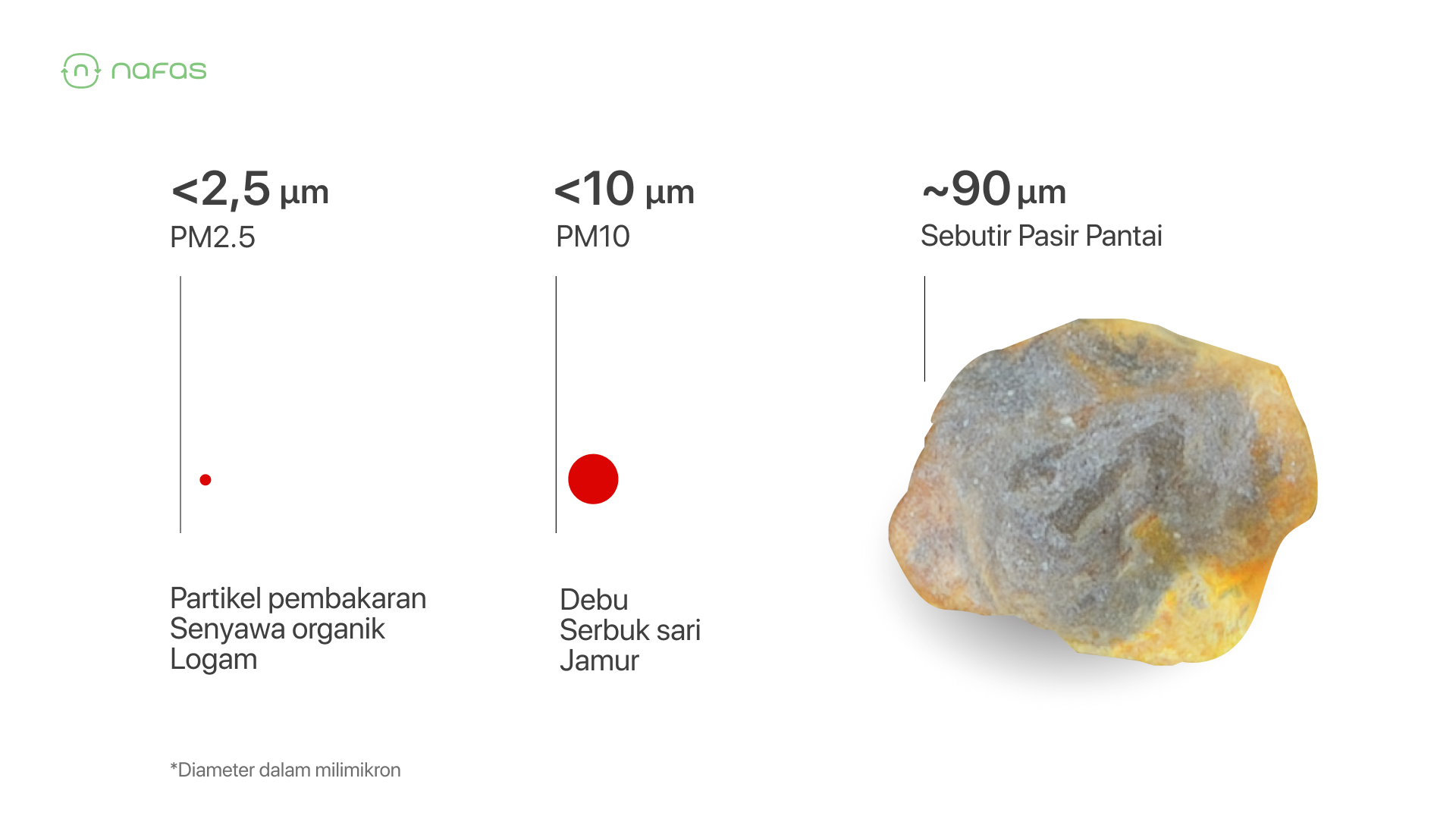 A recent article by Nafas, "Our Buildings Make Us Sick," stressed that air pollution isn't solely an outdoor concern—it compromises indoor air quality as well. Businesses, including offices, gyms, and schools are not exempt from this issue.
How PM2.5 Affects Productivity and Cognitive Test
Over the last few years, there has been a surge of research exploring the impact of buildings on human performance. Dr. Joseph Allen, the founder of the Harvard Healthy Buildings Institute at the T.C. Chan School of Public Health, has led numerous studies investigating how indoor spaces adversely affect our health.

In 2021, the COGFx study examined the impact of indoor air quality on office workers in countries including Mexico, India, Thailand, the US, UK, and China. The research specifically looked at how ventilation and air pollution influence cognitive performance. At PM2.5 concentrations above 12 µg/m3, office workers' performance declined in 4 out of 5 cognitive tests.

A 2016 study from the University of Southern California yielded similar results but focused on different aspects. This study assessed the influence of PM2.5 on productivity and decision-making in factory settings. Researchers found that for every 10 µg/m3 increase in PM2.5 levels above a baseline of 15 µg/m3, productivity decreased by 6%.

Addressing these air quality concerns is essential for fostering a healthier work environment and promoting optimal performance. Nafas has partnered with AC Ventures to improve the indoor air quality at their headquarters in the SCBD area of Jakarta, aiming to create a safer and healthier workspace for employees.
The problem: Air quality inside the AC Ventures Office is unhealthy
Utilizing cloud-connected air quality monitors, Nafas captured comprehensive data on PM2.5, CO2, temperature, and humidity levels inside the office. Alarmingly, our initial tests showed that the indoor air quality was nearly as compromised as the air outdoors.

To grasp the scope of the problem at hand, we initially examined areas that were not designated as Clean Air Zones. Upon closer examination, it becomes evident that the indoor air quality (pink line) consistently fails to descend below the PM2.5 threshold of 12 µg/m3 established by Dr. Joseph Allen, the founder of the Harvard Healthy Buildings Institute at the T.C. Chan School of Public Health. This disparity persists throughout the entire week.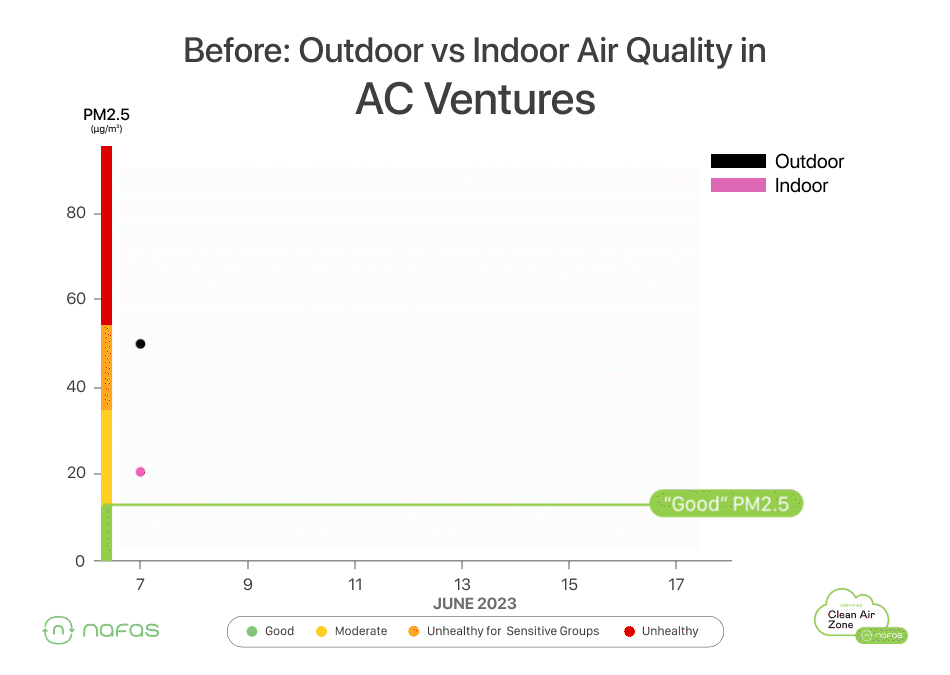 Upon close examination of the weekly data, we can see that the PM2.5 level indoors during work hours was more than 2 times higher than the 12 µg/m3 recommended in scientific studies with monthly average of 27 µg/m3. The building was able to remove just a little bit of the pollution coming from outside, but these efforts ultimately proved insufficient, highlighting the pressing need for supplementary filtration measures within the AC Ventures office.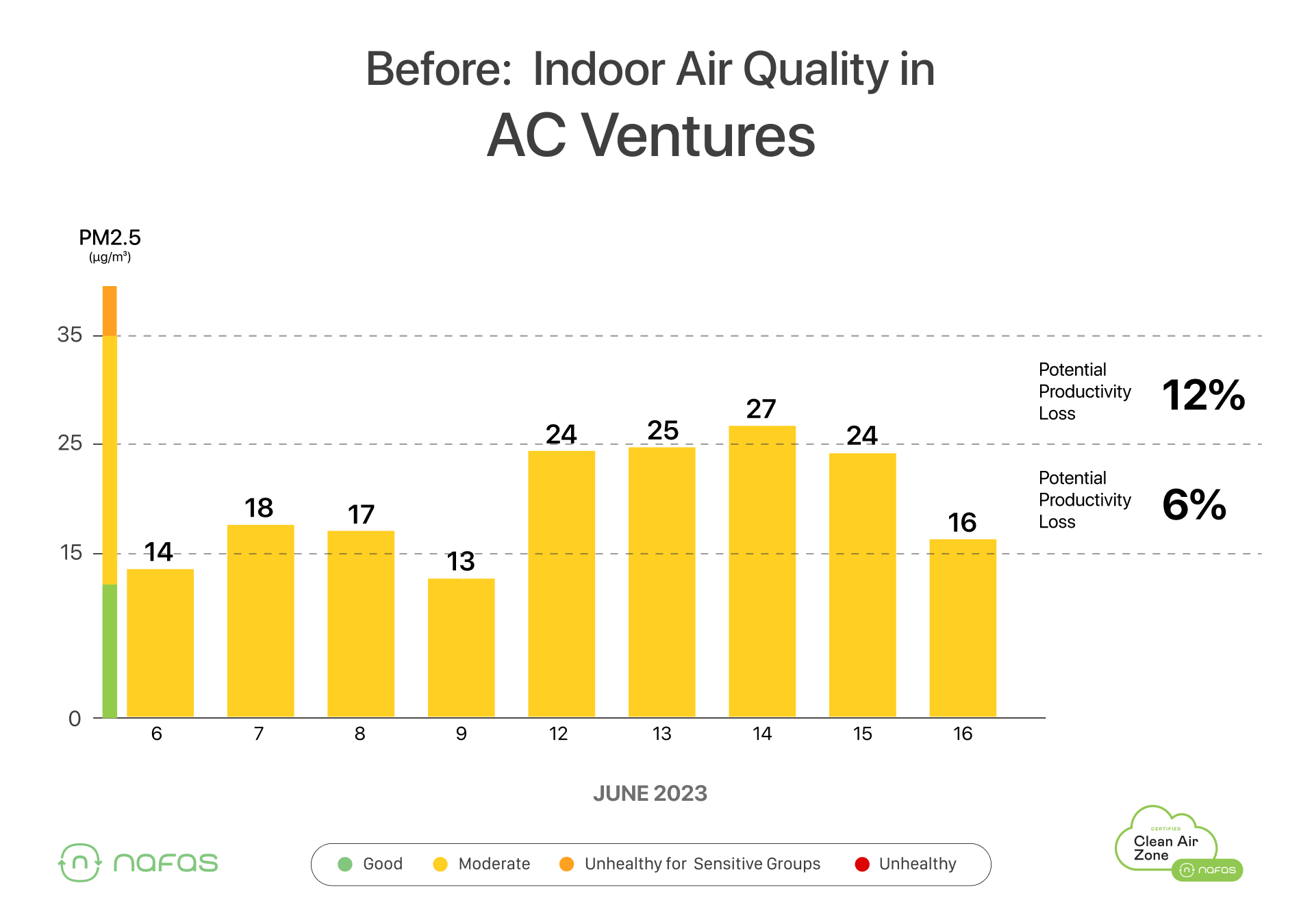 The final Nafas AirScore for this building was C, meaning that the office lack of filtration and urgently need improvement to create a healthy and safe work environment.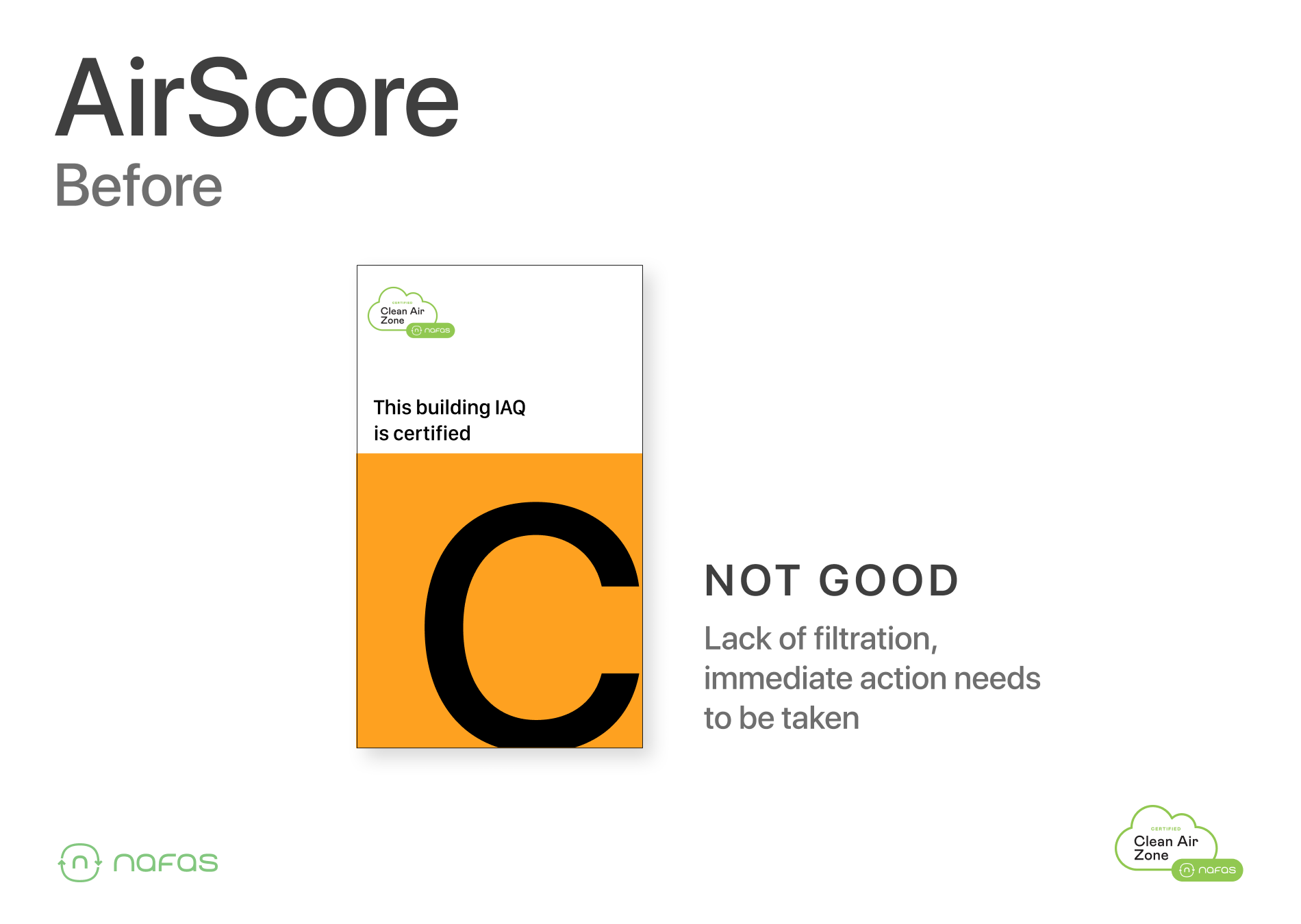 The Solution: Turning the AC Ventures Office Into a Clean Air Zone
To improve indoor air quality in offices in polluted cities like Jakarta, Nafas has created an ecosystem called Clean Air Zones. Clean Air Zones are designed to make indoor air quality healthy during business hours by integrating measuring, cleaning, certification, and air quality data-driven employee engagement programs. With zero up front commitment and a subscription-based service, it's never been easier to fix bad air quality at your office.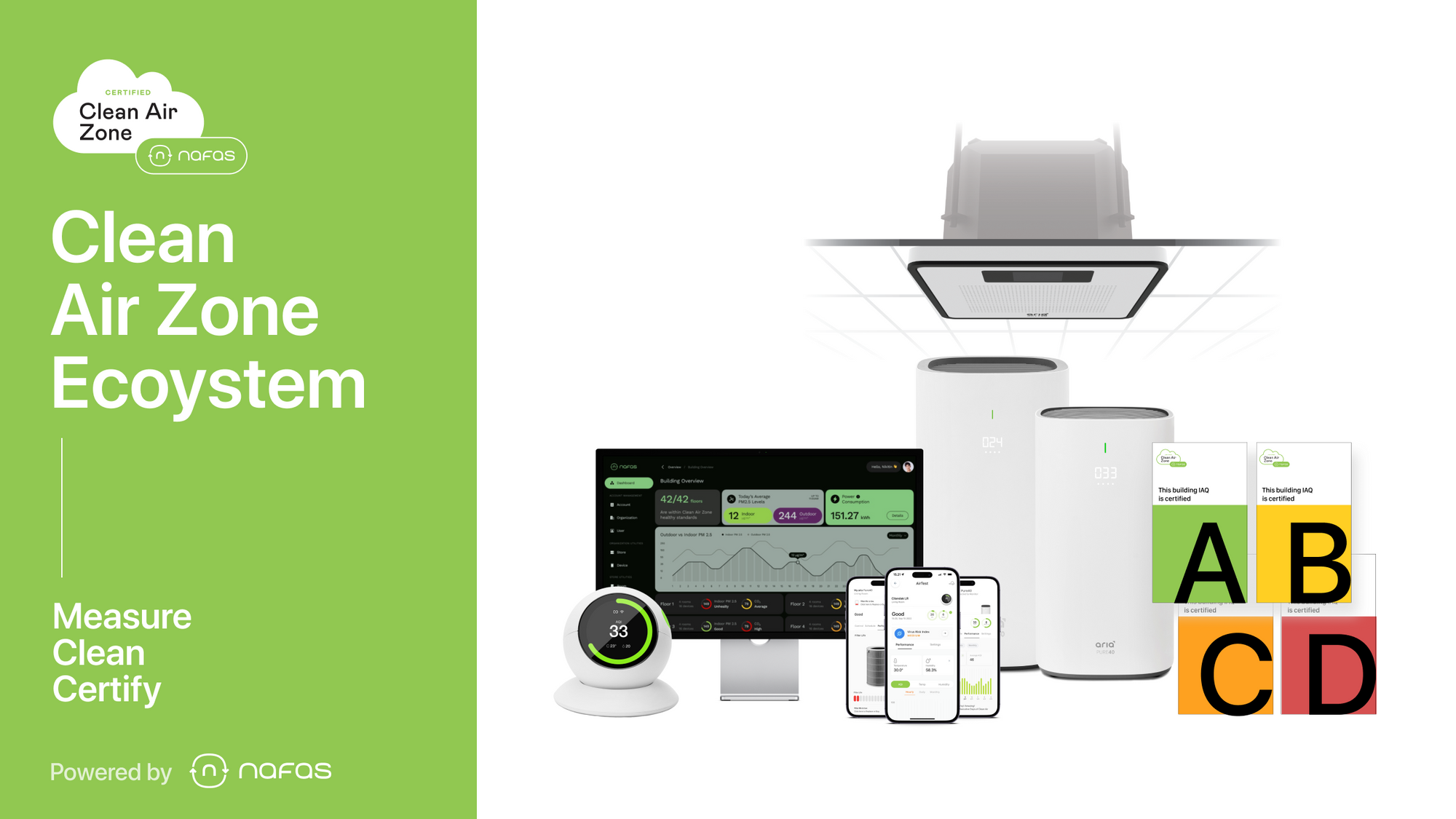 AC Ventures office underwent a transformation into a designated Clean Air Zone. This innovative step allowed Nafas and the AC Ventures to witness a substantial enhancement in indoor air quality.

Best of all, the entire process is automated, requiring no extra managerial effort and any upfront costs!
The Result
After the implementation, air quality inside the AC Ventures office during operational hours fell below 12 µg/m3, which is three times better than the outdoor, and the monthly average dropped from 27 µg/m3 to 8 µg/m3.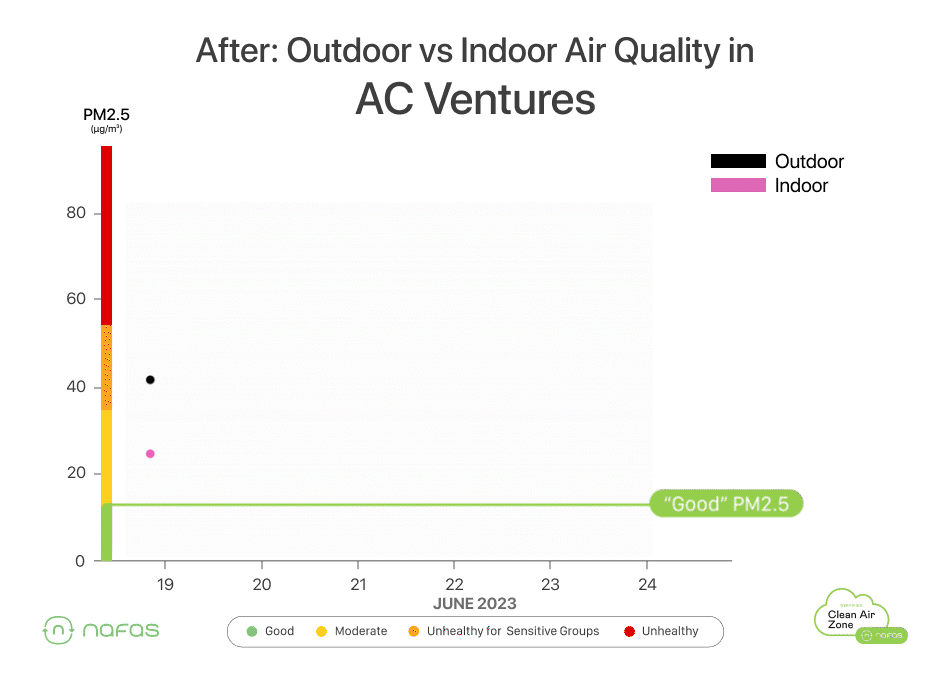 Employees working in a Clean Air Zone office have enjoyed consistently healthy air quality levels during the operational hours.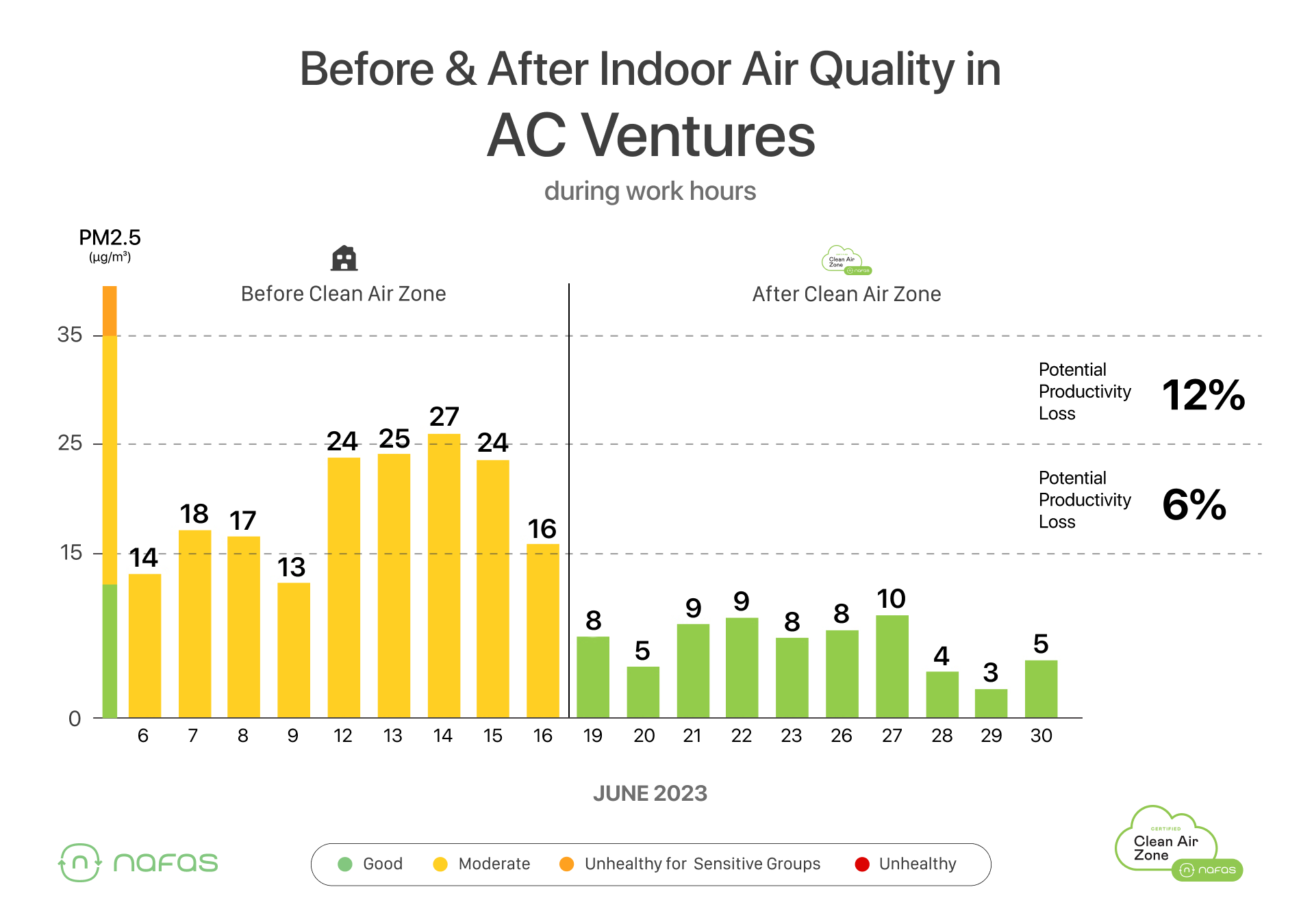 The air quality inside AC Ventures office consistently earned a 'Good' rating over a month which resulted in an AirScore improvement, from 'C' to 'A.'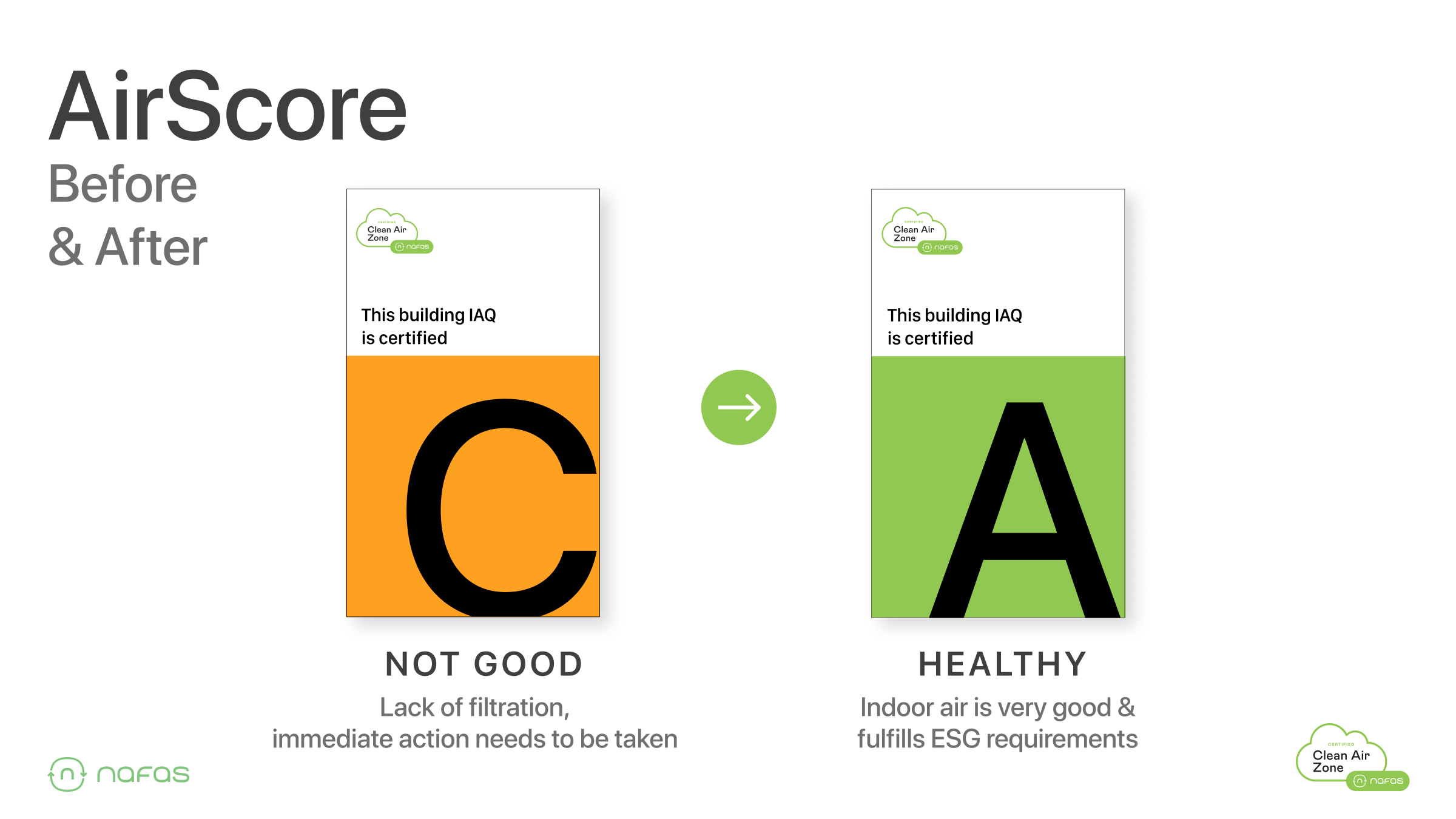 The Monthly Report
Through the data-driven Clean Air Zone program, AC Ventures receives monthly reports that document ongoing air quality metrics. This information is invaluable to stakeholders including gym-goers, staff, and owners.

Below is an example of the report which AC Ventures regularly receives.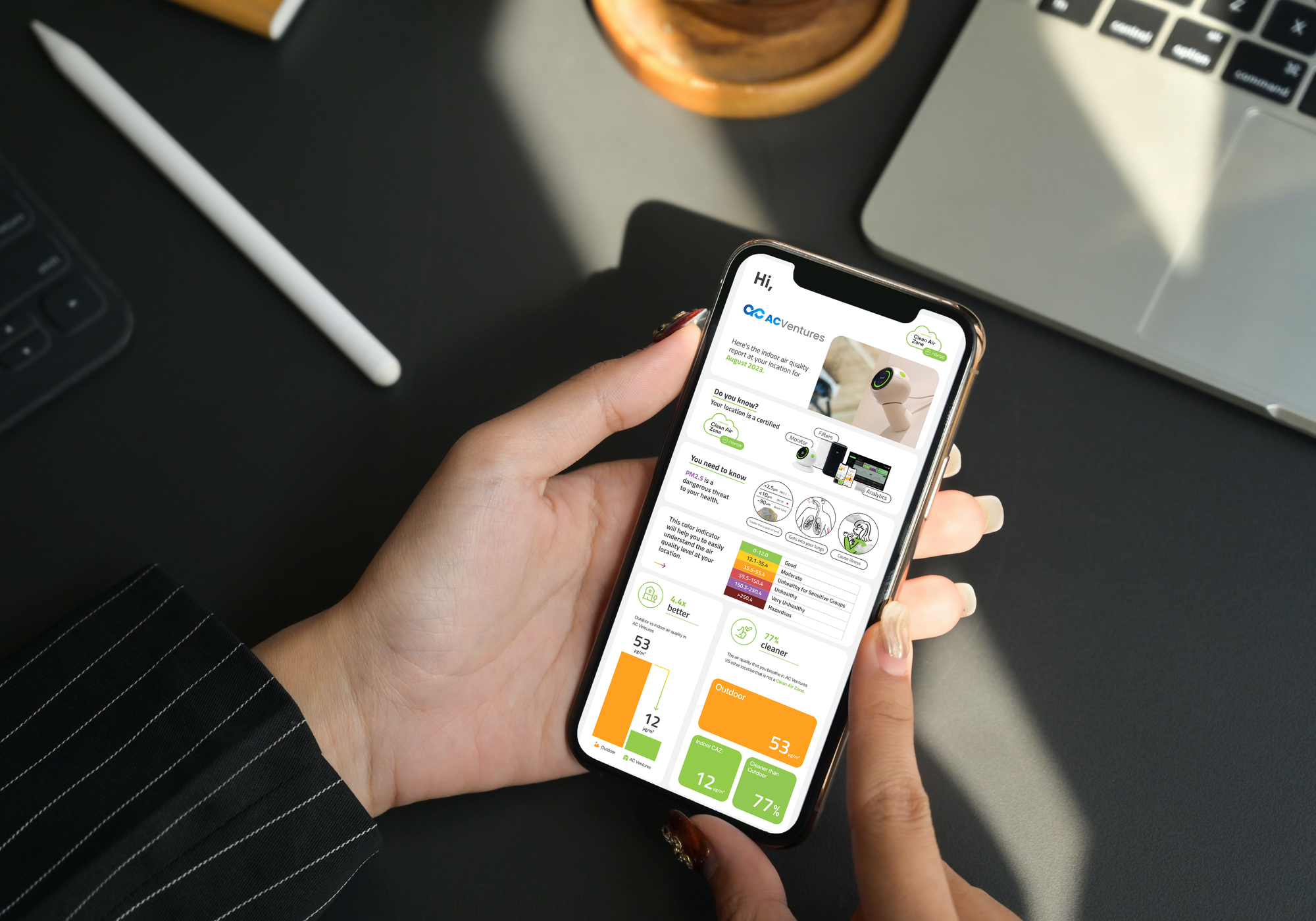 ✅ To learn more about the Clean Air Zone, please email us at [email protected] or click below to sign up for a free AirScore diagnosis!



---