LEARN / ARTICLE
How Nafas reduced indoor pollution by 80% at a global shipping company
---
---
Global public health is at risk due to air pollution, specifically PM2.5. In Jakarta, Indonesia, the air quality has been deteriorating gradually over the past few decades. The average concentration of PM2.5 in 2022 in Jakarta was 37 µg/m3, which is 7 times higher than the WHO standard and classified as unhealthy.

We discovered that outdoor air pollution can easily get indoors, leading to unhealthy air quality indoors. This means that there is no difference between the air quality indoors and outdoors - it's all the same.
Introduction
According to the COGfx study conducted by the Harvard T.H. Chan School of Public Health, above a PM2.5 level of 10 µg/m3, office workers perform worse on 4 out of 5 cognitive tests. Addressing this issue is crucial to promoting a healthier workspace for employees and maintaining an environment for high performance.

Nafas worked together with a global shipping company to focus on improving indoor air quality in the office and create a safer environment for employees at the country headquarters in Central Jakarta.
The problem: Air quality inside the Country HQ is unhealthy
To determine the amount of outdoor pollution getting inside the Country HQ, Nafas utilized cloud-connected air quality monitors to measure PM2.5, CO2, temperature and humidity.

Throughout the diagnostic period, we discovered that indoor and outdoor air quality was actually quite similar - and this is a brand new building! Nafas split the floors into two:
1. Non-Clean Air Zone
2. Clean Air Zone

To understand the problem we need to first look at the Non-Clean Air Zone - you can see that indoor air quality (Pink) doesn't ever get below Dr. Allen's PM2.5 level of 12 ug/m3 over the course of the entire week!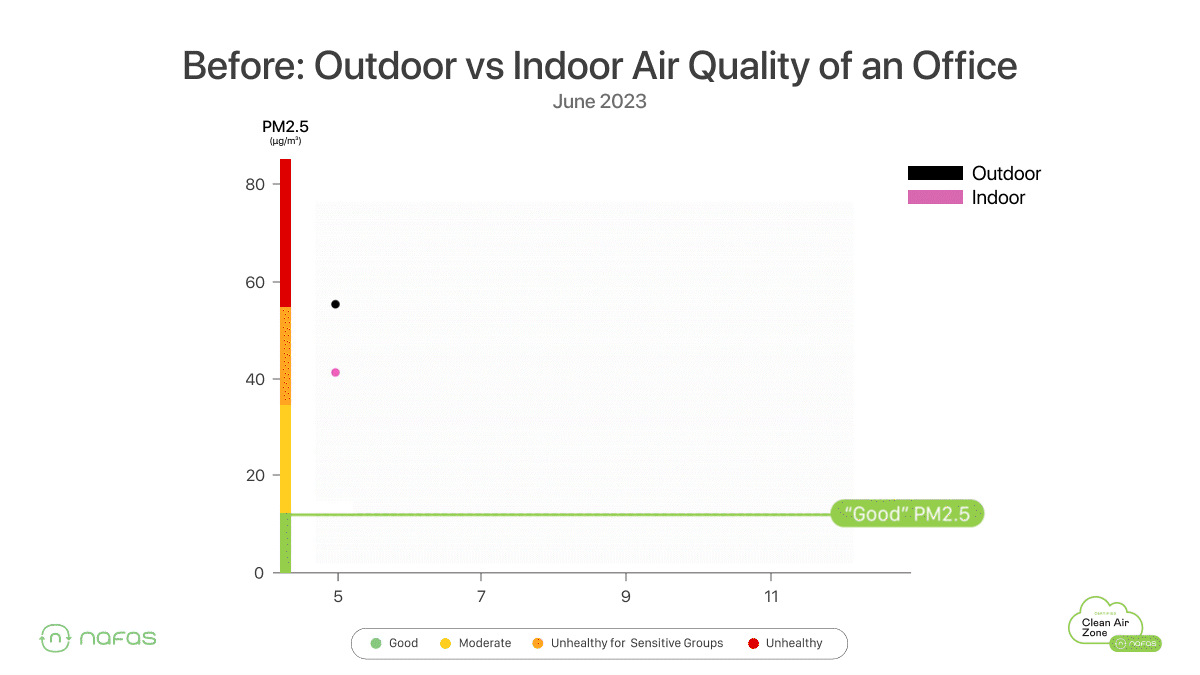 When reviewing the monthly data, we can see that the PM2.5 level indoors was almost 3x higher than the 12 ug/m3 recommended in scientific studies. The building was able to remove just a little bit of the pollution coming from outside, which is why additional filtration in the Country HQ is needed.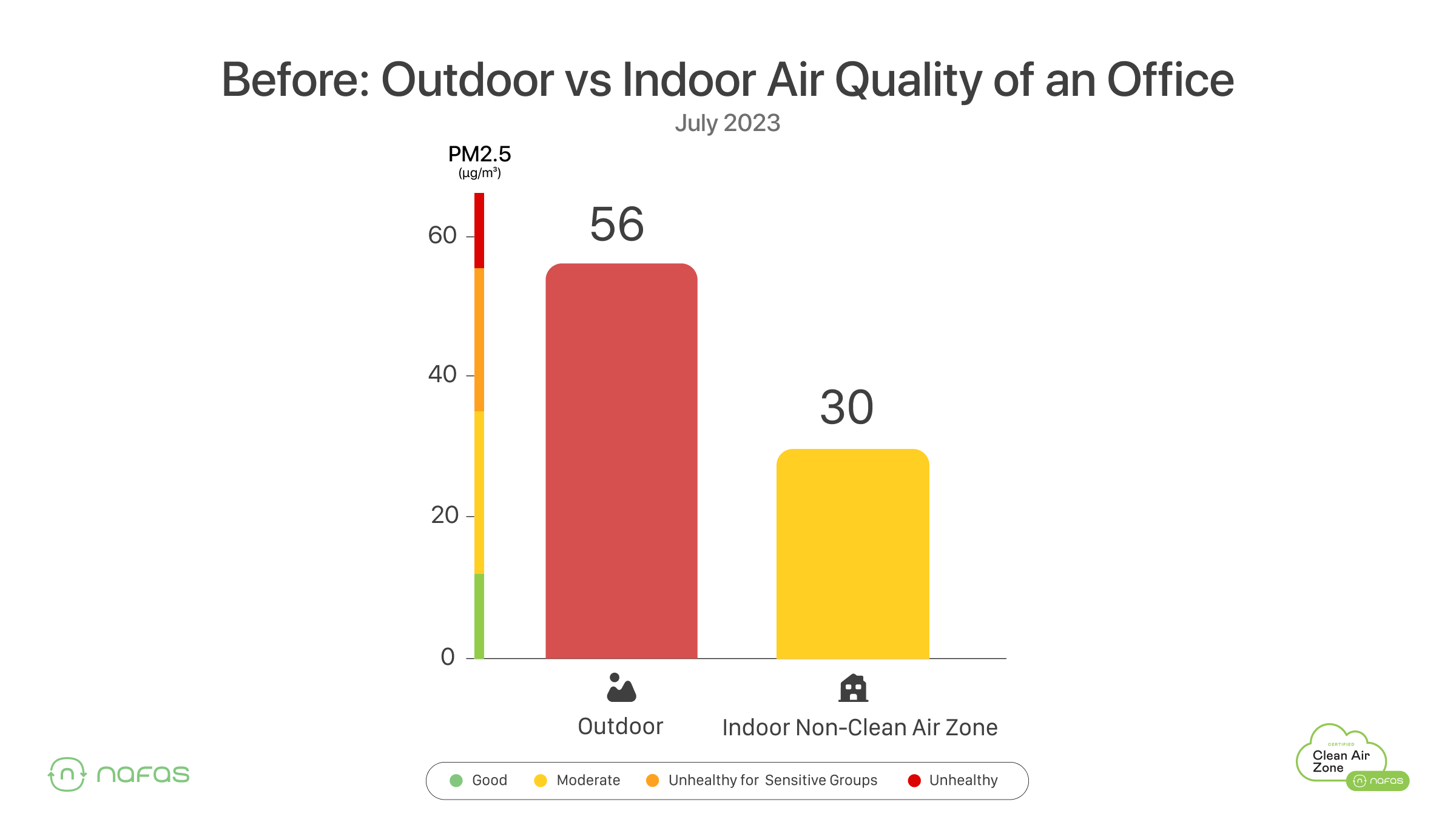 The final Nafas AirScore for this building was B, meaning that air quality needs to be improved to provide a healthier and safer work environment.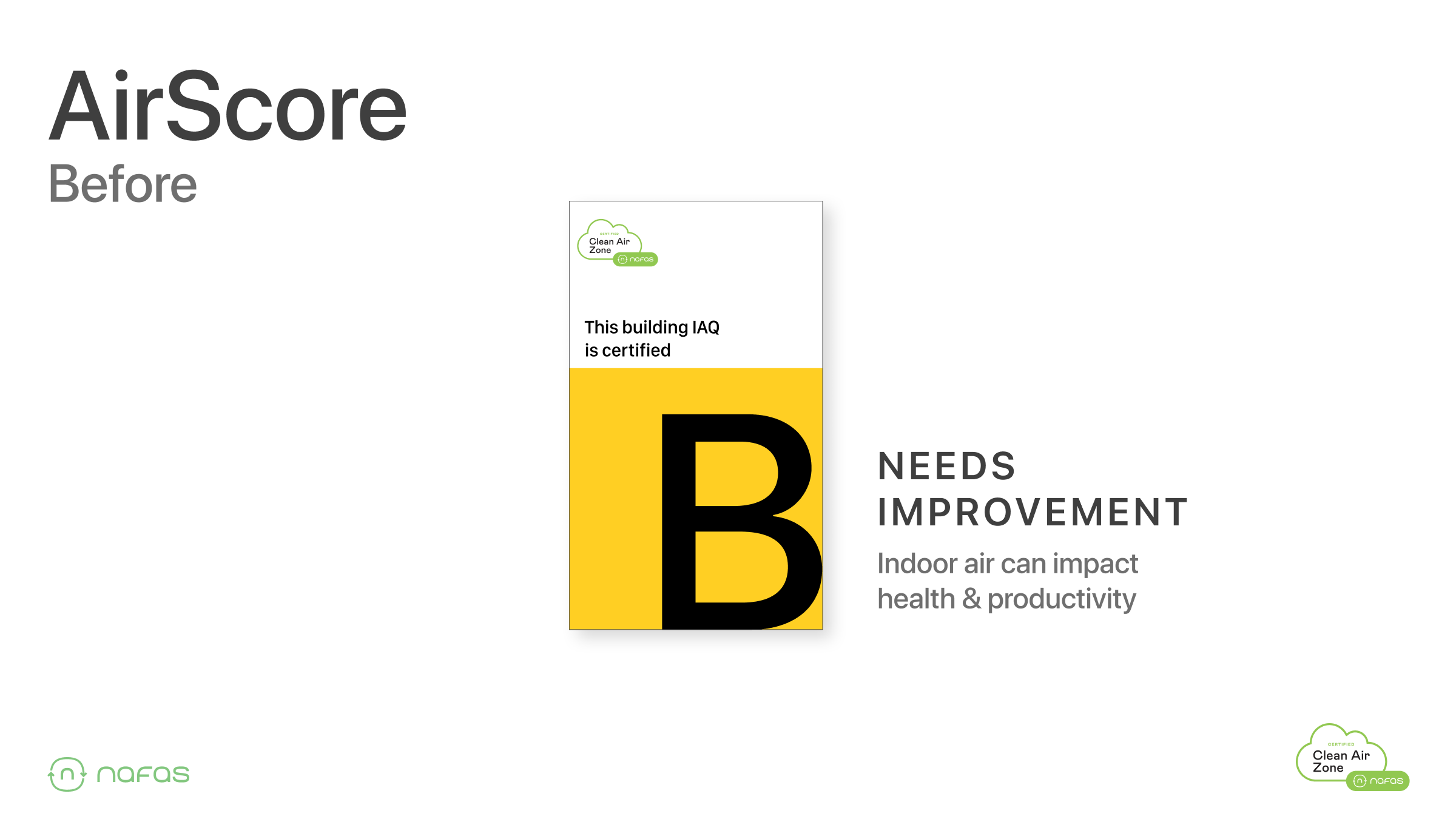 The Solution: Turning The Shipping Company Country HQ Into a Clean Air Zone
To improve indoor air quality in offices in polluted cities like Jakarta, Nafas has created an ecosystem called Clean Air Zones. Clean Air Zones are designed to make indoor air quality healthy during business hours by integrating measuring, cleaning, certification, and air quality data-driven employee engagement programs. With zero up front commitment and a subscription-based service, it's never been easier to fix bad air quality at your office.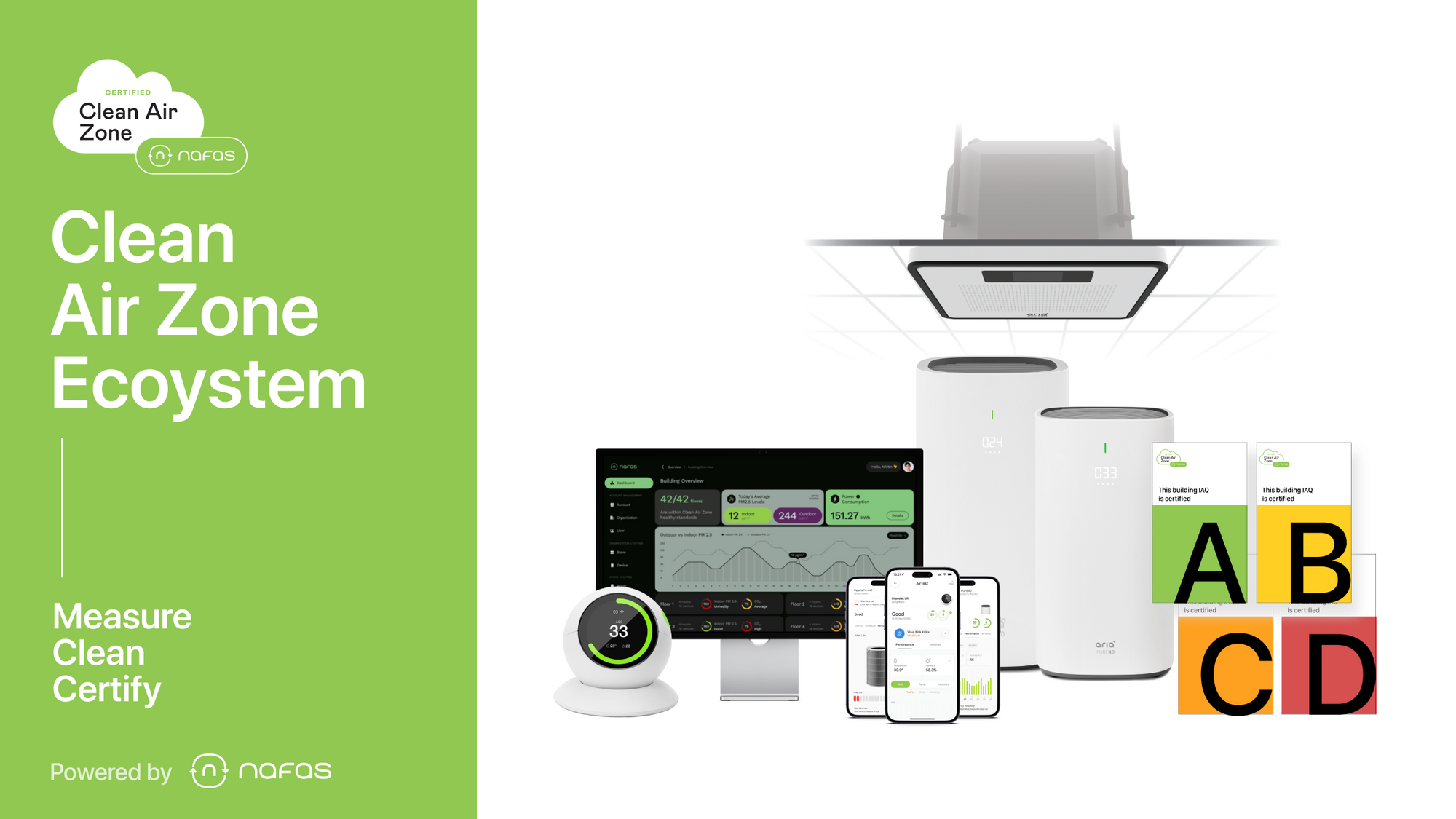 By implementing Clean Air Zones in office spaces, the indoor air quality can be significantly enhanced, resulting in a healthier environment for both employees and customers.

What's even better?

The process is completely automated, requiring no additional effort from the business. With a simple subscription, you can enjoy the full benefits of this service without any upfront commitments, making it effortlessly convenient to enhance the air quality in your office.
The Result
During the same time period, one of the floors in the office was turned into a Clean Air Zone. This allowed Nafas and the Country HQ to see how significantly the indoor air quality was being improved.

During work hours, the Clean Air Zone managed to maintain the indoor air quality below 12 µg/m3 - this was 3x better than the Non-Clean Air Zone.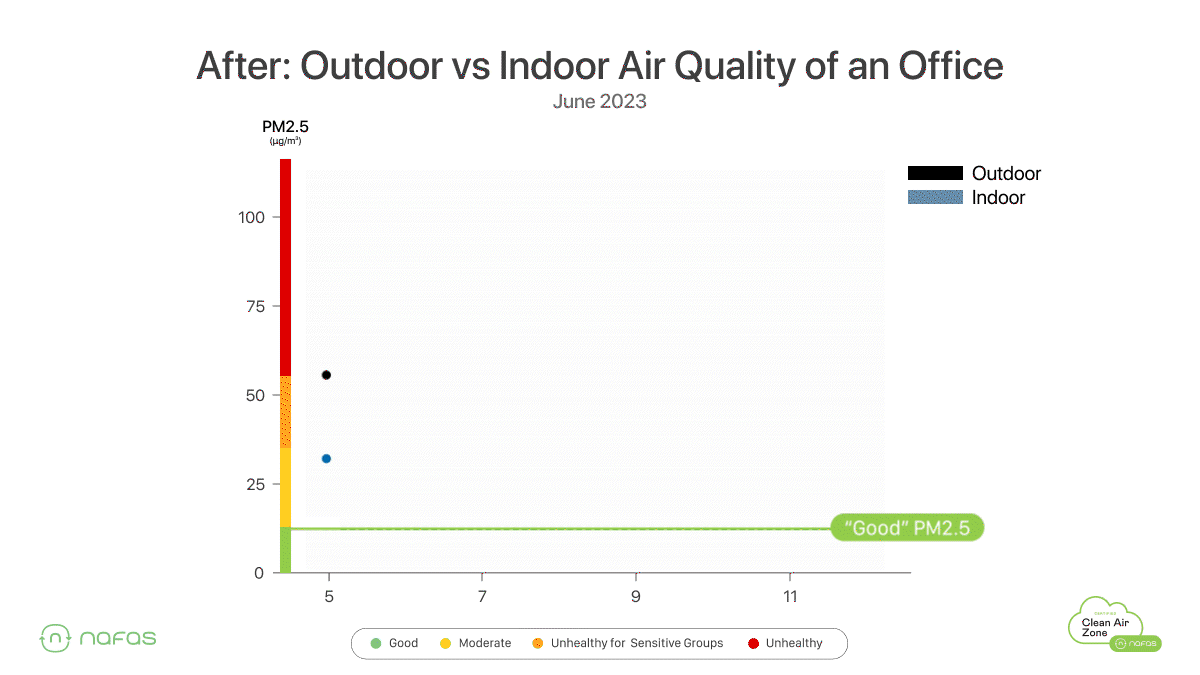 During the exact same time period, the air quality for employees working in the Clean Air Zone was maintained at a Healthy level for the entire month.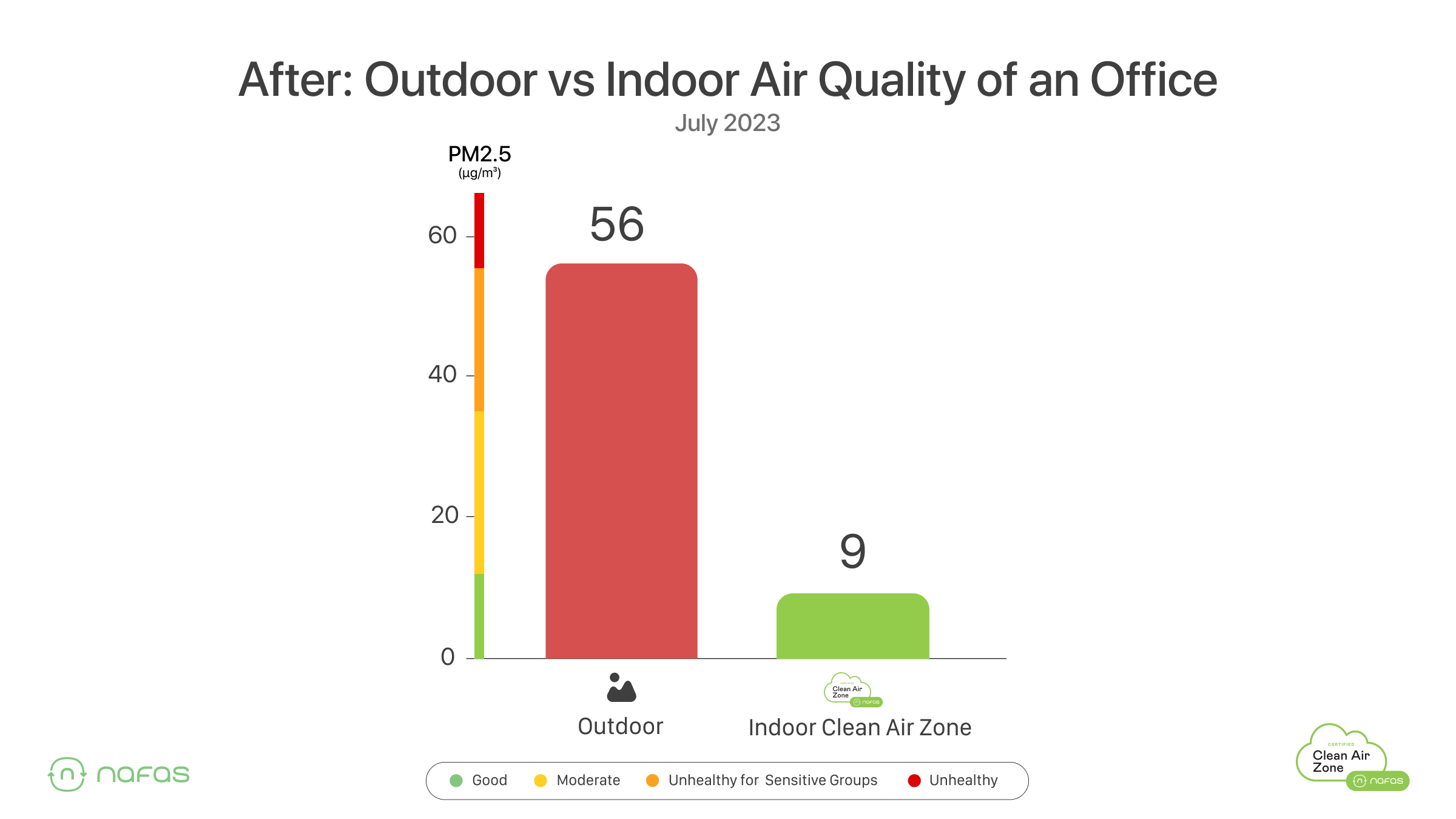 By implementing Clean Air Zones as part of their corporate strategy to enhance healthy air quality and reduce employee exposure to air pollution, the Country HQ office improved their AirScore from "B" to "A".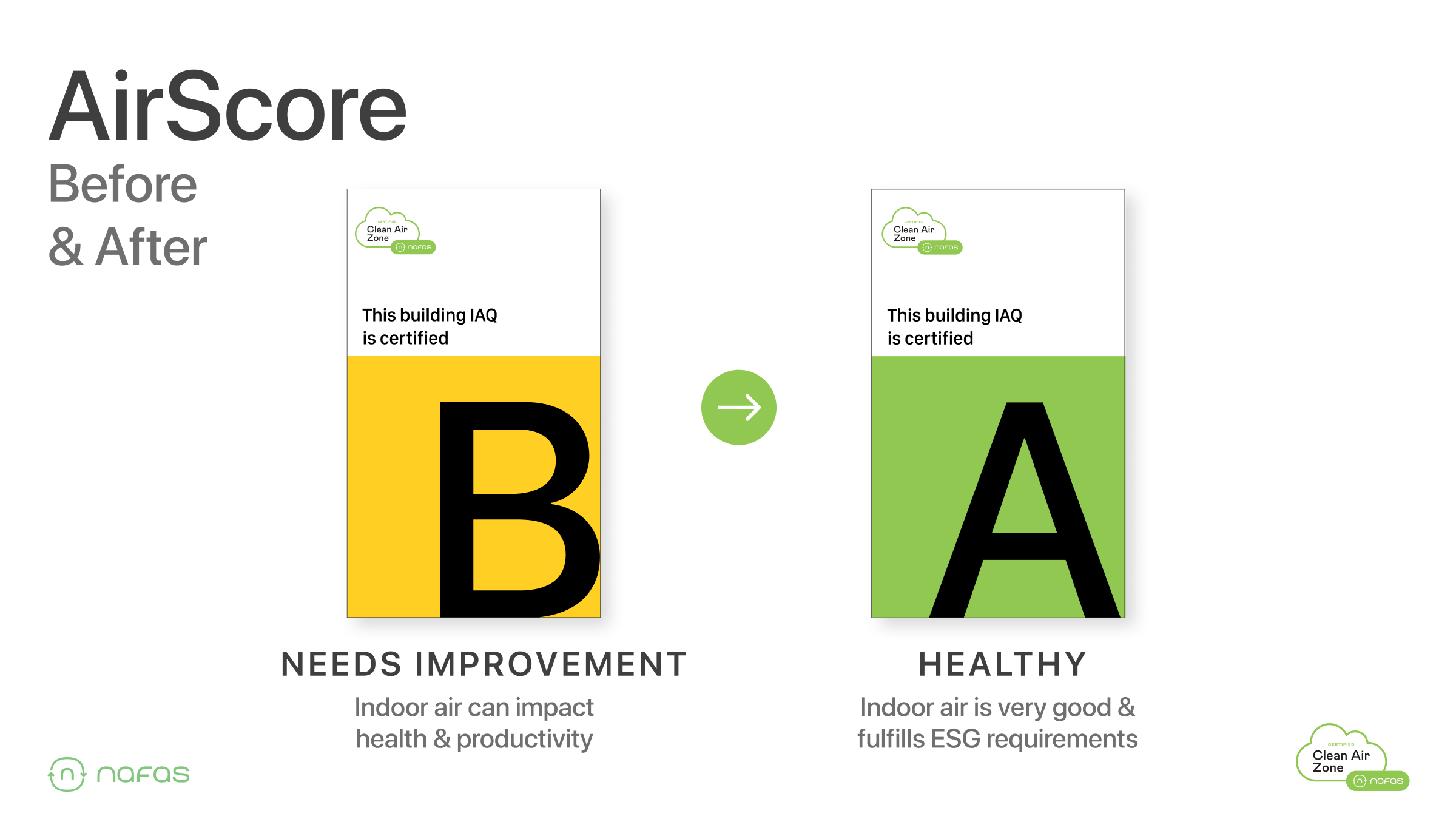 The Monthly Report
Clean Air Zones are data-driven, and each location receives reporting on a weekly or on a monthly basis. These reports highlight the air quality conditions maintained by Clean Air Zones, and provides data that the company can share with its employees, customers and shareholders.

Here's an example of the company report!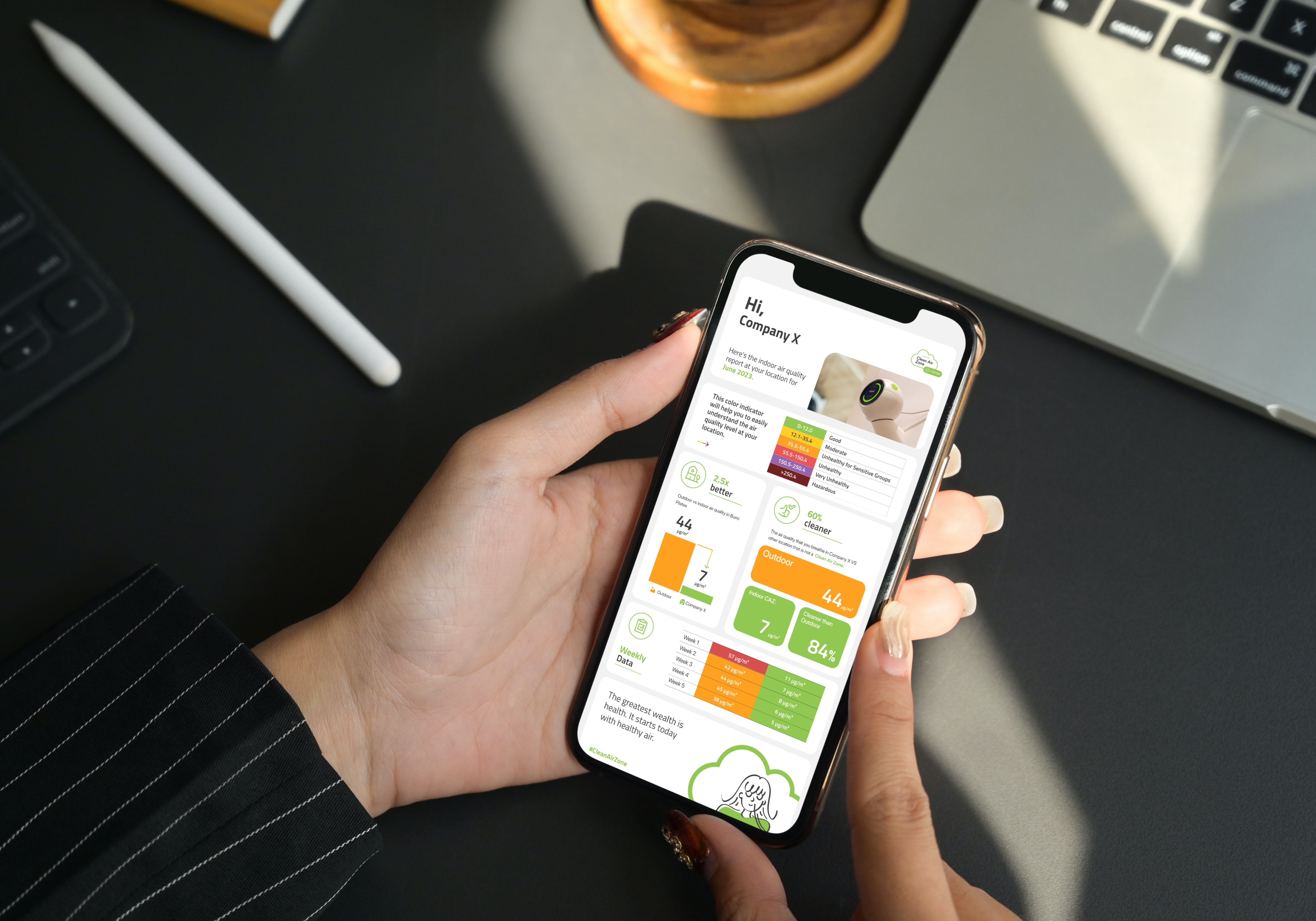 ✅ Becoming a Clean Air Zone is simple! To learn more about how to make your office, gym, school or home healthy, send us an email at [email protected]. Sign up now for a free AirScore diagnostic!
---