High Pollution Leads to Increased Respiratory Diseases in Children
---
---
According to the Nafas Air Quality Report for May, air pollution continues to be a serious issue in the country, particularly in the Jabodetabek region, which shows the highest pollution levels among other cities in the Nafas sensor network.

Throughout May, and even into early June, social media and mass media have been buzzing with discussions about the deteriorating air quality. Many social media users have also been complaining about illnesses, both for themselves and their family members, especially children.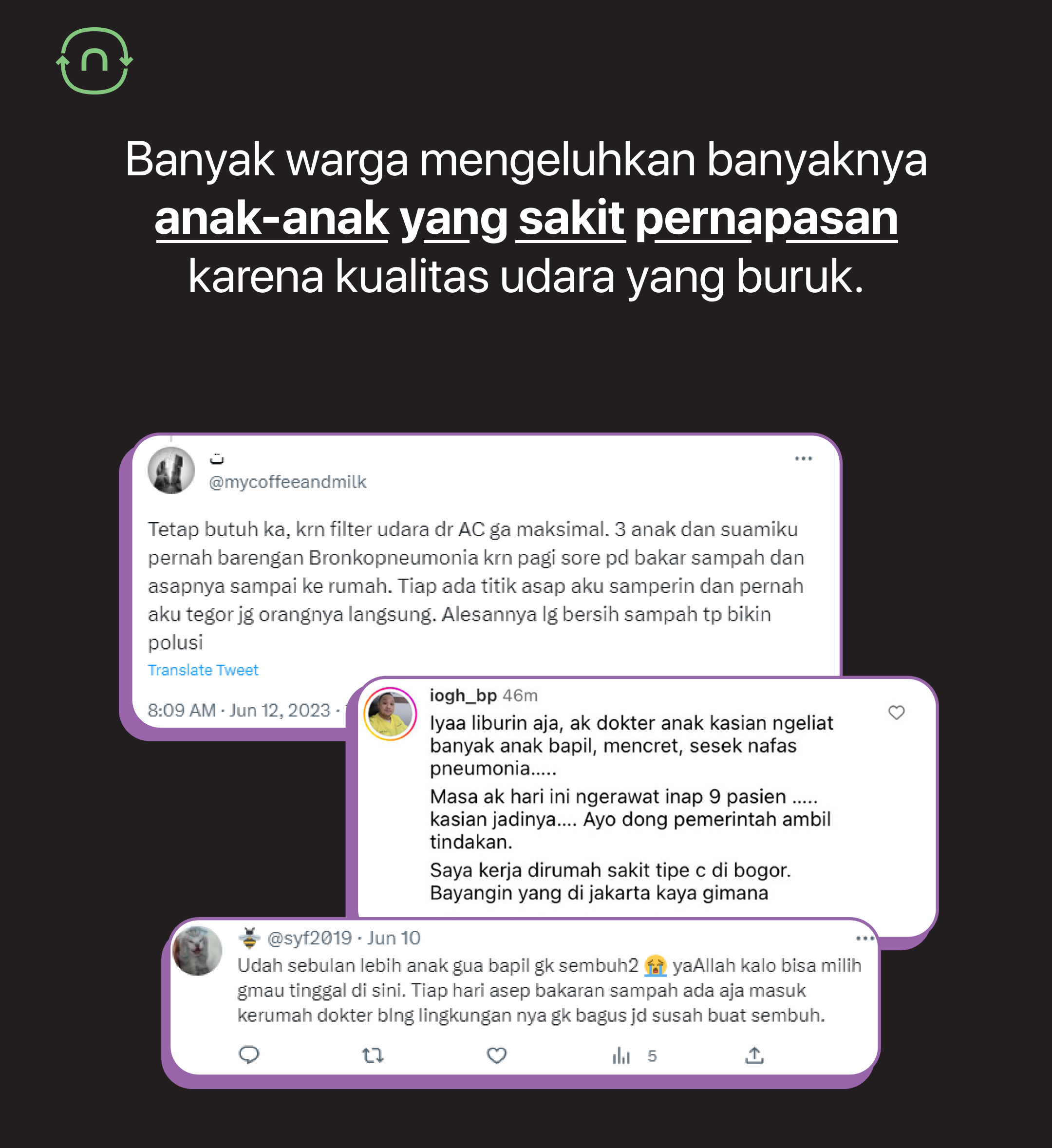 Well, how long does it take for us to feel the effects of pollution after being exposed?
According to Dr. Aaron Bernstein (@DrAriBernstein), a pediatrician and the Director of the National Center for Environmental Health and Agency for Toxic Substances and Disease Registry (CDC), in an interview with The Washington Post, "The health effects of air pollution can be felt within a few hours or a few days after inhaling it."

For example, if a neighbor near your house burns trash and the smoke enters your home in the morning, some people may immediately feel the impact, especially those who are more vulnerable such as children, the elderly, asthma sufferers, and individuals with other underlying health conditions. However, there are also individuals who may only feel the effects after a few days. This becomes increasingly concerning if we are exposed regularly and for a prolonged period, such as when the neighbor burns trash every day.


The Impact of Air Pollution on Children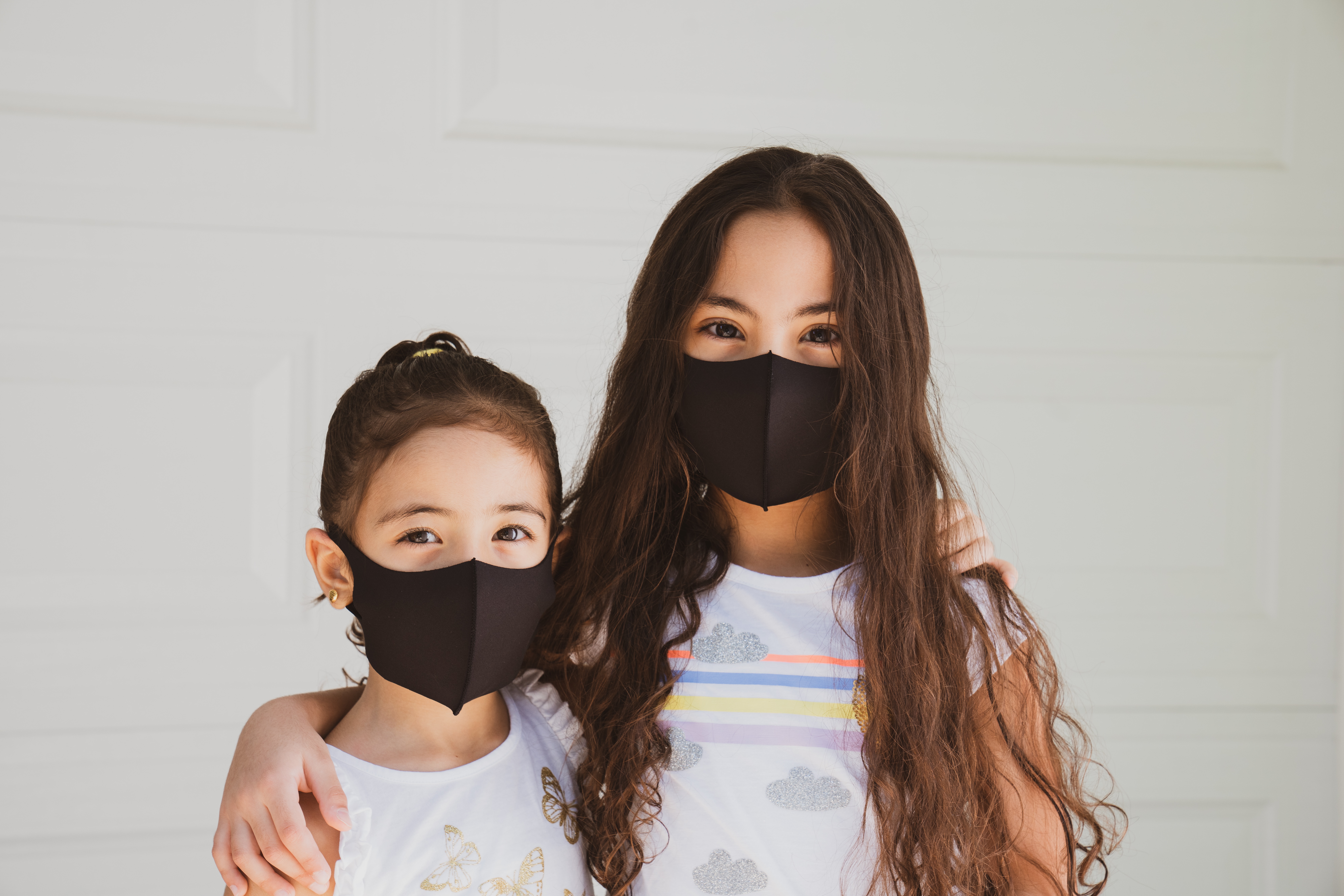 As a vulnerable group, children are particularly at risk of developing illnesses due to exposure to air pollution. According to pediatric specialist Dr. Citra Amelinda, recent cases of respiratory diseases among children have been on the rise as air quality worsens. These diseases include respiratory tract irritation, asthma, pneumonia, and other respiratory-related illnesses.

Lower respiratory tract infections are commonly characterized by symptoms such as coughing, with common illnesses including the common cold, sinusitis, pharyngitis, tonsillitis, and laryngitis. On the other hand, upper respiratory tract infections present with a wider range of symptoms, such as sneezing, headaches, sore throat, and even high fever. Lower respiratory tract infections encompass bronchitis, pneumonia, bronchiolitis, and tuberculosis.

Various studies have shown a positive correlation between increased cases of respiratory diseases in children and elevated levels of air pollution. A 2019 study conducted in China examined the short-term effects of air pollution. The results showed that hospital admissions for lower respiratory tract infections in children increased by 4.3% for every 10 μg/m3 increase in PM2.5 levels over a 6-day period. It is important to emphasize that there is virtually no safe limit for PM2.5 exposure for children (Xia et al., 2019). This means that even minimal exposure to air pollution can have a negative impact on children's health.

Another study conducted in Greece found that every 10 μg/m3 increase in PM2.5 was associated with a 32% increase in pediatric emergency department visits for upper respiratory tract infections when PM2.5 concentrations exceeded 25 μg/m3 (Kanellopoulos et al., 2021).


What about the increasingly uncontrollable air pollution levels in the country recently?
Let's take a look at some locations with relatively high PM2.5 pollution levels in the second week of June, namely Serpong (South Tangerang), Rempoa Permai (South Jakarta), and Lebak Siliwangi (Bandung). Data from Nafas indicates that the pollution levels from June 9th to June 14th, 2023, exceeded the WHO annual exposure limit (5 μg/m3) almost throughout the day, from morning to night.

In Lebak Siliwangi (Bandung), the peak PM2.5 pollution reached 131 μg/m3 on June 10th, while in Rempoa Permai (South Jakarta), it reached 211 μg/m3 on June 12th! Additionally, Serpong (South Tangerang) also showed high peak PM2.5 pollution levels, reaching 181 μg/m3 on June 11th.

If there are children from Nafas users who have experienced respiratory complaints recently, it is recommended to consult a pediatrician. According to Dr. Citra Amelia, there are several respiratory symptoms in children that parents need to be aware of. "Pay attention if your child experiences difficulty breathing or breathes faster than usual, has trouble sleeping, refuses to breastfeed and becomes more fussy, feels weak or shows signs of excessive breathing effort (characterized by extra chest wall retractions and flaring nostrils)."

⚠️ If you notice one or more of the above signs, immediately take your child to a doctor and do not self-administer over-the-counter medications.

Air pollution will always exist and pose a threat to us, but what we can do now is reduce our exposure to air pollution for ourselves and our families.
Here are some tips that Nafas users can follow:


1. Monitor air quality regularly using the Nafas application.
2. If the air quality is poor, avoid outdoor activities. Let children play indoors for the time being.
3. Always wear a mask when going outside.
"Children above 2 years old can use masks (cloth masks or disposable masks) that fit properly and cover their nose and mouth." - Dr. Citra Amelinda
4. Close doors and windows when the air quality is poor. Using an air purifier can help clean the indoor air.
---