Exercising in polluted air: good or bad?
Exercise has become a habit for those seeking a healthy body and mind. We all know exercise can improve lung function and ensure that the circulatory system functions properly. However, if we exercise while exposed to air pollution, the results may be quite the opposite. Air pollution poses a serious risk to the environment and the body. Even if you are not exercising, being exposed to air pollution can cause health problems. This is especially true for people who have asthma, cardiovascular disease, respiratory problems, or other circulatory problems.

In 2021, Katadata ran a study of over 6,590 respondents in Indonesia to find out perceptions about air pollution. About 56% of respondents believe that exercising regularly protects them from the impact of air pollution.

In fact, that is totally the opposite. When we are exposed to high levels of air pollution while exercising, the likelihood of developing health problems increases. A study from Cambridge University discovered that PM2.5 air pollution at high levels could negate the benefits of exercise. Let's review together!
---
PM2.5 poses a serious risk to human health
Our bodies are not designed to filter out PM2.5. When we breathe, PM2.5 can enter our lungs, very deep into the alveolar sacs. This leads to serious health issues because PM2.5 is made up of toxins like nitrates, sulfates, heavy metals, and other chemicals. Here, they either get stuck or can pass through into our bloodstream. As a result, these tiny particles induce oxidative stress in a variety of ways, causing a series of impairments in the normal functions of body cells.

Short-term and long-term exposure to PM2.5 can cause health problems. Several scientific studies have found links between PM2.5 exposure and increased fatalities as well as death from heart and lung diseases. It can make pre-existing health problems worse and increase the rate of illness progression.
---
Exercise = breathing more air pollution
We breathe more intensely during exercise. You can see this breathing intensity on this exercise chart.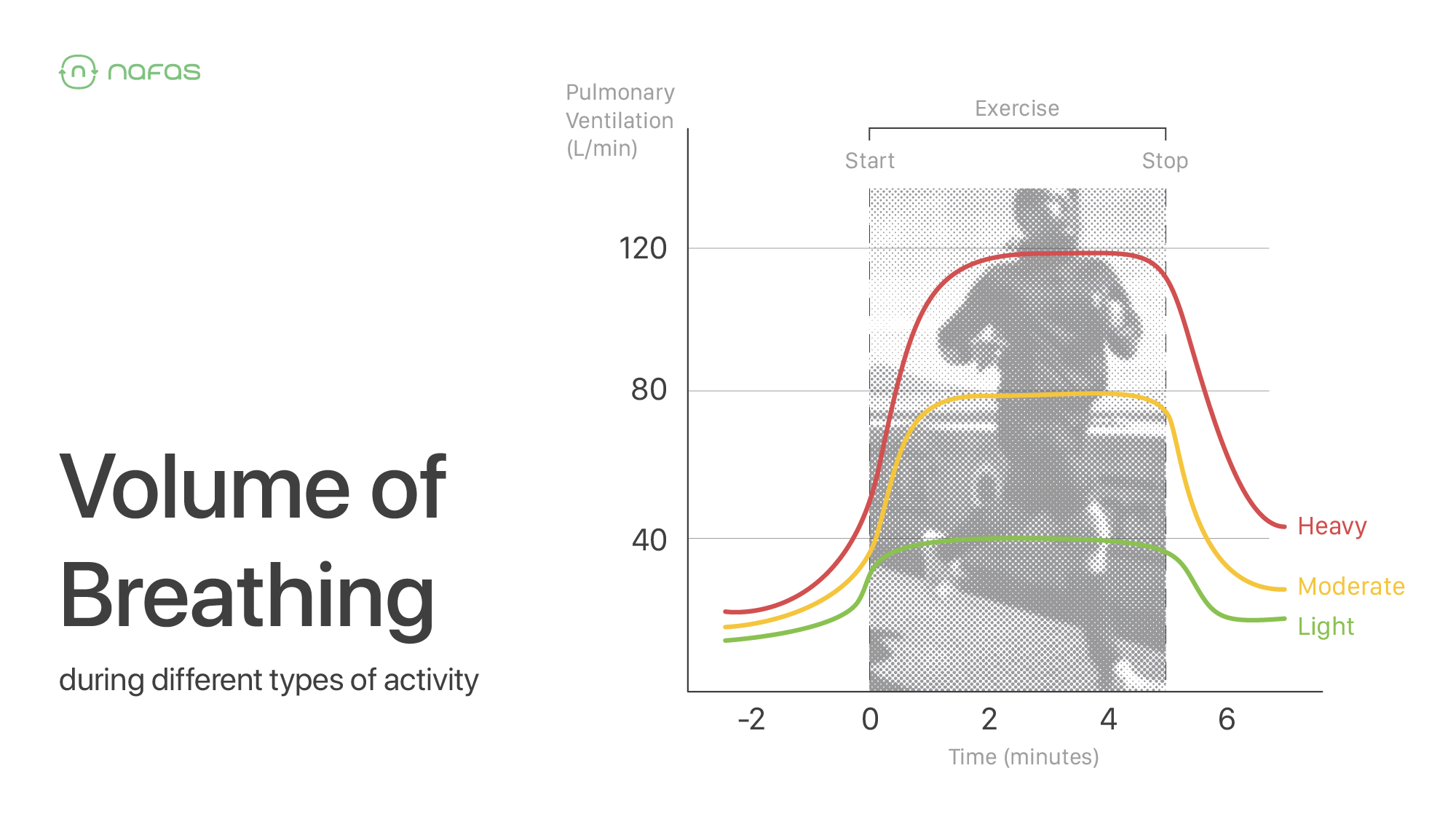 We breathe about 17,000 liters of air in 24 hours on average, about 15 breaths (12 liters) per minute. That's the size of 2 truck box engkel. When we exercise, our breathing rate can go up to 60 breaths (100 liters) per minute. So over 2 hours of intense exercise, we can breathe 12,000 liters. That's the size of a 1.5 truck box engkel.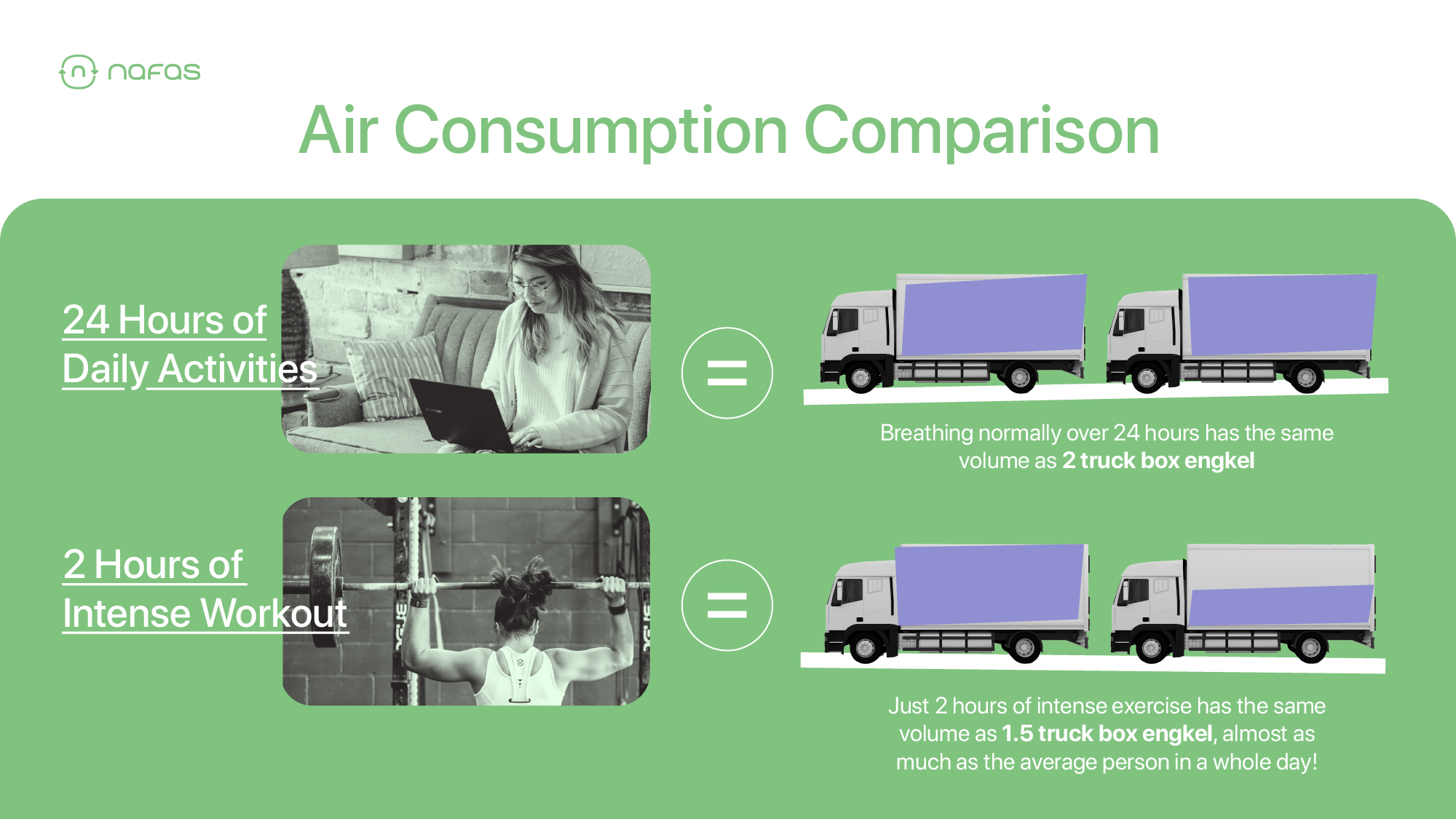 Aside from that, we inhale more air through the mouth when exercising, bypassing the nasal filters that normally remove large particles and soluble vapors. Higher airflow velocity causes pollutants to be carried deeper into the respiratory system.

Furthermore, pulmonary diffusion capacity has been shown to increase with exercise, implying that pollutant gas diffusion increases with exercise.
---
Many people prefer to exercise in the morning, which tends to have poor air quality
Sometimes, choosing the best time to exercise can be hard for some of us. Many people prefer to exercise first thing in the morning because the air is cleaner and there are fewer vehicle emissions. Along with that, exercise on an empty stomach can increase postprandial metabolism, allowing you to burn up to 20% more body fat.

However, data show that PM2.5 concentrations are highest between early morning and early morning. This is due to the temperature inversion factor, which creates a 'dome' in the atmosphere, preventing pollutants from dispersing properly. So, will exercising in the midst of poor air quality harm our health?

A recent study from Seoul National University that involves the health of people aged 20-35 years over 10 years states that people who exercised in PM2.5 levels over 26 µg/m3 had a 33% higher risk of heart disease than those who didn't exercise at all.

Let's take a look and see if PM2.5 levels are higher than 26 µg/m3 between 5 - 9 AM across different regions.


Here is July 2022 data

And here is YTD 2022 data



How many times this year was air pollution above 26 µg/m3 in the morning? Based on these data, it can be said that the concentration of PM2.5 in:
DKI Jakarta is 76%
Bandung is 90%
Bekasi is 86%
Bogor is 84%
Depok is 83%
DI Yogyakarta is 85%
South Tangerang is 82%
Surabaya is 76%
Tangerang is 76%
Belitung is 0%
Denpasar is 21%
above 26 µg/m3 in the morning.
---
A tipping point and breakeven point of air pollution levels
Different air pollution levels have a tipping point and a breakeven point. A tipping point is a point when no more health benefits happen. A breakeven point is a point when health risk is higher than benefits.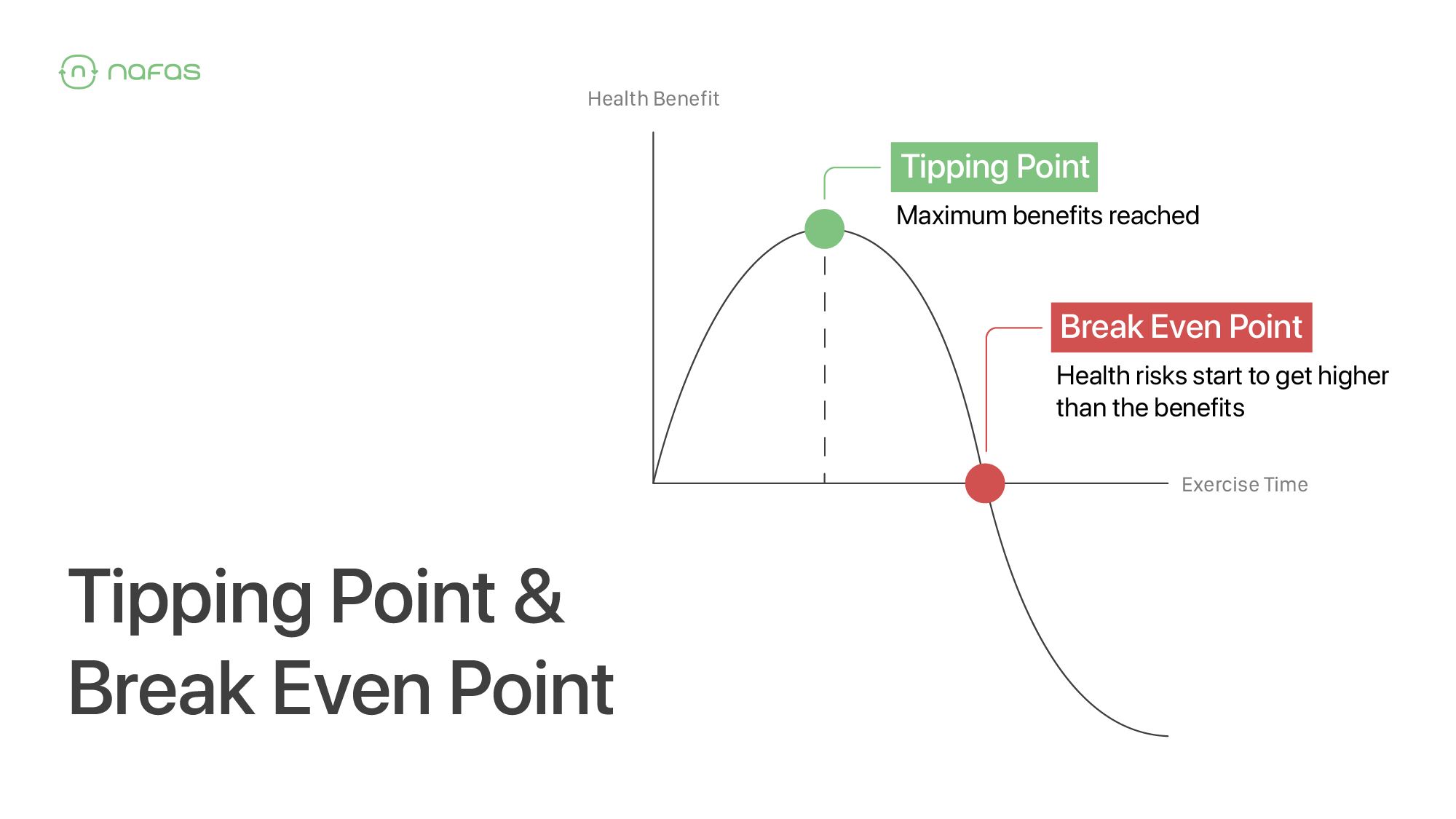 Let's take a look at the numbers!

At a PM2.5 level of 50 µg/m3, no more health benefits happen after 75 minutes. At 100 µg/m3, that number drops to 30 minutes. At 165 µg/m3, both breakeven and tipping point is 30 minutes. These are levels that we see in Indonesia quite often.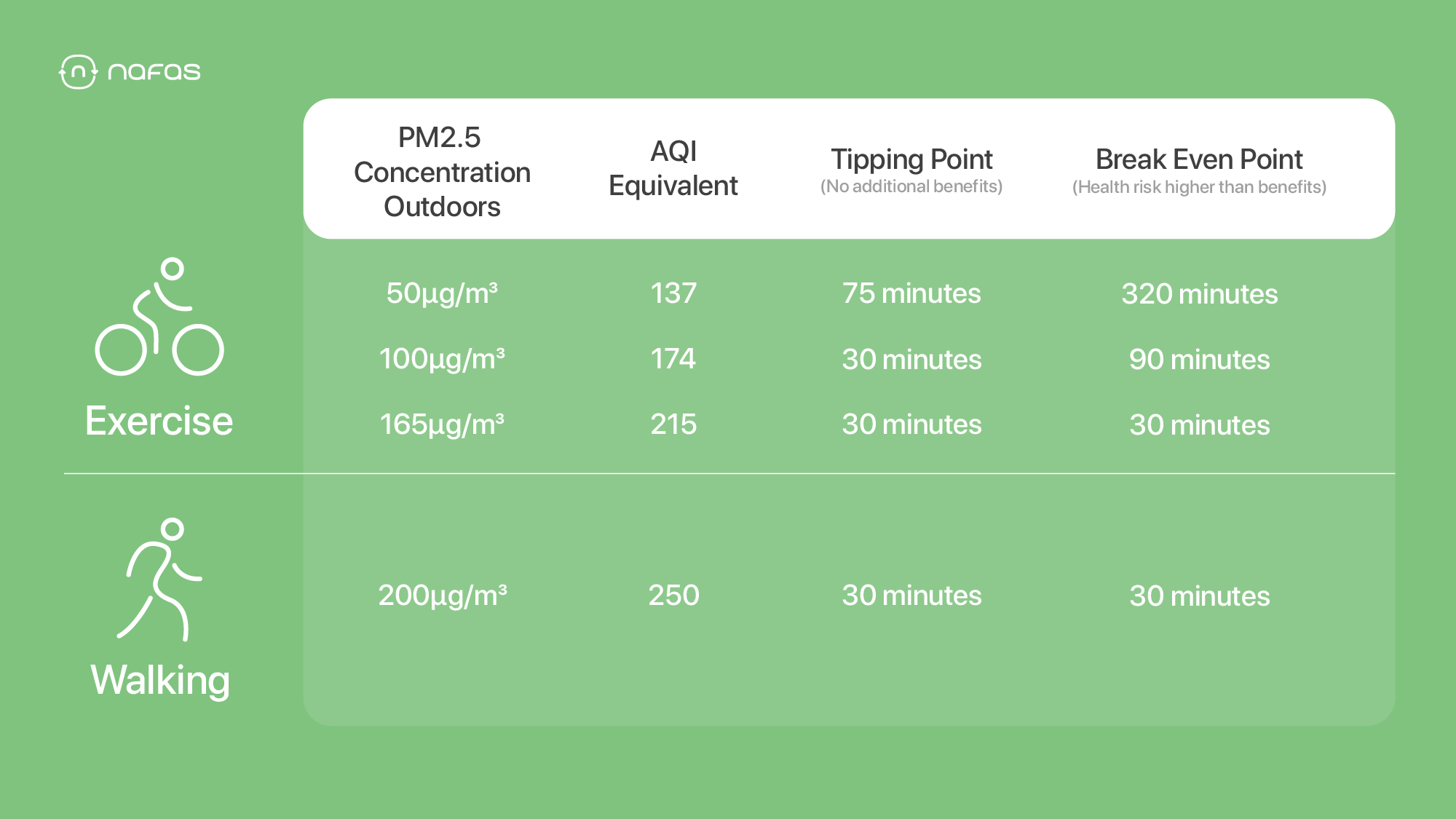 And let's take a look at July 2022. These charts show the maximum PM2.5 levels over the course of the month during exercise time.


5 AM Worst Locations in July 2022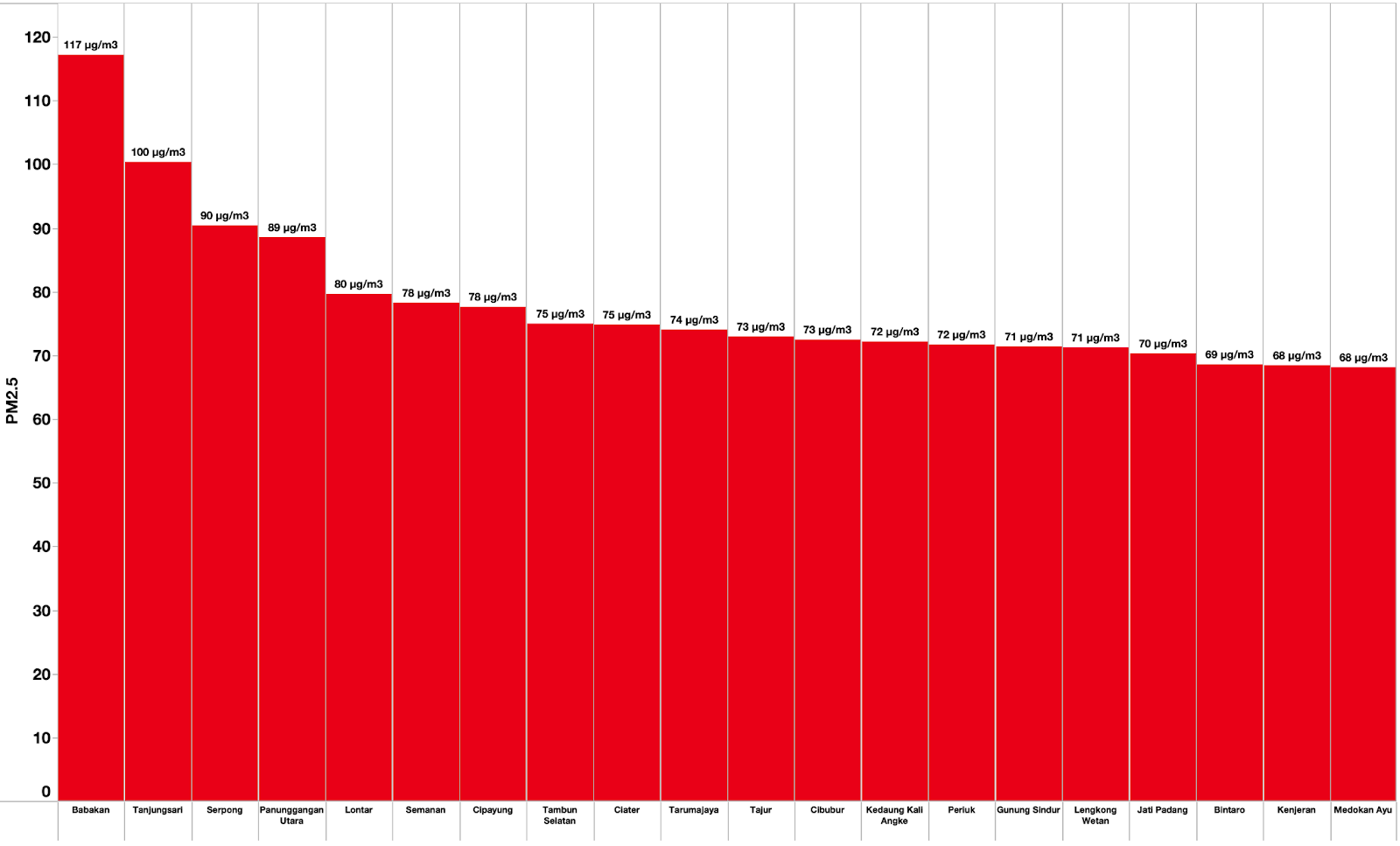 6 AM Worst Locations in July 2022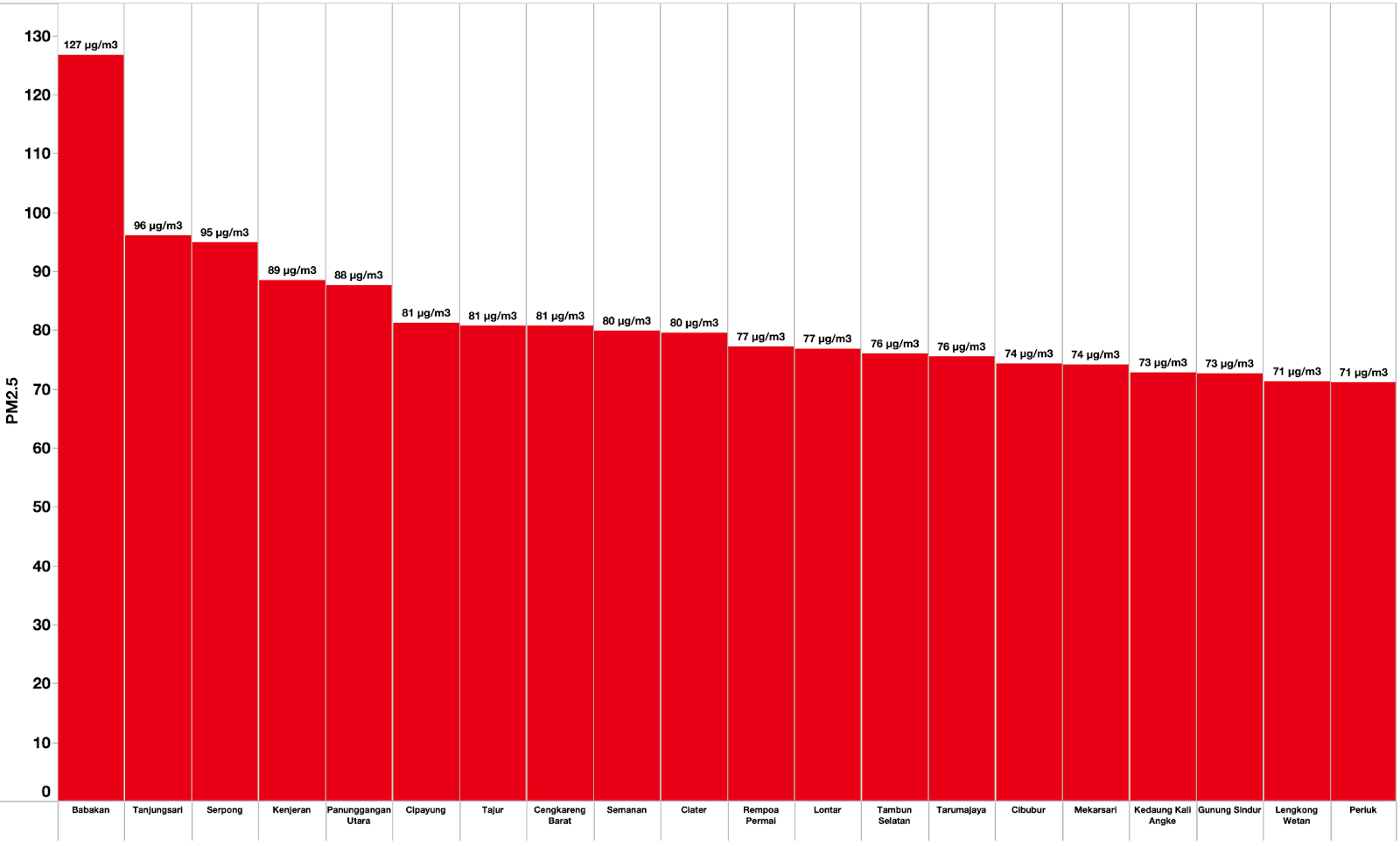 7 AM Worst Locations in July 2022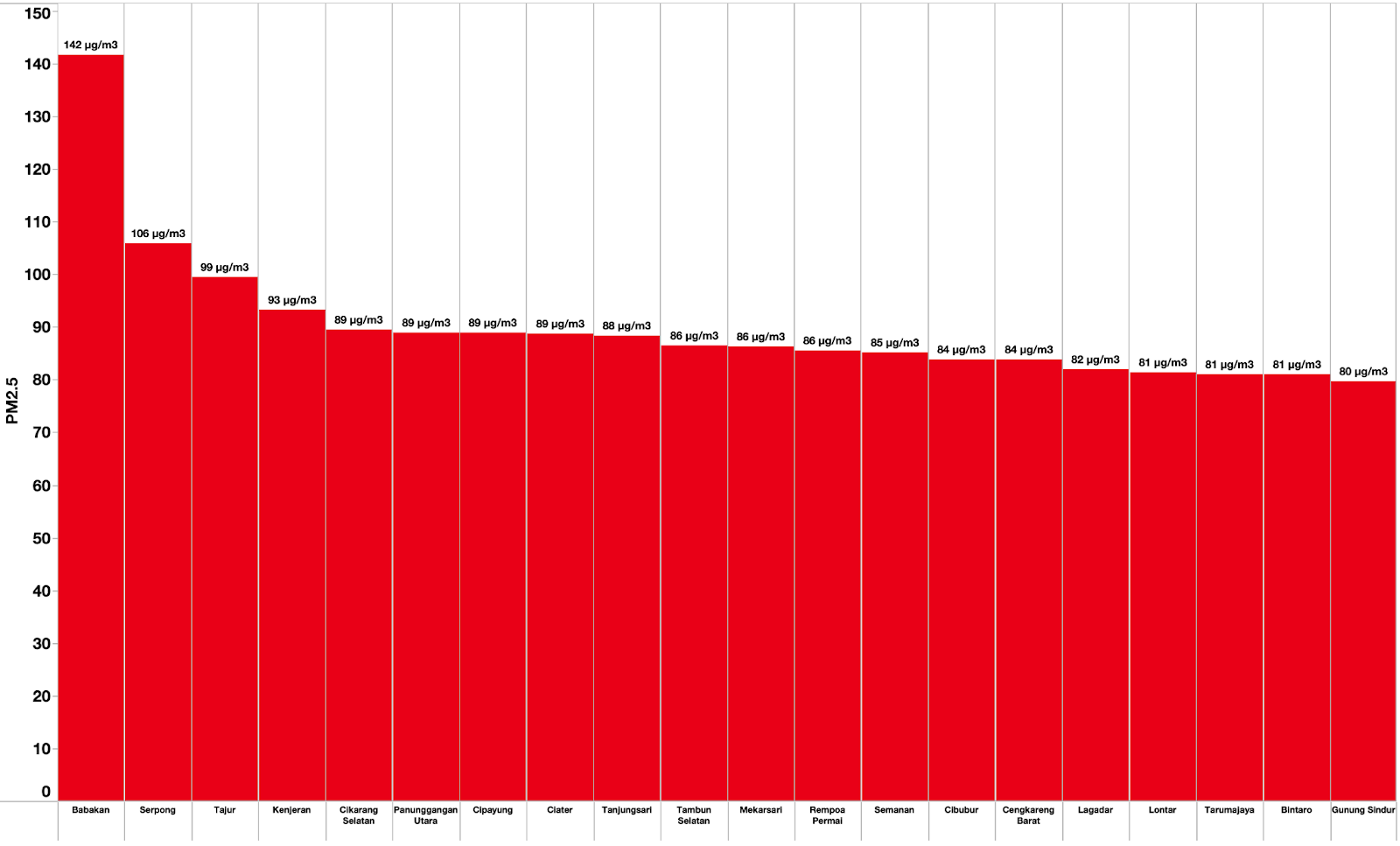 8 AM Worst Locations in July 2022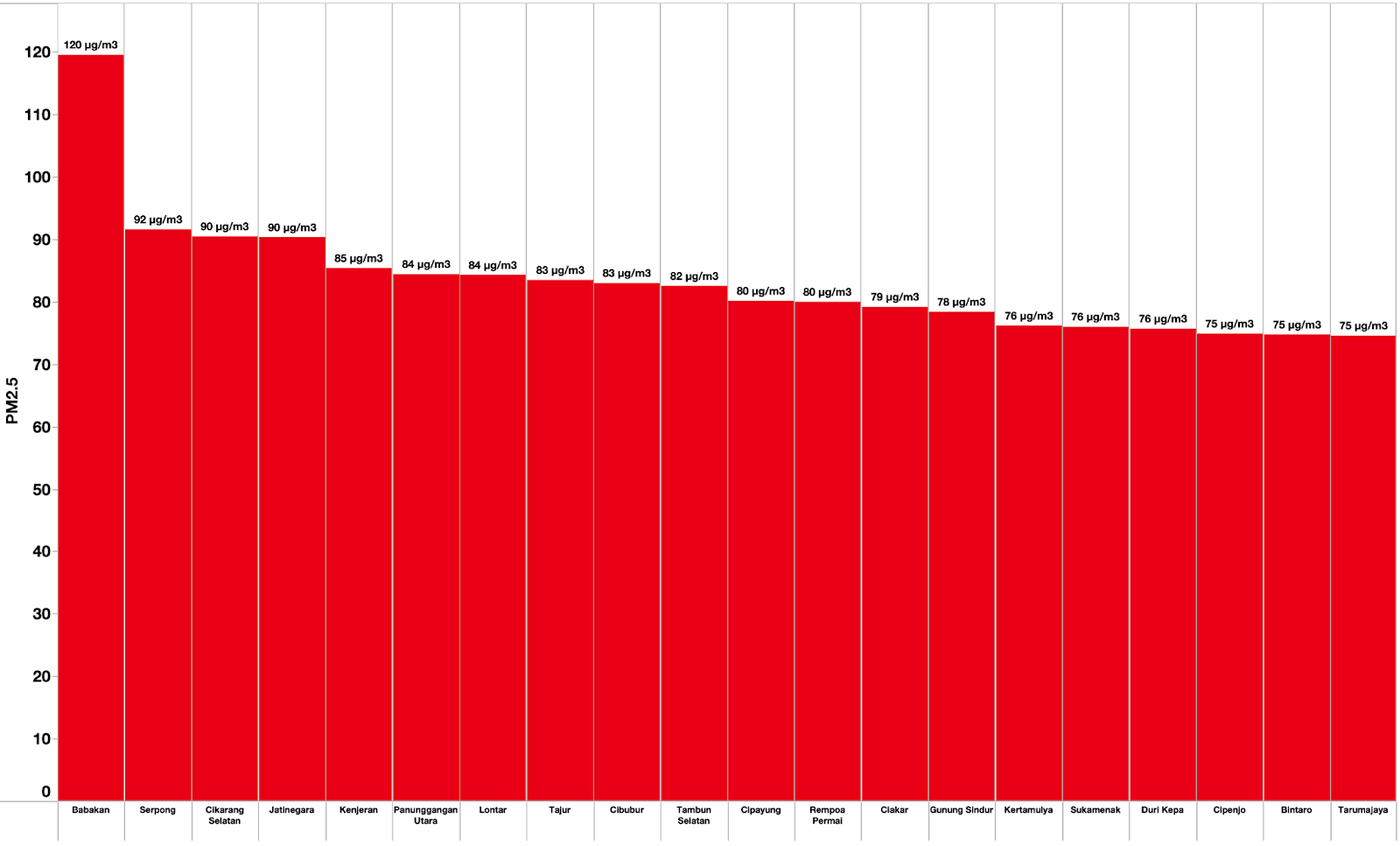 9 AM Worst Locations in July 222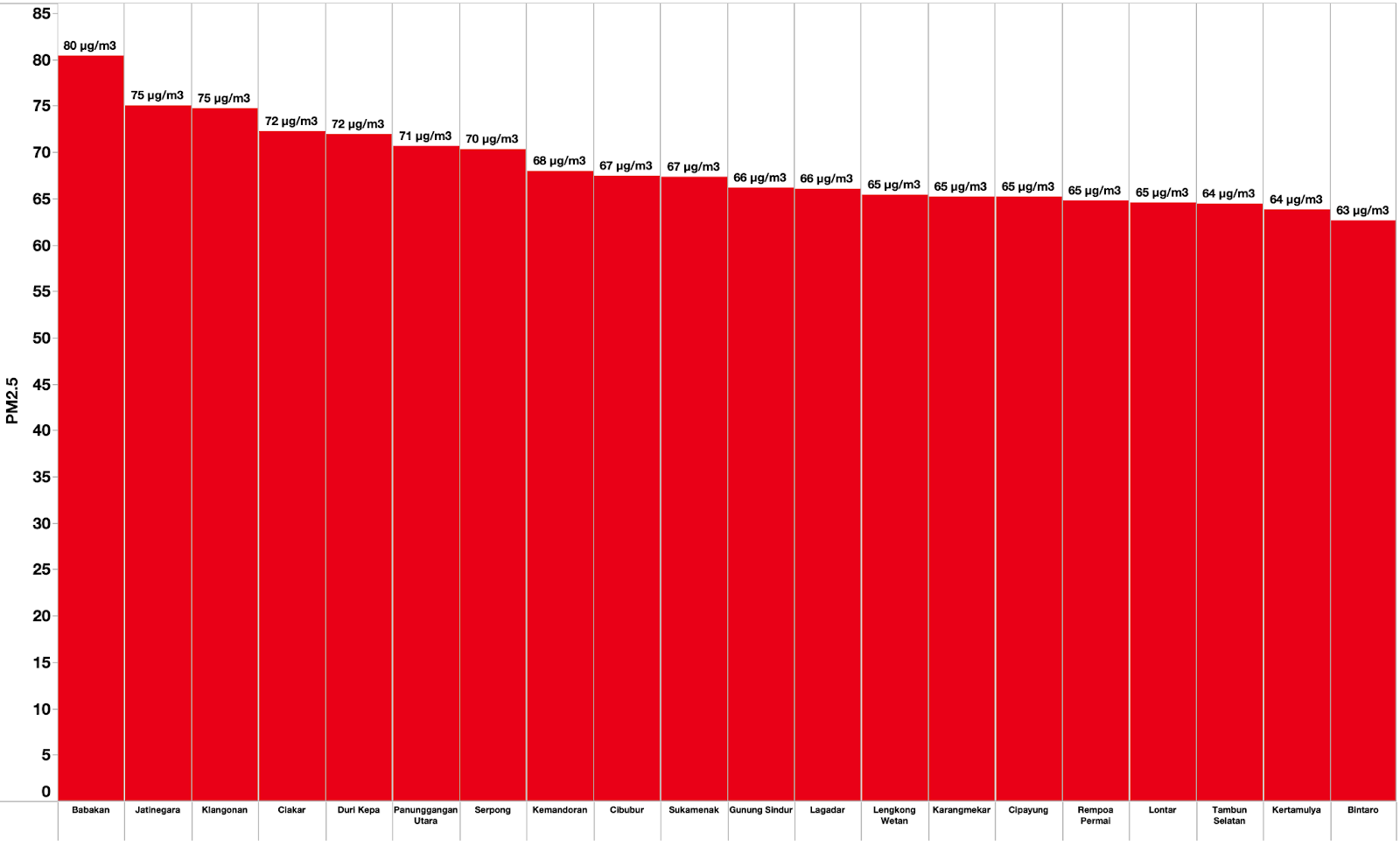 That's pretty insane - for those of you who were working out during those times, they were actually quite dangerous.
---
Can we reduce our exposure to air pollutants?
Sure! You can always limit your exposure to air pollutants. Owing to exercise is so beneficial to our overall health, but is not recommended that outside exercise be continued due to poor air quality. Remember, our lungs cannot be replaced. Rather, you should find a way to reduce the effect of any air pollution on your health. For instance, check any available sources for the times when the air pollution is at its highest in your area. You can use the Nafas application to keep updated with air quality in your area.

Then, carefully choose when you will exercise and avoid times when the roads are hectic, such as during rush hour. Nafas continues to support you by adding an 'Air Quality Alerts' feature to our app. This feature will help you figure out the best times for you to exercise in healthy air quality.

If you have to be outside (and that can happen) then wear a mask designed to filter PM2.5 particles. Masks can shield you from airborne pollutants and prevent you from breathing them in. There are actually brands of masks designed for exercise as well – internationally Respro, locally Zulu.

Here's the difference between a few masks.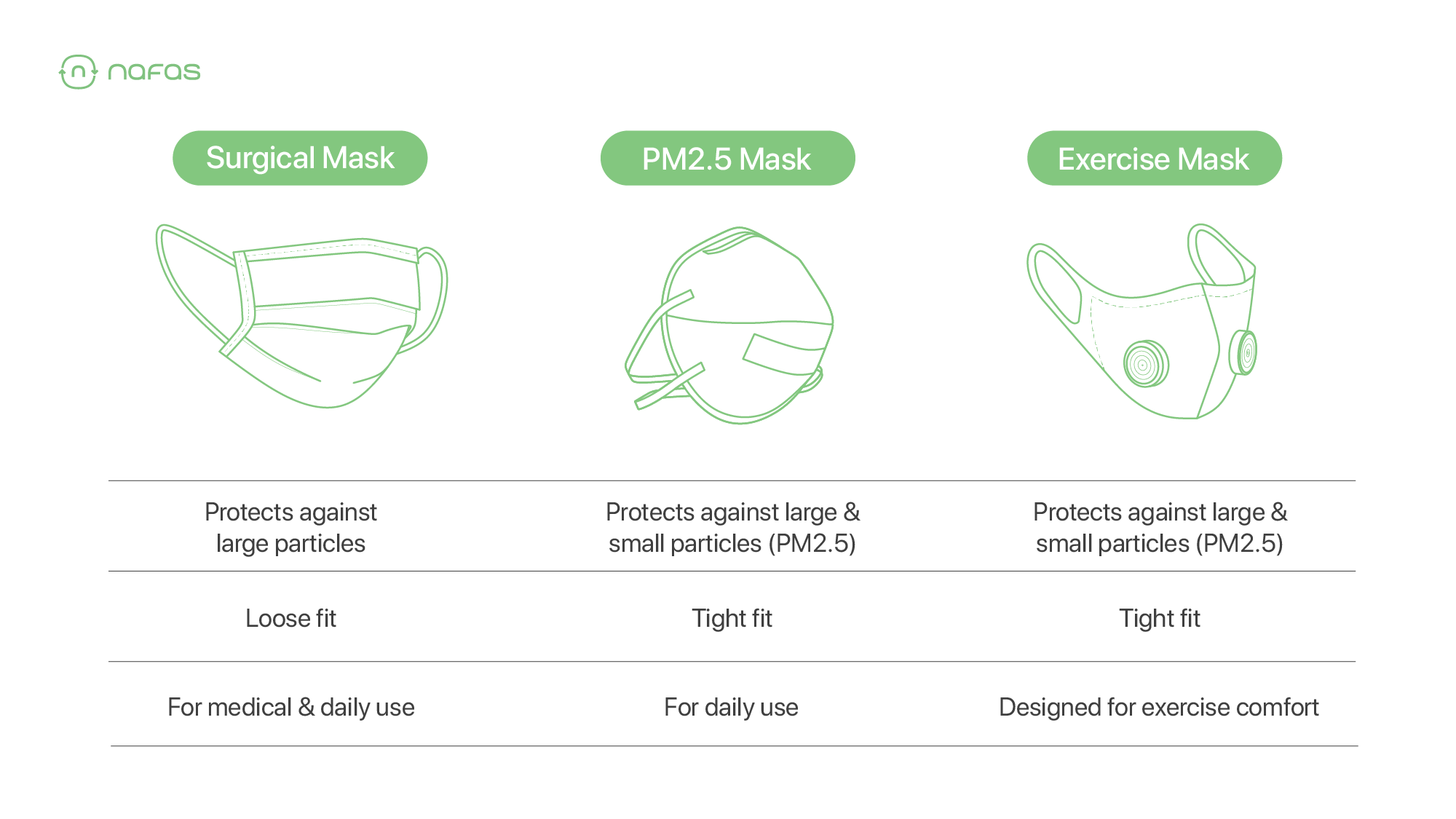 In a long term, you can follow the air quality trends in your area. Raising awareness among your community is important as a lot of pollution is highly localized, including trash burning.

Since outdoor air pollution is not something we can control (it's up to government action and policy to fix it), you can control the choices you and your family make.

Want to get started now? Click here to open your Nafas.
---
References:
Gonzalez, J. T., Veasey, R. C., Rumbold, P. L., & Stevenson, E. J. (2013). Breakfast and exercise contingently affect postprandial metabolism and energy balance in physically active males. The British journal of nutrition, 110(4), 721–732. https://doi.org/10.1017/S0007114512005582.
Furlong, M. A., Alexander, G. E., Klimentidis, Y. C., & Raichlen, D. A. (2021). Association of Air Pollution and Physical Activity With Brain Volumes. Neurology, 10.1212/WNL.0000000000013031. https://doi.org/10.1212/wnl.0000000000013031.
Pacitto, A., Amato, F., Salmatonidis, A., Moreno, T., Alastuey, A., Reche, C., Buonanno, G., Benito, C., & Querol, X. (2019). Effectiveness of commercial face masks to reduce personal PM exposure. Science of the Total Environment, 650, 1582–1590. https://doi.org/10.1016/j.scitotenv.2018.09.109.